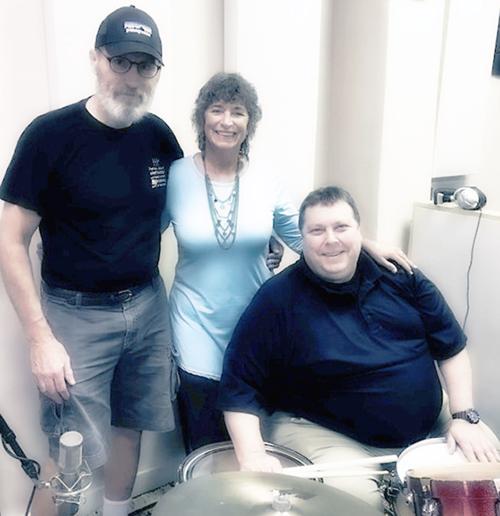 Expect to get involved in the Sou-Pare PLUS! performance Saturday at Portage Center for the Arts.
The Lodi variety band has earned a reputation for malleability — its loyal listeners accustomed to getting what they want.
"Probably our best quality is listening to the crowd," said singer, guitarist and keyboardist Michelle Pare. "They'll say, 'Hey, can you do this?' and we'll give it a shot."
The band has a set list, or at least an "idea" of what songs they'll play in every concert, Pare said, but, "We can fake our way through almost anything. We'll do calypso if we need to."
The trio once played "Piano Man" by Billy Joel in the key of B flat as opposed to the original key of C major; they'd never played the song before but figured it out, Pare said.
On Saturday they'll play blues, country, jazz, hard rock, soft rock and more.
"The variety pulls people in," said Laurent Soucie, who plays guitar, harmonica and saxophone. "I'm not a person who wants to sit all night and listen to the blues, and that probably goes for jazz, too. We mix it up."
His last name accounts for the "Sou" in the band's name, while Pare is for Pare and "PLUS!" is for Kevin Weber on percussion. The band that formed three years ago will share at least a few of their original songs Saturday, too, Soucie said. Pare's original song "Hold onto the Summer Haze" is an upbeat, tempo-changing song that features Soucie on the saxophone, while his original song, "My North Window" is a slower ballad for which he plays the acoustic guitar and harmonica.
Pare looks forward to covering "Hotel California" and "Desperado" by The Eagles, "Give Me One Reason" by Tracy Chapman and many other crowd favorites the band often puts their own spin on.
"It's important to know we're not the band that just stays up on stage and doesn't talk," Pare said of involving their audience during and between songs.
The Lodi School Board member directs the Zona Gale Singers in Portage after teaching music in Westfield schools and more than 30 years choreographing 70 musicals and 50 show choirs, as well as 14 years teaching ballroom dancing in Wisconsin.
She expects about 50 ex-students and Zona Gale Singers to be in the crowd Saturday — none of them shy about making requests or singing along.
"Everywhere we go we ask people to sing with us," Pare said. "If you know the lyrics, please sing along. I think when you ask people to sing with you — and we'll do that Saturday — they can feel like they're part of the performance."
Follow Noah Vernau on Twitter @NoahVernau or contact him at 608-695-4956.
Be the first to know
Get local news delivered to your inbox!