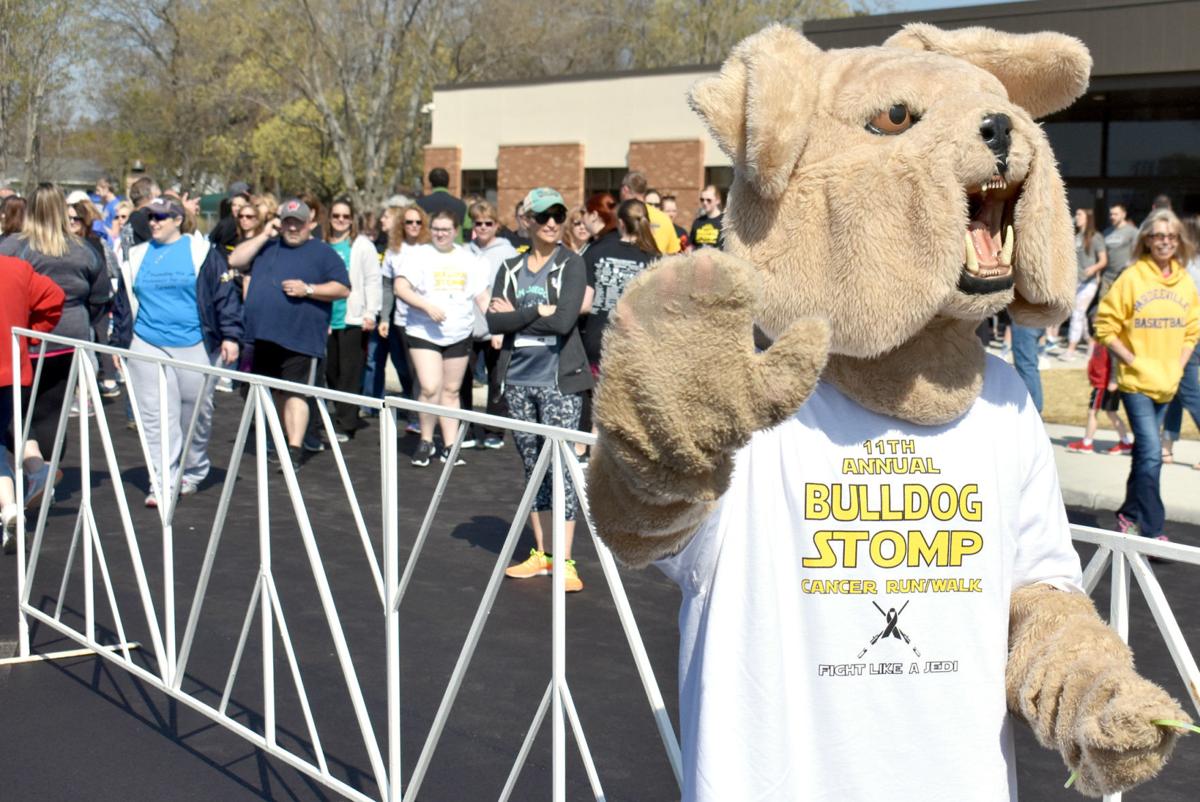 PARDEEVILLE — The Bulldog Stomp — the 5-kilometer run-walk inaugurated in 2009 by the Pardeeville High School Student Council — has been a story I've covered as a journalist many times over the last 11 years.
This year, it's partly my story.
The event raises money for the University of Wisconsin's Carbone Cancer Center. I'm a patient there.
On March 8, I was diagnosed with diffuse large B-cell lymphoma, an aggressive form of cancer that first showed itself as a prominent lump on my neck and a steadily-worsening difficulty with swallowing and breathing.
As cancers go, this is a "good" one. Chemotherapy usually kills it, and my odds for a cure — not just a remission, but an outright eradication of the malignancy — are about 60 percent.
But I'm undergoing chemo now, and I have good days and bad days.
When I signed up for the 11th annual Bulldog Stomp as a 5K walk participant, I was betting that Saturday would be one of my good days. I won that bet.
For one thing, the sunny, 70-degree weather couldn't have been better if Pardeeville High School teacher Chris Lynch, faculty sponsor of the student-run event, had personally arranged it.
All told, Lynch said, there were more than 400 participants registered for the run-walk. The event raised $35,000 for the Carbone Cancer Center — not quite up to last year's record-breaking total of $40,000, but enough to provide substantial seed money for research leading to the goal of stomping out cancer.
My husband was at my side. When I told Jay I was signing up for the Bulldog Stomp, he said, "I'm coming, too." We were a team of two: Lyn's Lymphoma Journey.
And, it was an occasion for a long-overdue reunion.
The Rev. Keith Tomlinson of Kaukauna was my pastor 39 years ago, when I belonged to Zion Lutheran Church in Clear Lake, Iowa, the community where I landed my first of six newspaper gigs, with the weekly Mirror-Reporter. Pastor Keith became an avid runner when he retired in 2009, after his most recent ministry, as chaplain of a northeast Iowa nursing home, showed him the importance of staying active as long as possible.
He is also, by the way, a 16-year cancer survivor.
Keith and his wife, Ginny, greeted Jay and me at the end of the walk, because he'd gotten to the finish line way before us, as the winner of the 5K run for his division, men age 70 and older.
But the main thing that made the Bulldog Run my story this year was, it was an occasion for coming out of the closet as a cancer patient.
Many of my readers, sources and friends in Columbia County already knew about my diagnosis, but for those who didn't, it was obvious when I showed up on Saturday, wearing a claret-colored cap covering my hairless head.
As we walked the route, which took us through Pardeeville's streets and the oval-shaped path through Chandler Park, Jay got a great deal of pleasure from appreciating Pardeeville's residential architecture.
"What a great house," he'd say. "A true Queen Anne."
For me, the walk evoked many Pardeeville stories from my last 11 years covering the village's news for the Portage Daily Register.
In the high school, I showed Jay where I waited out the tornado warning during the 2008 commencement exercises.
On Second Street, I showed him where I stood during a Fourth of July parade when a 10-year-old boy marched by, reading the Declaration of Independence.
I introduced my husband to my friends and sources, and introduced Pastor Keith to Pardeeville landmarks and traditions.
And, oh yeah, I won a couple of raffle prizes.
One of them was a "Christmas basket," including seasonal items such as a bell, an Elf on the Shelf and a DVD of "A Christmas Story."
The other was a "pink basket," full of things every cancer patient needs, including scarves, a water bottle and jewelry to promote cancer awareness.
Pink has come to be associated with breast cancer awareness. That's not the kind of cancer I have. But pink is my signature color, because it's the Christian liturgical color for joy.
Joy is a community like Pardeeville.
Joy is the medical community at the Carbone Cancer Center, who are helping me fight and beat my cancer.
Joy is every "good day" we experience, when we are healthy, hearty and surrounded by people who care about us.
Lyn Jerde has covered Columbia County for the Portage Daily Register for 11 years.
Follow Lyn Jerde on Twitter @LynJerde or contact her at 608-745-3587.
Be the first to know
Get local news delivered to your inbox!