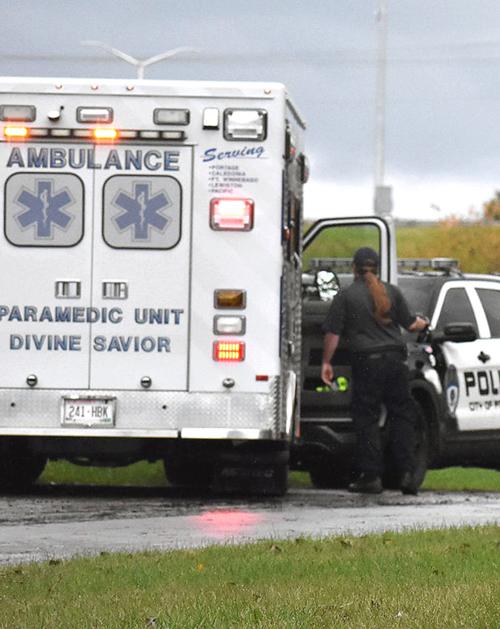 Fourteen people were treated Wednesday afternoon at Divine Savior Healthcare for carbon monoxide exposure at Dawn's Foods, located in Portage's industrial park on the city's west side.
As of 7 p.m. Wednesday, two of the patients had been discharged, and 12 remained in the emergency room for observation, said Divine Savior spokeswoman Haley Gilman. She said no patients were transferred from Divine Savior to another medical facility.
The Dawn's Foods building at 1530 LaDawn Drive was evacuated at about 3:40 p.m.
Portage Fire Chief Clayton Simonson said Divine Savior ambulances, and ambulances from surrounding areas including Pardeeville, Lodi and Marquette County, were called in to transport people. Nine people were transported by ambulance – all of them to Divine Savior, to the best of Simonson's knowledge.
Public safety authorities, including the Portage police and fire departments, were called to Dawn's Foods after some of the building's occupants reported feeling ill.
Among the people who were checked for carbon monoxide exposure were two Portage police officers who had gone into the building, Simonson said.
The fire department's meters measured the level of carbon monoxide in the building at 850 parts per million, according to Simonson.
Carbon monoxide is an odorless gas produced by incomplete burning of fuels such as wood, coal, charcoal, kerosene and natural gas.
According to the U.S. Consumer Product Safety Commission, most people experience no ill effects of prolonged carbon monoxide exposure at up to 70 parts per million, although some heart patients can experience increased chest pain at lower levels of exposure.
Early symptoms typically include headache, fatigue, shortness of breath, nausea and dizziness. High-level exposure can cause vomiting, mental confusion, loss of muscle coordination, loss of consciousness and death.
Simonson said he did not know where in the building the carbon monoxide originated, but the gas was detected throughout the structure.
However, as of late Wednesday afternoon, the building was safe to re-enter after the fire department ventilated it, he said.
According to the Dawn's Foods website, the Portage location produces a variety of refrigerated and frozen foods, much of it sold to stores, restaurants, delicatessens and caterers.
Simonson said he did not know how many people were in the building on Wednesday afternoon when the evacuation occurred.
Alliant Energy Spokesman Scott Reigstad said Wednesday night the source of the carbon monoxide appears to be a water heater located near the climate control ducts, which apparently carried the gas through the building.
After an incident such as this, Alliant officials may inspect to determine whether the source of the carbon monoxide is an outside utility line. If the source is inside the building, the building owner is usually responsible for the repairs, he said.
Follow Lyn Jerde on Twitter @LynJerde or contact her at 608-745-3587.
Be the first to know
Get local news delivered to your inbox!