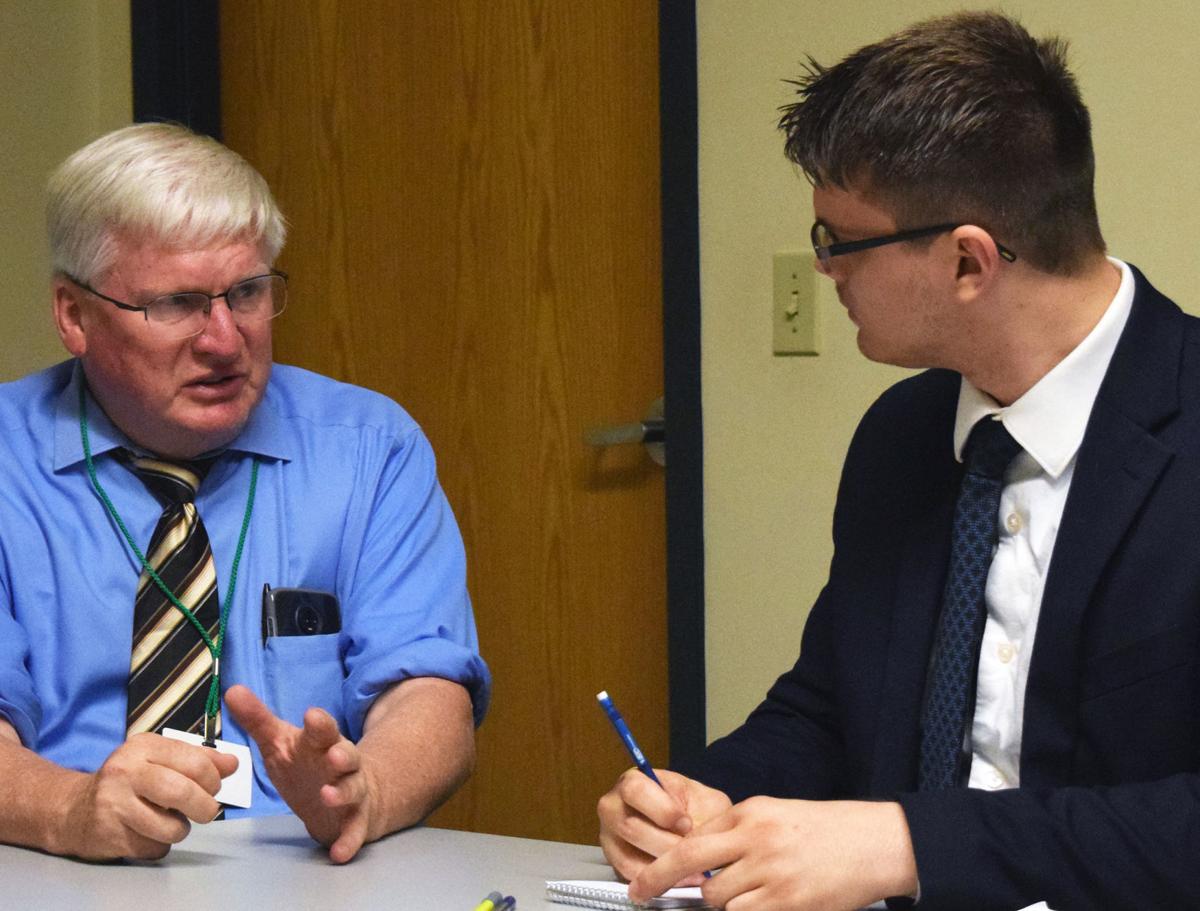 U.S. Rep. Glenn Grothman says the "mess" at the U.S.-Mexico border has paralyzed Congress and immigration issues must be solved so that the country can move forward.
Grothman, R-Glenbeulah, said he recently voted in favor of increased humanitarian aid spending and has traveled to migrant detention centers in Texas and Arizona this year, where he said migrants received better medical care than many U.S. citizens, despite what many of his Democratic colleagues have been saying in recent days.
Grothman represents Wisconsin's 6th District, which includes all of Columbia, Marquette, Green Lake, Waushara, Fond du Lac, Ozaukee, Sheboygan and Manitowoc counties as well as portions of Dodge and Winnebago counties.
He has held the office since January 2015. Previous to his election, Grothman served in the Wisconsin Legislature since the early 1990s, in both the Assembly and Senate.
The congressman made the comments Tuesday during a stop at the Portage Daily Register.
Grothman, who turns 64 today, said because Congress cannot agree on how to resolve immigration issues, other legislation has largely been stalled.
"It's a mess. We must work together," Grothman said. "The crisis at the border is taking precedence."
Grothman said he believes the U.S. government needs to hire additional border patrol agents and immigration judges to streamline court procedures for people seeking asylum while deporting more people with criminal records.
Earlier this week, several congressional Democrats visited migrant detention centers in Texas.
Rep. Alexandria Ocasio-Cortez of New York's 14th district made numerous statements describing what she called "concentration camps" rife with psychological abuse and abhorrent human rights violations.
News reports by ProPublica also revealed alleged mistreatment of migrants and a Facebook group of border patrol agents who allegedly made derogatory or threatening comments directed at Democratic lawmakers visiting the border facilities.
In a contrasting description, Grothman said women at the facilities were not treated like animals, but rather given three meals a day, routine physical exams and a housing space fitting two people each that are larger than typical college dormitories.
"From what I could see, they were the best they'd probably been in a long period of time," Grothman said.
Dairy industry hurting
On other topics, Grothman says every time another industrial farm with 10,000 cows opens in Wisconsin, more local families lose their dairy businesses that already are struggling due to international trade tariffs.
He said while many people in his district struggle and important issues are left unresolved, some members of Congress have been pushing for a pay raise for themselves. He called the effort "an insult to the rest of America."
Wisconsin dairy farmers are facing the greatest challenges to their livelihood since the 1980s, Grothman said. He hopes Congress will soon pass a new trade agreement with Mexico and Canada to alleviate the problems.
The Trump administration has placed tariff after tariff on Chinese imports since 2017, and dairy farmers have felt the strain. But Grothman said those tariffs are meant to be temporary as a means of staving off Chinese businesses from dominating U.S. or global markets.
Jobs and roads
Infrastructure repairs, job creation and trimming student debt are other issues Grothman said he wants Congress to address with solutions.
Wisconsin has the nation's second-highest percentage of people working in manufacturing jobs, at just over 16 percent, he says.
Manufacturing is a major component to a healthy Wisconsin economy and Grothman said he and other members of the committee focusing on education issues hope to reduce student debt and create more jobs in manufacturing and health care along the way.
Grothman said multiple members of the House Education and Labor Committee seek to pass changes to the existing Higher Education Act in coming weeks.
He also was glad when he learned of various ongoing road maintenance projects in Marquette County. Portions of Highway 22 and Highway 23 in or around Montello are under repair.
Grothman said he has pressed his colleagues in Washington, D.C., to focus on legislation related to nationwide infrastructure.
The U.S. ranks 9th globally in infrastructure quality, according to the Peter G. Peterson Foundation, a nonpartisan organization that looks to increase public awareness of various economic issues.
Wisconsin in 2017 received a very poor "D+" grade in terms of overall infrastructure quality, according to the Infrastructure Report Card organization, which assesses transportation systems in all 50 states.
Be the first to know
Get local news delivered to your inbox!