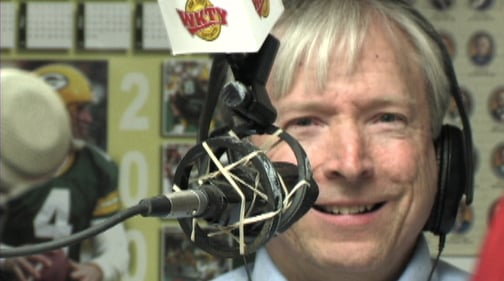 We remember tragic events like 9/11, when Kennedy was assassinated and when the space shuttle exploded.
We remember them like they happened yesterday. What we were doing. Where we were.
The images are forever burned in our memory.
But what if you could remember what you were doing on this day - Sept. 29 - 10 years ago? Where did you go? What did you eat? What day of the week was it?
Brad Williams could tell you it was a Saturday. And he could tell you if anything important happened that day, or if it was just a nice sunny day.
Brad remembers things like they happened yesterday. He can even tell you what day of the week you were born if you give him the date.
"I've always had the ability to remember things in detail and to pin a date to it," he said. "It took many years to realize not everyone could do it to the extent I could."
Brad's younger brother, Eric Williams, said the running joke around the house growing up was if someone was trying to remember something, they would just yell for Brad.
"He was much easier to go to than researching it, and we always relied on him being right," Eric said. "At a certain point we stopped testing him because we knew he was always going to be right."
Brad is the human Google - a person who you can ask a question to about the past and get a correct answer. Perhaps even more reliable than Wikipedia.
It was in 2006 that Eric and Brad read about a woman who was being studied by the University of California in Irvine for her remarkable memory.
Researches called the condition hyperthymesia.
Eric contacted those running the study and Brad was brought out for testing several times. He was given dates and was able to recall what happened those days.
"I also tested at UCLA and Northwestern," said Brad, who turns 55 next week.
Having made a career as a screenwriter, Eric decided to make his first documentary by following Brad around. He started filming where they grew up in Prairie du Chien. And what happened next was an unforgettable adventure.
The documentary "Unforgettable" - which will be at the Al. Ringling Theatre Friday night - follows Brad to family reunions, a Scrabble tournament in Seattle and even to the home of Ken Jennings, the all-time "Jeopardy" champion.
"Ken was interested in ... writing books and he thought he would do something on memory," Brad said. "He decided not to, eventually, but we did spend an afternoon at his place and then we went out to bar trivia.
"And he was nice enough to submit himself to bar trivia at which I beat him."
Brad had appeared on "Jeopardy" himself in 1990, but finished second.
"You have to be lucky, in a way, with the clicker," he said.
Brad has been a newsman his entire life, and currently works at a radio station in La Crosse where they even have a fun, early-morning segment to test his memory.
"Even before I went out and did this study at Irvine, people knew enough about my mental skills and they would come in on tours and (say), 'Here's Brad, give him your birthday and year and he will tell you what day of the week that was.'"
For "Unforgettable," Eric followed Brad to "Good Morning America," where he was dubbed "the Human Google," and to "Regis and Kelly." Countless magazine, newspaper and TV interviews followed, with the pinnacle for a newsman airing earlier this year - a segment on "60 Minutes."
You have free articles remaining.
The story was taped a year in advance and included actress Marilu Henner, who also has hyperthymesia.
After the segment aired, UC-Irvine had hundreds of people calling to be part of the study. But only a few were found to have the rare memory ability.
"A couple of years ago there were only six people being studied. Now they are up to 20," Brad said.
While playing trivia at bars over the years, Brad realized answers didn't come to others as quickly, or not at all, as they did for him.
"Until I got involved in this study I didn't think about what types of memory skills there are," he said. "Now I've been tested for different types of memory skills, some I'm good at, some I'm average at."
The dates Brad remembers are often attached to events. It could be something in the news, or something he's heard about.
"If there is something significant that I attach a date to, (the recall) is just immediate," he said.
Other times he may use a clue to focus his mind.
Eric said he never thought the study would lead to the attention Brad and the film have received.
He said he always knew his brother was exceptional - from the time when he was 12 and represented Wisconsin in the National Spelling Bee.
"We always knew he was bright. We thought this kind of memory was part of being bright," Eric said.
Both Brad and Eric will be at the Al. Ringling Theatre Friday night to talk about the film after the showing and to take questions.
Brad said he wasn't sure how the film would turn out, or if he wanted to see his life on the big screen, but he liked the finished product and is happy others like it, too.
"One of our goals was to not have this dry science documentary," Eric said. "But to be about this person and this odd thing he can do and these unexpected adventures he went on."
CBS also has a new TV series called "Unforgettable" that debuted last week. Henner was selected to be a consultant for the show. While he has no involvement in the program, Brad was asked by CBS if he would be available for interviews on hyperthymesia, which he did for publications like USA Today.
When he's out in public, people like to quiz Brad when they see him. Last week he covered Oktoberfest for the radio station and took a few questions from the crowd trying to stump him on dates.
While he remembers his life in great detail, Brad said the furthest back he can remember is his fourth birthday.
Where: Al. Ringling Theatre.
Cost: Ticket prices are $7.50 for adults and $5.50 for seniors and youth.
Talkback: Brad and Eric Williams will host a talkback after the film.