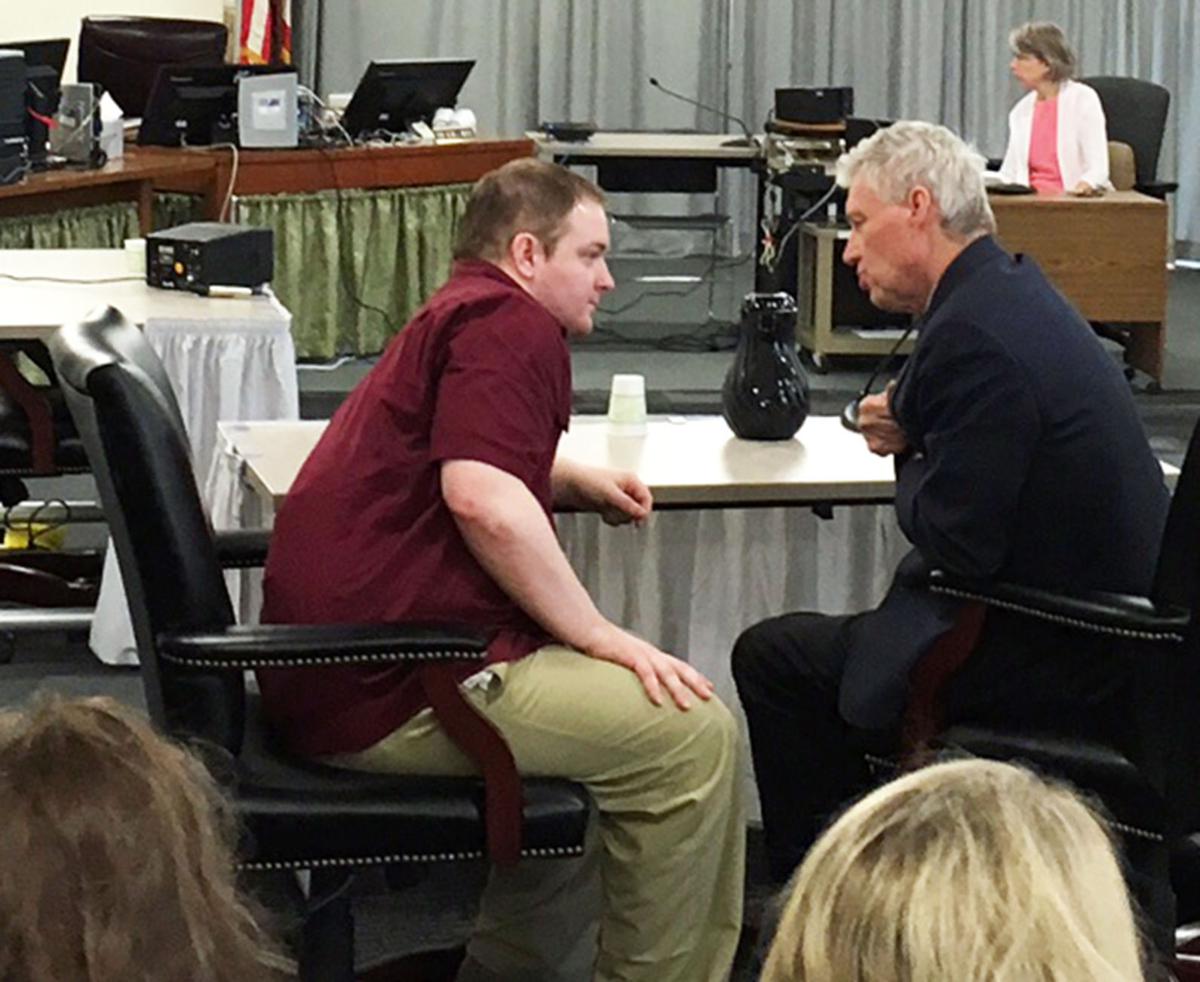 A Lodi-area man was convicted of first-degree reckless homicide late Thursday afternoon, ending a two-day trial in Columbia County Circuit Court in Portage.
Chase Thistle, 28, of the town of West Point, was convicted of a single felony count of reckless homicide carrying a potential sentence of up to 40 years in prison. The jury determined he was responsible for the 2015 overdose death of Nicholas Klamer.
"Either one of them could have died, and either one of them could have been convicted," Judge Alan White said after the verdict was read.
The trial reached an emotional peak in final arguments. Family and friends of Klamer sat behind Assistant District Attorney Crystal Long and Columbia County Sheriff's Office Detective Sgt. Jason Kocozsky at the prosecutor's table, and supporters of Thistle sat behind him at the defendant's table with defense attorney Edward Hunt.
"They didn't prove that he's a murderer," Hunt said. "He kept no secrets; he had nothing to hide."
Thistle was arrested Aug. 18, 2015, after he and Klamer both overdosed on heroin. While Thistle was revived by first responders, Klamer went undiscovered and died on the floor of a boathouse on his family's property.
The two, who had known each other, met and talked at a campfire at the Klamer residence the night before. Both were recovering from heroin addiction. Thistle was clean for about two years and Klamer approaching a year, but relapsed that night, according to trial testimony.
Over the course of the trial, an explanation why they decided to get drugs went unexplained, but late that night Thistle used his cellphone to connect them with someone who could get them heroin in Madison.
Sometime after midnight, Klamer woke up his father, who gave them a ride to Madison, first on the premise of taking Thistle home, then about halfway there, in order to get money to a friend who was supposedly having car problems. Klamer's father, whom he worked with at a tool and die shop, advanced him $200 on his next paycheck and brought the two to the parking lot of a Woodman's supermarket on Milwaukee Street.
There, the two got out of the truck and met with their contact, Denan Marquardt and his girlfriend, Anna Hays, and a third man, Patrick Sawyer. In Marquardt's minivan, the five went to a nearby PDQ store where everyone but Sawyer and Hays got out of the van. Sawyer took the $200 from Klamer and a few minutes later, he and Hays came back with about a gram of heroin.
They went back to the Woodman's lot, where Klamer got cooking materials and needles from Marquardt and the five of them shot up. Klamer and Thistle then got back into his dad's truck and went back to the Klamer home on Lake Wisconsin. Once there, Klamer and Thistle went to the boathouse and injected heroin again.
As morning arrived, Thistle told detectives, he tried to wake Klamer up, who was snoring on the floor, but failing at that, took some fishing equipment, what was left of the heroin and headed to his grandparents' house nearby, where he would use again, but this time overdosing.
"What message does this send at all," Hunt said, "when you have a young man that cooperates with law enforcement in every sense of the word — tells them, spells it out?"
Under the same logic and reading of the Len Bias Law, designed to hold drug dealers legally responsible for overdose deaths, Hunt said that Klamer's father could just as easily be held legally responsible with the end results of that night having been "foreseeable."
"You know in your heart of hearts, this is nuts," Hunt said.
In her final arguments rebutting Hunt, Long said that although the work of a jury was a citizen's most critical civic duty along with voting, unlike voting and contrary to Hunt's initial suggestions, "it is not the place to say 'no,'" their purpose and the law being clearly defined.
"'Caused the death of' does not mean 'intended the death,'" Long said. "Without Chase Thistle and his phone, does this happen at all? He started the whole thing. Who took a step to get the heroin?"
After the jury had been dismissed, White denied a motion by Hunt to have the case dismissed for lack of evidence. The judge explained to the jury that Klammer was positioned as the buyer and the "dealer" appeared to be Sawyer, or ultimately whoever Sawyer and Hays had gone to meet while everyone else waited at the PDQ.
"Mr. Thistle has more in common with the seller than his friend, because he made the contact," White said, explaining the precedent of Rosemond v. United States (2014). "A person who aids and abets a crime is guilty of that crime. Anyone who helps Mr. Marquardt, there is culpability."
After the verdict, Thistle was taken back to Columbia County Jail, where he has been held since his arrest in 2015, first on a $25,000 cash bond later reduced to a $10,000 bond, which was then revoked Thursday as he awaits a pre-sentencing investigation by the Department of Corrections and eventual sentencing hearing.
The other three subjects in the case were sentenced in 2016. Hays pleaded no contest to manufacturing and delivery of heroin in January 2016, while the charge of reckless homicide was dropped. He was sentenced to seven years' probation.
Sawyer pleaded no contest to one count of reckless homicide on Aug. 23 and was sentenced to four years in prison and 10 years' probation. A month later, Marquardt entered the same plea to the same charge, receiving two years in prison and 10 years' probation.