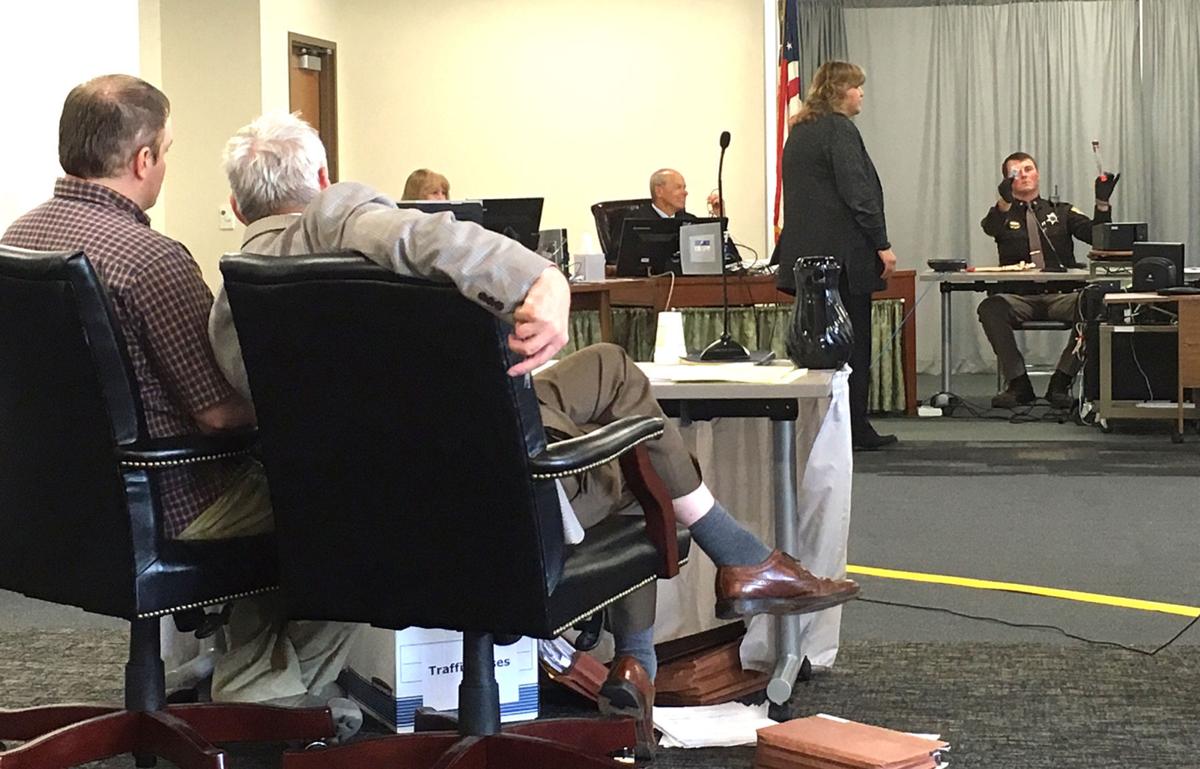 Testimony began Wednesday in the trial of the last of a group of defendants charged with first-degree reckless homicide in connection to the overdose death of a Lodi man in 2015.
"This case is a conspiracy case," Columbia County Assistant District Attorney Crystal Long said in her opening argument. "It's about a conspiracy to deliver drugs that resulted in the death of Nicholas Klamer."
Long told the jury that they would be hearing testimony that Klamer, then 27, got together with defendant Chase Thistle of Madison, a fellow recovering heroin addict who is now 28, and worked together to buy heroin in Madison on Aug. 18, 2015.
Defense attorney Edward Hunt introduced Thistle to the jury, saying "this young man" almost died of a drug overdose at about the same time Klamer died of an overdose using the same drugs.
"He was not a drug dealer," Hunt said. "They were sick."
In the series of events that involved Klamer using Thistle's phone to connect with others who could find heroin that night, Hunt said that it was Klamer who purchased the drugs with $200 advanced to him from his father, and Denan Marquardt whom they met in a parking lot with Anna Hays and Patrick Sawyer, who had the connections to purchase a gram of heroin.
"They got high because Nicholas Klamer shared the heroin," Hunt said. "They had both been clean for a while and fell off the wagon."
During jury selection, potential jurors were asked a series of questions about the Len Bias Law, which is the foundation of the case against Thistle and the others involved in the incident. Passed in 1988, the law is named for a college basketball star who died of a cocaine overdose less than 48 hours after being drafted by the NBA's Boston Celtics.
In Wisconsin's version of the law, a fatal overdose fits under the category of reckless homicide, with a maximum sentence of 25 years in prison.
Long asked jurors if any of them opposed the law and if any were in favor of universal drug legalization. None of the jurors answered in the affirmative.
Columbia County Sheriff's Deputy Chris Weber testified that he visited Klamer's house twice on Aug. 18. The first time he was looking for Nicholas Klamer to ask about Thistle, who had overdosed at a house nearby but had been revived. The house was quiet and the doors were all shut, so he said that he moved on, only to be called back when Donald Klamer found his son dead in the boathouse.
Donald Klamer approached the witness stand from a group of friends and family sitting in the front rows of the makeshift courtroom in the Columbia County Health and Human Services Building. The trial was held in the HHS Building because the courthouse is closed for remodeling.
As Long questioned him, Klamer described the 24 hours leading up to the discovery of his son's body. They worked together at a tool and die business, he said, and after work they went to Sam's Club to pick up some groceries and then to the house where they lived together on Lake Wisconsin.
"I don't personally know when it started, but it was many years," Klamer said of his son's addiction. Nicholas Klamer was assumed to have been clean between January and August 2015.
"Did you see him again?" Long asked.
"Not until midnight," Klamer said. "He said Chase needed a ride home to Madison."
When the three were in Donald Klamer's truck and halfway to Madison, he said that his son changed the story to needing to help a friend with car trouble and that he needed $200, saying he would be taking an advance against his paycheck later in the week.
They arrived at a parking lot at Woodman's Market, where Klamer's son and Thistle got out of the truck and disappeared into the dark to find Marquardt's van and coordinate with a dealer, according to court documents. After about a half-hour, Klamer said, the two were back and they headed back home.
"That's not a heartbreak that is not going to go away, is that fair to say?" Hunt asked Klamer under cross-examination.
"Yes," said Klamer, who had not testified in the three earlier cases but made statements at the sentencing hearing of each of the other defendants.
Hunt asked Klamer if he had asked his son if drugs were involved.
"I did ask him if there was anything illegal about what he was doing," Klamer said, "and he told me no and it was completely out of character for him to lie to me."
Testimony in the trial is expected to be finished today. If convicted, Thistle faces a potential sentence of up to 40 years in prison.
The other three subjects in the case were sentenced in 2016. Hays pleaded no contest to manufacturing and delivery of heroin in January 2016, while the charge of reckless homicide was dropped. He was sentenced to seven years' probation.
Sawyer pleaded no contest to one count of reckless homicide on Aug. 23 and was sentenced to four years in prison and 10 years' probation. A month later, Marquardt entered the same plea to the same charge, receiving two years in prison and 10 years' probation.