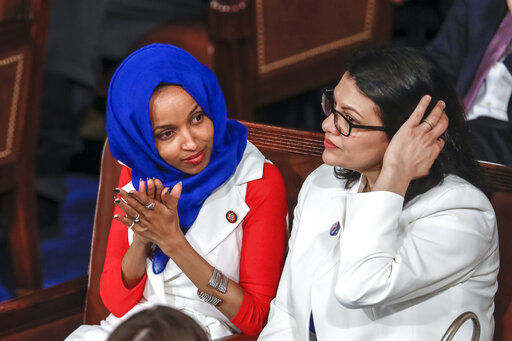 Nasty terms get thrown around like confetti these days, with name-calling elevated to a national sport, so we'll decline to join the chorus calling President Trump a "racist" over his comments last week toward four freshmen congresswomen, all persons of color.
We will say his words were shockingly inappropriate and disturbingly insensitive as he told the women to go back to the countries they came from.
All four are American citizens. Three were born in this country. They were duly elected to Congress by constituents who wanted their representation.
Even more distressing are Trump's charges the women "hate America" and are unpatriotic because they dare to see things differently.
Then there was Sen. Lindsey Graham, chiming in that the women probably are "communists."
Next, a Carolina crowd at a Trump rally giggled over schoolboy taunts and began chanting "Send her home!" Well, who's surprised?
Most of the chatter has been to scold President Trump and his defenders for their nasty remarks.
But let's add a little balance. Do not forget one of the four congresswomen — Rep. Rashida Tlaib of Michigan — in vowing earlier to impeach Trump, used an infamous expletive to trash the president.
The other three have not been shy in their denunciations of all things Trump, often rolling out mean-spirited language and engaging in name-calling.
Inappropriate language has virtually been normalized in modern politics, and both sides are guilty.
We choose to believe most Americans prefer their leaders set a good example for others — not a reprehensible example. If we want to have a respectful country, shouldn't those we elect as leaders demonstrate respect for all?
Politics has become a moral cesspool. The level of vitriol spewed forth day-in and day-out by the political class and their enablers is poisoning civil society.
But we suggest readers pause to look at this another way, too: Could it be society is poisoning the political class?
Have we, as a people, become so crass that politicians are just mirroring the rest of us?
Are people sending politicians this message: The more you act out, the more we get riled up and chant and vilify "others" and, maybe, get out and vote?
The underlying issue is the divisiveness afflicting the country, in which the two sides no longer view opponents as friends and neighbors who happen to see the world a little differently. Rather, the two sides see opponents as haters of America, determined to destroy democracy — the enemy, evil, infestations of ideological vermin.
The First Amendment enshrines free speech, free press, the right to assemble and protest, along with freedom of worship.
Have many Americans decided the Founders got it wrong?
Listening to the rhetoric, one wonders if the people still support those idealistic principles.
Pursuit of a more perfect union does not require groupthink — it values dissenting opinions.
We believe those who would lead have an obligation to lift the civility of the American people, not wallow in self-indulgent meanness.
And we believe the people have an obligation to hold leaders to a higher standard.
Bad behavior always is wrong. Affirm your American heritage. Call it out, no matter the "side."
Catch the latest in Opinion
Get opinion pieces, letters and editorials sent directly to your inbox weekly!