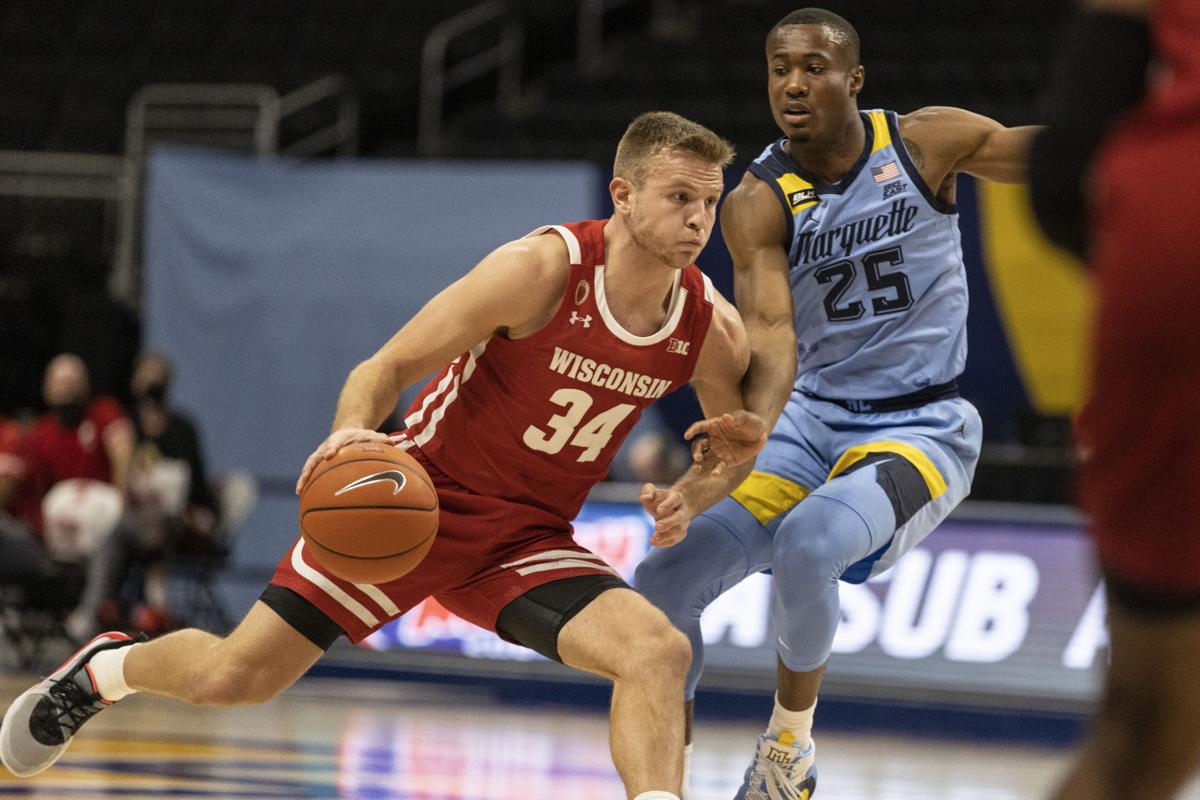 The University of Wisconsin men's basketball program only had one scholarship spot to offer to a member of the class of 2022. Three-star shooting guard Connor Essegian took that spot to fill UW's roster spots. 
The Badgers were recruiting many high-profile players, including four-star point guard Rowan Brumbaugh (Northwestern) and three-star Braden Huff (Gonzaga). UW was included in the top-five choices by multiple top recruits who chose other programs. 
Fans started asking if the recording affected recruiting when high-profile players kept passing on UW. 
Assistant coach Joe Krabbenhoft said he never had a parent or recruiting target ask him about the released audio from the meeting with the 2021 seniors.
"The days following, I was just thinking to myself like, 'OK what will my response be to recruits?'" Krabbenhoft said. "I was prepared, but not one parent or one kid brought it up. It kind of tells you it just wasn't that important, you know, 16-, 17-, 18-year-olds." 
Three potential recruits who spoke on the condition of anonymity because they signed with other programs all said the audio had nothing to do with their decision not to choose UW. 
All programs in NCAA Division I basketball have 13 scholarships they can award each year. There are 17 players on UW's roster — Brad Davision has an extra year of eligibility due to COVID-19 and there are three walk-ons (Carter Higginbottom, Isaac Lindsey and Justin Taphorn).
The current freshman and sophomore classes at UW were large recruiting classes, making up 70% of the roster. The Badgers also brought in three transfers this season in Chris Vogt, Jahcobi Neath and Lindsey. 
Davison and Vogt are the only seniors on the team. Davison's scholarship spot won't go to anyone once he leaves because it's a special situation due to the NCAA granting extra years of eligibility because of the COVID-19 pandemic. Essegian will fill Vogt's scholarship spot on the roster next season. 
Krabbenhoft said UW gets to be picky about who it signs coming off the coattails of two large recruiting classes. The Badgers did not need a point guard because they have young talent in Chucky Hepburn and Lorne Bowman and an experienced ball handler in Neath. They have plenty of forwards and centers, too. 
"We figured the thing we probably needed most was a guy who can come in and spread the floor and, you know, fly off screens a little bit," Krabbenhoft said. 
Class of 2022 commit Essegian is the kind of player Krabbenhoft described. 
Mark Adams, Essegian's coach at Indiana Elite, said Essegian might be the best shooter in Indiana and is one of the top performers in the state. 
"He can shoot a high percentage from the volleyball line," Adams said. "I've had a lot of good shooters over the years, and he's right up there with the best. … He can drive the line and dunk it on somebody. He can handle the ball well."
UW cannot comment on Essegian until he officially signs with the team Nov. 10. 
Krabbenhoft said recruiting "is not a big secret" because potential players easily can see what elements a team has as well as how many scholarship spots are available. 
UW recruited a wide range of players early in the process until it was able to see this year's freshman class in person. The coaching staff hadn't seen the five freshmen in person in more than a year due to COVID-19. The coaching staff then was able to narrow down what they actually needed.
He described recruiting as "almost impossible" with the added challenge of navigating the transfer portal, people leaving the program and incoming players changing their mind. He said the entire UW coaching staff has to be on their toes and adjust as needed. 
It's also possible players transfer out of the program by the end of the year, which could create more roster spots for UW. The Badgers coaching staff then would fill those holes either with transfers or high school seniors who hadn't signed yet. That is why it's important for teams to cast a wide net even when they have limited scholarship spots to fill at the beginning of the recruiting process. 
"As coach Gard always says, 'You have to keep your recruiting in pencil, not pen, not ink because it's ever changing,'" Krabbenhoft said.
Check out the State Journal's complete coverage of Big Ten basketball media days
From University of Wisconsin men's basketball coach Greg Gard discussing his team's newcomers to women's basketball coach Marisa Moseley laying out her vision of success in her first season leading the Badgers — and everything in between — the State Journal has fans covered with everything they need to know ahead of the 2021-22 season.