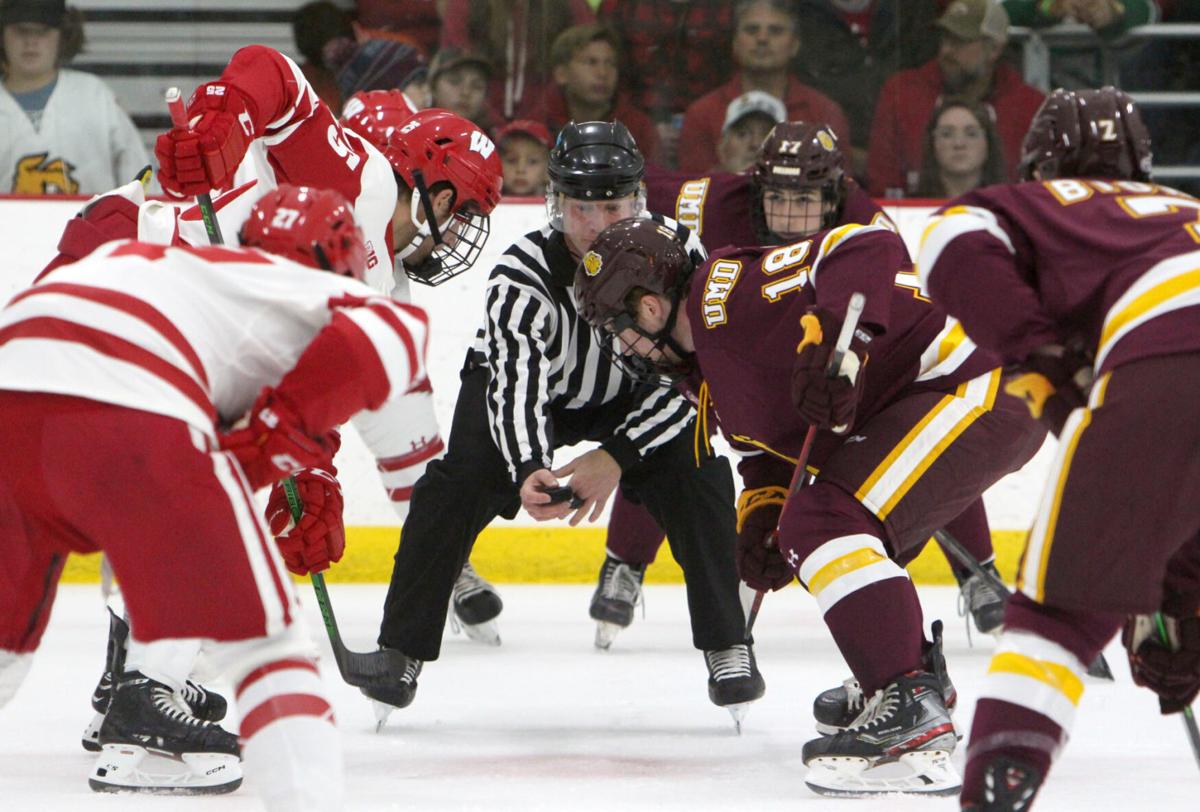 There was no time for the University of Wisconsin men's hockey team to feel sorry for itself this week after a pair of losses in a season-opening series.
It was right back to work with an emphasis on competing in UW's practices leading up to a series against Army on Thursday and Friday.
Here are five things to know ahead of the non-conference games between the Badgers (0-2) and Black Knights (0-2-1) at the Kohl Center:
Rough start defensively
Captain Tarek Baker wasn't prompted to offer an assessment of the Badgers' play in front of goaltenders Cameron Rowe and Jared Moe last weekend but he jumped in anyway.
Both goalies were pulled from a start in the back-to-back losses to Michigan Tech — Rowe after giving up five goals on Friday and Moe after conceding four on Saturday.
Don't point the finger at the goalies, Baker said.
"It was us in front of them that put them in those situations to where they're having to kill penalties and they're getting shots straight in the slot," he said. "So for any goalie, it's not the way you want it to start but that's completely on the forwards and the D. I thought our goalies played actually outstanding with some of the chances that they had right in the slot that were grade A's that they saved. So that was all on us."
UW allowed 10 goals in the opening series. Rowe and Moe both had stretches of struggling mixed in with times of solid play but that kind of inconsistency has been crushing to the Badgers at points in previous seasons.
Rowe is scheduled to start Thursday's game, coach Tony Granato said.
Quick start
Caden Brown's goal 1:13 into last Friday's game was the earliest first Badgers score of a season in 18 years and the fifth-earliest overall.
A rookie has scored UW's first goal of the season in three of the last four years but Brown's was the earliest in the team's 59-year modern era that a freshman has broken the ice with a goal.
From the infirmary
Defenseman Tyler Inamoto didn't practice Tuesday after he limped off Monday favoring his left leg after it got tangled up with a teammate during a drill. He was back Wednesday and appears to be set to play in the series opener.
The Badgers are approaching a decision point with the lower-body injury that defenseman Mike Vorlicky suffered in preseason practice, Granato said. The junior could be facing a long-term absence.
Forward Carson Bantle, who missed last week's games with a shoulder injury, joined the team for practice Tuesday in a no-contact jersey but didn't participate Wednesday.
Closer to home
Army has four Wisconsin natives on its roster, tied for third-most in Division I. Goaltender Gavin Abric of Hayward played in the Black Knights' 2-2 tie and shootout victory against RIT last Saturday.
Wausau forward Josh Bohlin is a former Badgers recruit who said in August 2020 that he and UW coaches came to a mutual decision for a decommitment. Defenseman Marshal Plunkett is from West Salem and is a former youth hockey teammate of Badgers forward Jack Gorniak. Defenseman Noah Wilson of Fond du Lac is the other Wisconsinite on the roster.
UW has eight Wisconsin natives on its roster. St. Thomas is second with five, while Army and Michigan Tech have four each.
Long time coming
The Badgers and the Black Knights have played only three times and not since Jan. 2, 1967. UW won that game in West Point, New York, 1-0 behind a Dick Keeley third-period goal to give first-year coach Bob Johnson only his second road victory. Gary Johnson made 41 saves to become the first goalie to shut out Army in nearly four years.
Army won the first two games in the series 4-2, both at Madison's Hartmeyer Ice Arena in December 1965. The Black Knights were then coached by Jack Riley, the father of the other two people who have coached the team since — Rob (1986-2004) and Brian (since 2004).