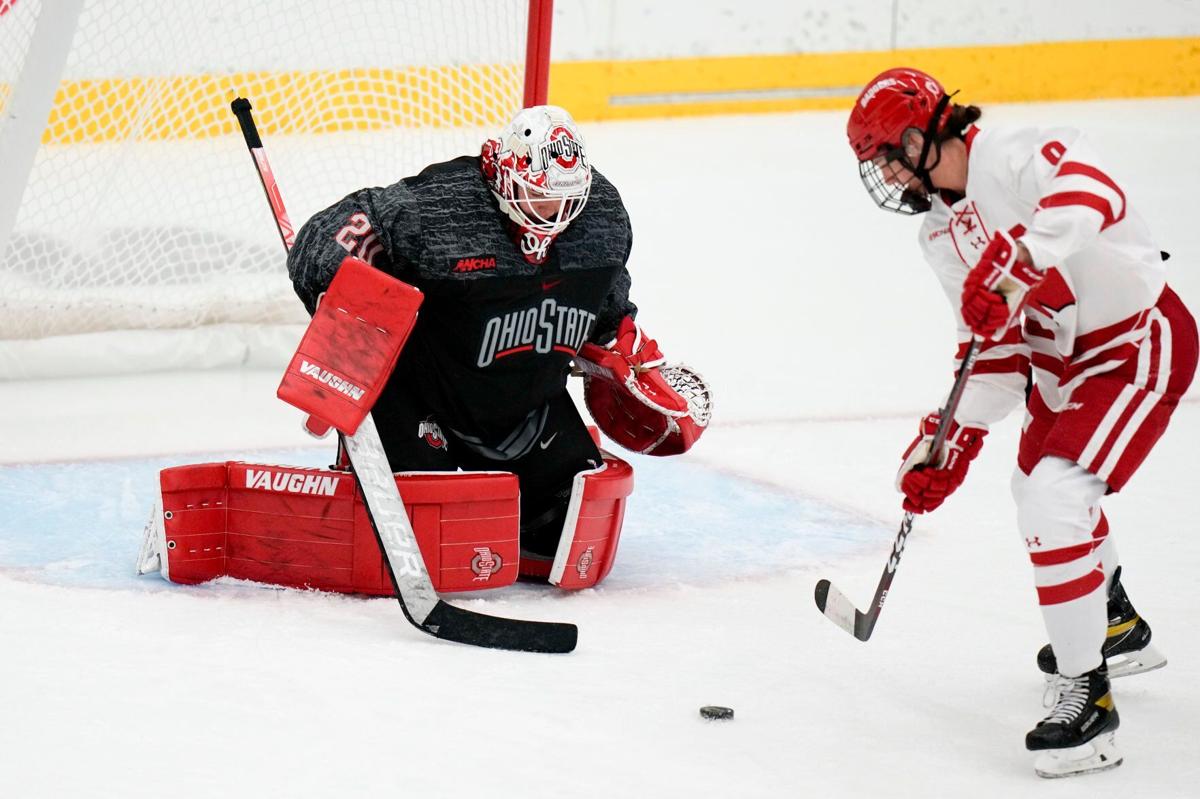 One University of Wisconsin hockey team had two key players get back in the goal column. One had a change in plan at goaltender.
Here's this week's look at the big picture and the small details of Badgers hockey.
One big takeaway: Women's hockey
Having more than one line produce is critical.
Coach Mark Johnson explained the change in the top two lines for the Badgers women's team in late October in terms of trying to spark a few players who hadn't been producing.
UW hasn't had many games since then to see results, but last week's sweep of Division I newcomer St. Thomas gave some of the interested parties opportunities to cash in.
In an Oct. 30 game at Minnesota State, Johnson shuffled the left wings on his top two lines to form new trios: Maddi Wheeler, Casey O'Brien and Makenna Webster in one and Daryl Watts, Brette Pettet and Sophie Shirley in the other.
Pettet was in a point-scoring drought that eventually reached eight games. Shirley was having trouble finishing chances. Both had much more to show for their efforts in last week's series against the Tommies.
The competition level soon will rise again — the No. 1 Badgers host No. 3 Minnesota on Dec. 3 and 4 — but getting Shirley and Pettet some scoring confidence is a boost. Pettet scored in both games last week, ending a 12-game goal-less streak with the first. Shirley also was credited with goals both Saturday and Sunday, although it appeared the latter didn't need her help to cross the goal line after a defender swept a loose puck into her goalie and back toward the goal.
A goal's a goal when they haven't been happening much. And the Badgers will be thankful to have more than just the reconfigured "WOW" line (Wheeler replacing Watts as the first "W") scoring.
One big takeaway: Men's hockey
A departure from the goaltender platoon couldn't help the Badgers escape a slump, but it provided some insight.
Where goaltending ranks among the Badgers men's team's issues in a 4-10 start to the season and an ongoing five-game losing streak can be debated. Some think Jared Moe and Cameron Rowe need to stop more of the difficult shots that are coming their way. Some think that would be asking them to be miracle workers because of what's developing in front of them.
Moe started last Friday's game at Michigan State and did fairly well in a 3-2 loss. Rowe and Moe had alternated playing in games of two-game series over the first six weeks of the season, but Moe got the start again Saturday against the Spartans.
"I thought tonight was the night where you give him an opportunity to come back in the same building and see if he can get a little rhythm going and help him and help our team," Granato said Saturday. "The goals that he gave up, they made some great plays and some great shots. And obviously we need to play a couple of them a little bit differently than we did."
It was only the third time in three collegiate seasons that Moe started back-to-back games. The others were in his first of two years at Minnesota.
The Badgers will need Rowe to play a part as the season continues. But last week's decision indicated that Moe has nosed ahead in the head-to-head picture.
One great tweet
Former Badgers star Hilary Knight scored the tying and overtime goals for the U.S. in a 3-2 victory against Canada on Sunday. The teams play again Tuesday (6 p.m., NHL Network).
Three Badgers stars
The three best performances by a Badgers player last week:
No. 3: Grace Bowlby had three assists, was plus-6 and named the WCHA defender of the week.
No. 2: Makenna Webster scored twice, had six points and was plus-6 against St. Thomas.
No. 1: Maddi Wheeler had two goals, four points and was plus-6 as a freshman last season. She had two goals, six points and was plus-6 against the Tommies last weekend.
Todd's top four
Here's how I see the top of the rankings this week:
1. Minnesota State: The Mavericks outscored overmatched St. Thomas 14-0 in two games and took advantage of last week's Nos. 1 and 2 teams both going 0-2 in a week for the first time in the 24-plus seasons of the USCHO poll.
2. Michigan: Two losses to fast-charging Notre Dame aren't as bad as they appear — they were both in overtime, so the Wolverines only suffer a small negative impact in the PairWise.
3. Minnesota Duluth: A split at North Dakota left the Bulldogs in the same spot as last week.
4. St. Cloud State: The Huskies were outscored 10-2 in losing twice at Western Michigan.
1. Wisconsin: No trouble for the Badgers with St. Thomas in between weeks off.
2. Ohio State: While the Buckeyes' football team stomped Michigan State on Saturday, the women's hockey team was a few hundred yards away doing the same to Minnesota State, 9-0.
3. Minnesota: The Gophers have won 10 straight and might get a rematch against Colgate on Saturday in Nashville before facing UW.
4. Northeastern: The Huskies are unbeaten in 10 games after starting 2-2.
One week ahead
The Badgers men's team (4-10) plays Clarkson (7-4-2) at 7 p.m. Friday and 6 p.m. Saturday at the Kohl Center. The teams split a series in Madison in October 2019.
The women's hockey team (15-0-1) is off for the second time in three weeks.