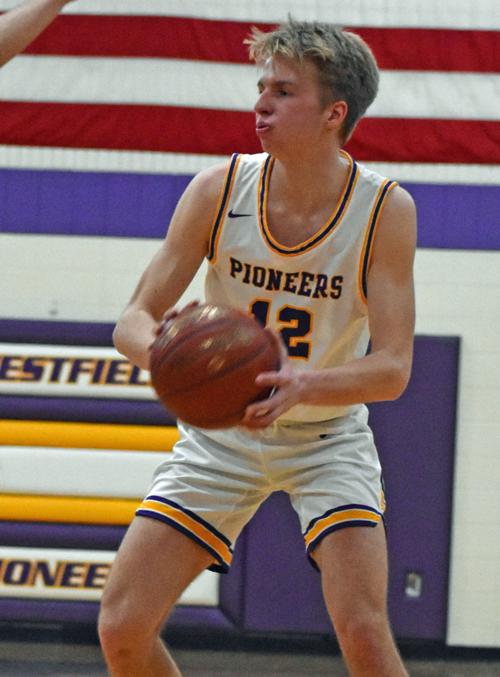 One year after having an injury cut his junior season to just 10 games, Westfield senior Derek Drew bounced back to play a full season and lead the school's boys basketball team to a turnaround campaign that saw the Pioneers win 11 more games than it did the previous year.
With Drew leading the way, Westfield finished the season 14-10 overall. That was a huge improvement over last season, when Westfield went 3-20 overall with Drew missing over half the season. The 14 wins for Westfield were the most wins in a season for the program since the Pioneers went 15-9 in 2013-14.
Drew's efforts didn't go unnoticed this season, as he was named to the All-South Central Conference second team the conference recently announced. Drew was the lone player for Westfield to earn all-conference honors.
Drew, a 6-foot-3 forward, led Westfield in scoring with 12.7 points per game, and was second on the team in rebounds with 7.8 boards per contest. Drew had a season-high 24 points in a 79-71 win over Omro on Dec. 5. He recorded four double-doubles on the season, including 10 points and 16 rebounds in a 48-26 season-opening win over Princeton/Green Lake on Nov. 26.
Drew also averaged 1.3 assists and 1.7 steals per game on the season.
Of the 10 players to earn first- or second-team honors in the SCC, eight of them were seniors, including all five players on the first team. Conference-champion Wisconsin Dells had three first-team selections, including Bryson Funmaker, Sam Millard and Brett Hirst. They were joined on the All-SCC first team by Mauston's Cade Hall and Wautoma's Kade Panich.
You have free articles remaining.
Hall, who was the SCC's Player of the Year last season as a junior, shared the honor this year, as he and Funmaker were named the league's Co-Players of the Year.
This was the third straight year Westfield failed to land anyone on the All-SCC's first team. The last Pioneer to earn first-team honors was junior Nick Brakebush in 2017.
ALL-SOUTH CENTRAL CONFERENCE BOYS BASKETBALL
Co-players of the year: Cade Hall, Sr., Mauston and Bryson Funmaker, Sr., Wisconsin Dells.
First team: *Cade Hall, Sr., Mauston; *Sam Millard, Sr., Wisconsin Dells; *Bryson Funmaker, Sr., Wisconsin Dells; Kade Panich, Sr., Wautoma; Brett Hirst, Sr., Wisconsin Dells.
Second team: Derek Drew, Sr., Westfield; Caleb Hamilton, Jr., Adams-Friendship; Gage Kobylski, Sr., Mauston; Adon Saylor, So., Mauston; Riley Eck, Sr., Wisconsin Dells.
Get in the game with our Prep Sports Newsletter
Sent weekly directly to your inbox!