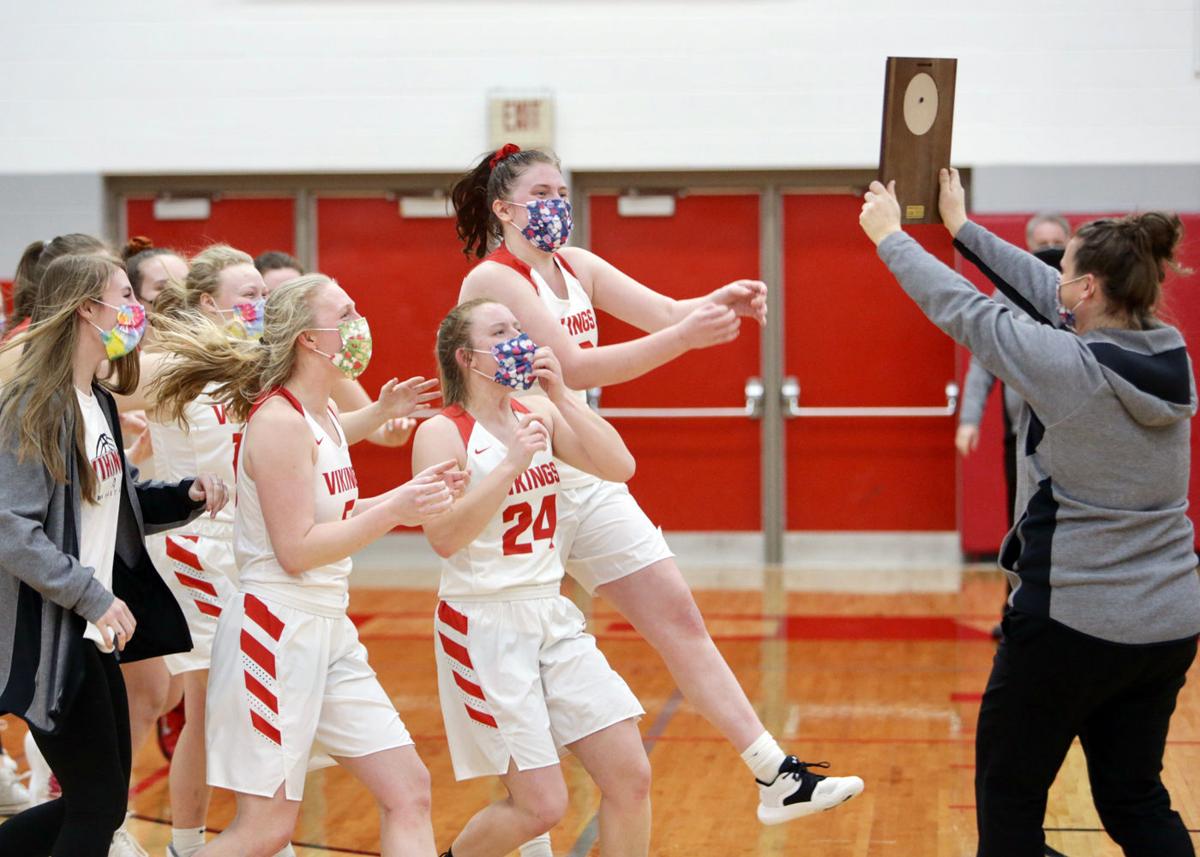 RIO — Hopping aboard a school bus with the temperature at 7 degrees below zero for a fire truck-led parade through the village streets might seem to be a head-scratcher.
For the Rio Lady Vikings basketball team, however, it was the perfect way to cap an extra-special night.
Behind a game-high 22 points from senior Addie Hutzler and 21 from junior teammate Kayla Staveness, the Lady Vikings are moving on to sectionals after a 66-55 victory over Oakfield in the Division 5 regional championship on Saturday.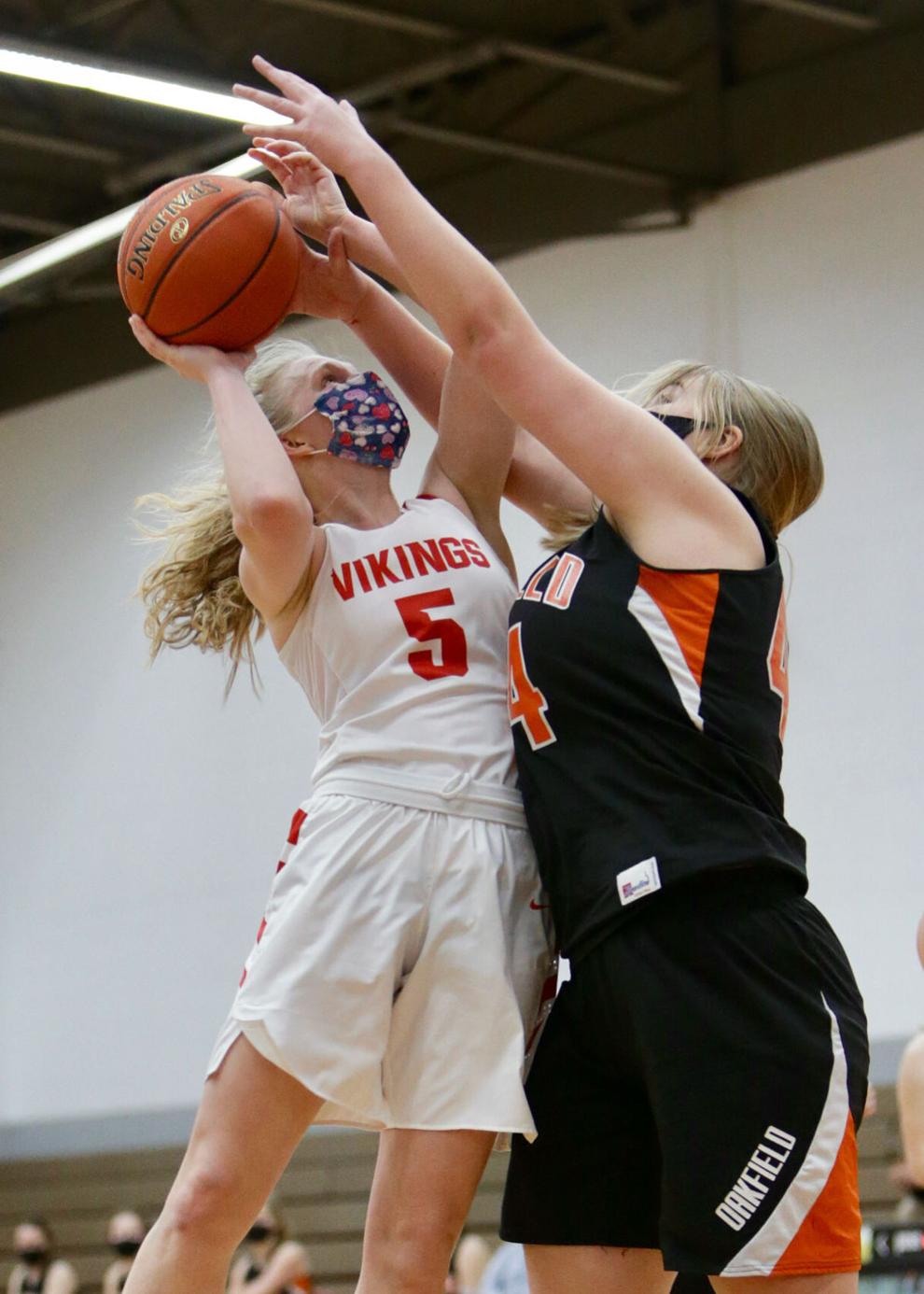 Rio (13-6), which entered regionals as a top seed, will have to wait for the WIAA to re-seed sectionals before learning its next opponent. That process is taking place this morning. 
"This is definitely a very special feeling," said Rio coach Deb Hutzler, whose team will make its first trip to sectionals in 15 years. "We worked so hard day in and day out for the possibility of doing something like this. It's really amazing."
For the second straight night so were her daughter Addie and Staveness, a 5-foot guard. Addie Hutzler recorded her second straight double-double on Saturday by also pulling down 11 rebounds (she had 20 points and 17 rebounds in the regional quarterfinal) and Staveness continued her hot hand. And, just like Friday's victory over Fall River, the two sparked a huge first-half run on Saturday to break open the game.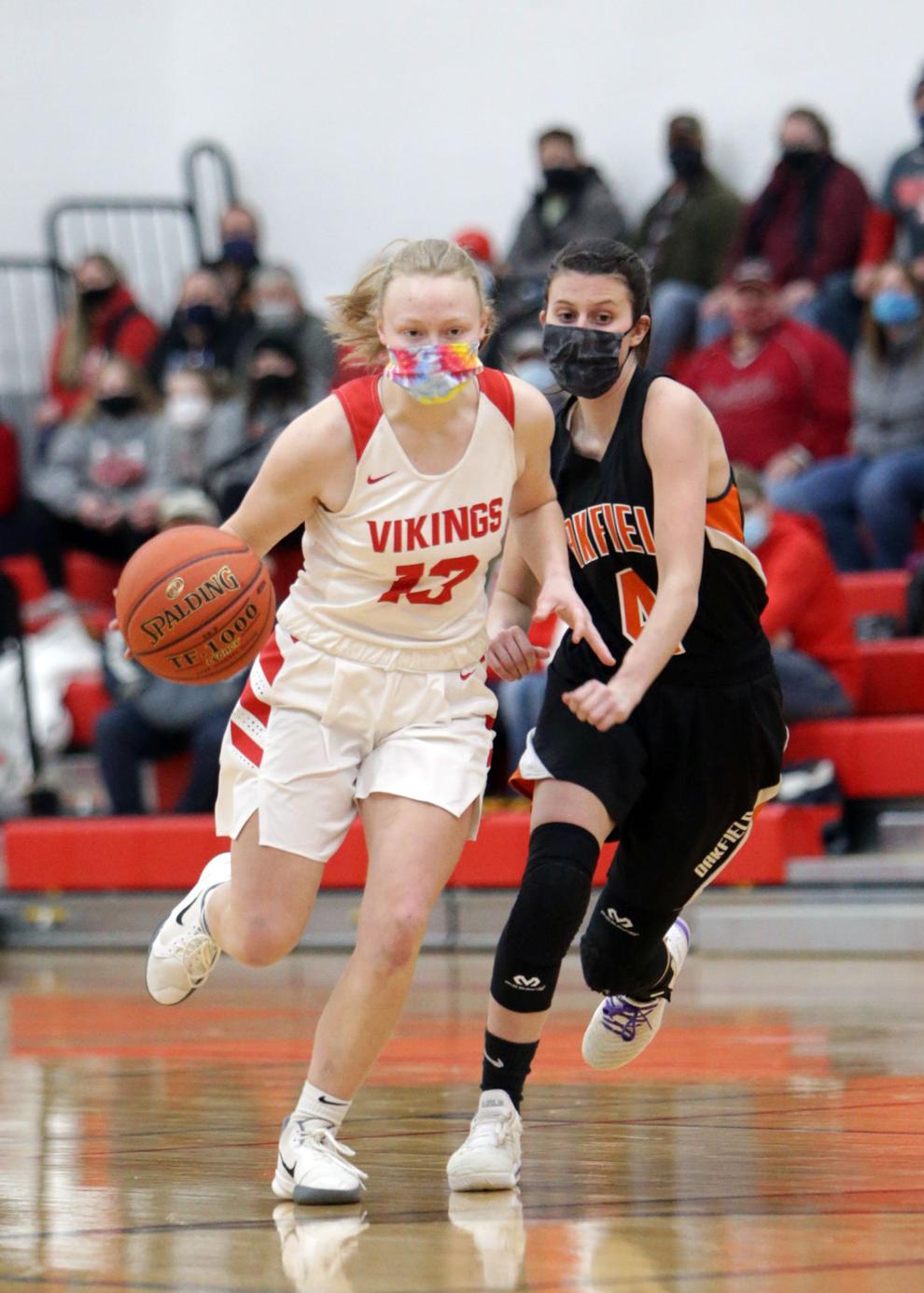 Trailing 28-25 with 4:12 to play in the period, the two combined for all the points in a 13-0 run (Staveness with seven) as the Lady Vikings grabbed control and a 10-point lead, 38-28.
Rio was aided in the rally when Stella Hofman, the Oaks' 5-11 freshman who had 10 of her team-high 18 points in the first half, went to the bench with her third foul at the 4:51 mark and the score tied, 24-24.
It also allowed coach Hutzler to unveil a new defensive strategy. She inserted Miranda Renz into the lineup, a 6-1 freshman center who had spent most of the season on JVs.
"She had a phenomenal season on JV," Hutzler said of Renz. "It changed our defense and allowed Addie and Emily (Loging) to get out and take things away from their shooters. It really changed things for us at the end of the first half."
That momentum and strategy carried into the second half as Rio opened on an 11-0 run, with four different players contributing, to take a commanding 49-30 advantage with 13:22 to play. The Lady Vikings would stretch that lead to 20, 54-34, on a 3-pointer by Staveness with 11:23 to play.
But basketball is a game of runs and the second-seeded Oaks (15-8) made things interesting when they went on one of their own to trim Rio's lead to nine, 58-49, with 3:29 to play.
The Lady Vikings righted the ship as they outscored Oakfield 11-4 in the final three minutes, including going 6-for-6 from the foul line. Rio would connect on 30 of 37 foul shots in the game.
Staveness, who had 13 points on Friday, admitted things did get a bit tense as Oakfield chipped away at Rio's lead.
"Yeah, I was getting a little nervous," she said. "But I knew if we played tough defense and we all work together things would come out good." Adding: "This feels great. I'm still in a little shock."
Along with her strong defensive effort, the Lady Vikings' Loging, a 6-1 sophomore, also recorded a double-double by finishing the game with 13 points and 11 rebounds.
Besides Hofman, Oakfield had two other players reach double figures. Senior Abi Streeter and junior Adi Moser each had 12. Rio had defeated the Oaks, 62-54, during the regular season.
Rio, which had defeated Oakfield 62-54 during the regular season, connected on 15 of 47 shots from the field.
"I'm really thankful that my team and I came together to do this this year. It means a lot," Addie Hutzler said of a season that almost wasn't due to pandemic concerns.
"We did such a good job on keeping our masks up and playing so hard. … We wanted to accomplish something that nobody else had," she said. "It's been years since we got one (regional championship)."
Hopefully for the Vikings, that next bus ride through town won't wait as long.