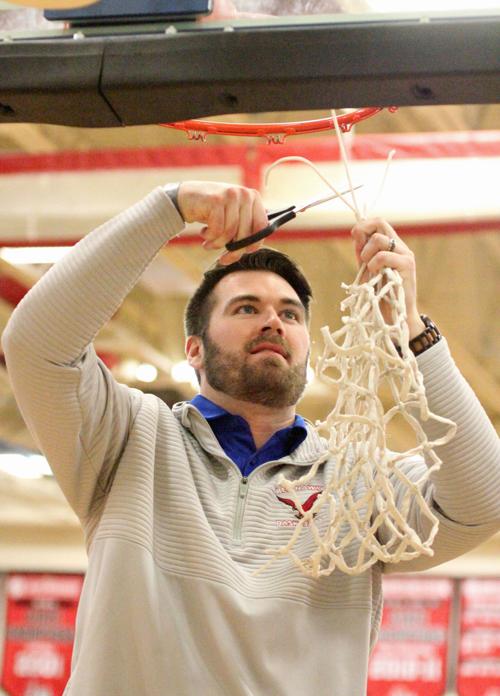 During his four seasons as a member of the UW-Stevens Point men's basketball team, Louis Hurd won a pair of Wisconsin Intercollegiate Athletic Conference titles, and was a junior starter for a Pointers team that won the NCAA Division III national championship in 2010.
Having played in so many big games in college, one would reason that Portage native has had to deal with his fair share of nerves before taking the court, but according to Hurd, those were nothing compared to what he has been dealing with this season in his first year as the head coach of the Gale-Ettrick-Trempealeau girls basketball team.
Those pregame butterflies were especially bad on Saturday, when Hurd's Red Hawks team was playing in a WIAA Division 3 sectional championship game against Hayward at Altoona High School. Turns out Hurd had nothing to worry about, as G-E-T cruised to a 47-22 victory, advancing to the state tournament for the first time in program history.
"It's way harder as a coach. You feel like you are in control, but you're not necessarily in control," Hurd said. "I have full confidence in my girls and I trust that they are going to do the right things and execute the game plan, but I'm way more nervous as a coach. I've been kind of a wreck the last couple days."
Hurd expects he will be plenty nervous on Thursday, when Gale-Ettrick-Trempealeau (24-2) will play in a Division 3 state semifinal game against defending state champion Marshall (24-2) at 1:35 p.m. at the Resch Center in Ashwaubenon.
Before Hurd, a 2007 Portage graduate who is in his fourth year as a high school social studies teacher at Gale-Ettrick-Trempealeau, ended up as the head girls basketball coach, he worked as a varsity assistant with the school's boys basketball program for two seasons. Prior to that, he spent two seasons at Royall High School in Elroy, where he coached eighth grade boys basketball while also helping out with the varsity boys basketball program for the second half of the season.
While at Royall, he met his future wife, Ana Wurtz, who is an assistant women's basketball coach at Winona State University. Hurd eventually moved to Winona to be with Wurtz, which led to him getting the job at Gale-Ettrick-Trempealeau. Then after the 2017-18 season, Gale-Ettrick-Trempealeau head coach Rick Schmidt stepped down, giving Hurd the opportunity he had been waiting for.
And when Hurd was hired to replace Schmidt, he knew he was about to coach a really good team.
"I knew we had a senior class that has five phenomenal seniors. I knew we had a lot of pieces, a team that lost in the sectionals last year to (Wisconsin) Dells, with pretty much everyone coming back," Hurd said. "I knew I was walking into a pretty good situation, but with that comes expectations and pressure, self-induced and otherwise. But I think that's a good problem to have, so I think I've done OK with it."
The road to the state tournament for the Red Hawks has been paved by defense. In four tournament games, G-E-T's opponents are averaging just 30.5 points per game. Nine times this season, opponents have been held under 30 points by the Red Hawks.
Hurd said he has always understood the importance of defense, pointing out that UW-Stevens Point always played strong defense while he was there. Hurd's father, Norm Hurd, who was the boys basketball head coach at Portage from 1992-99, also stressed the importance of defense when coaching his teams, as well as Louis and his younger brother Kevin.
Hurd also knew his team was capable of playing better defense, with four different girls that stand at least 6 feet tall on the roster, and an NCAA Division I college recruit in senior Lexi Wagner.
"We should be able to really bother people, and so that's kind of been the calling card since Day 1," Hurd said. "I come from a defensive-minded background with my dad, and obviously playing at Point. And the girls have responded very well. They've bought in, and I'm thankful for that. It's been a very smooth transition to play more of a man-to-man, tough defense."
Wagner is the one that makes it all work for the Red Hawks. The 5-foot-9 senior guard has committed to play next season at Youngstown State, and is averaging 21.5 points per game this season. In the last two seasons alone, Wagner has made 157 3-pointers and scored 1,081 points.
Hurd said Wagner is in the gym firing up shots for close to an hour every morning before school.
"That level of dedication is very obvious and she deserves all the accolades that she gets," Hurd said. "She's done a great job this year, doing all these things off the floor, talking with some of our younger kids and being that big influence. And of course on the floor, she's our main scorer, she's our floor leader, our big communicator and all of those things."
Hurd said his coaching style comes from many influences in his life, including younger brother Kevin, who is working as an assistant coach with the UW-Stevens Point men's basketball program, as well as his wife Ana, and Dennis Bradley, who was his varsity coach in Portage. He also said he learned a few things about coaching from the many Portage high school coaches he's played for, including Dave Schmitz, Sean Stout, Jeff Wiessinger and Ed Carlson.
"My background has put me in this position and I have all those people to thank for it," Hurd said.
But the biggest coaching influence for Hurd will always be his father. Hurd said it was special to share Saturday's victory with his dad.
"Obviously, Dad is a big part of it," Hurd said. "I got kind of emotional as I gave him a hug on Saturday, because of all the times he's gotten to the sectional and never quite gotten (to the state tournament), and I remember those days as kid very vividly with all the teams that he had."
Get in the game with our Prep Sports Newsletter
Sent weekly directly to your inbox!