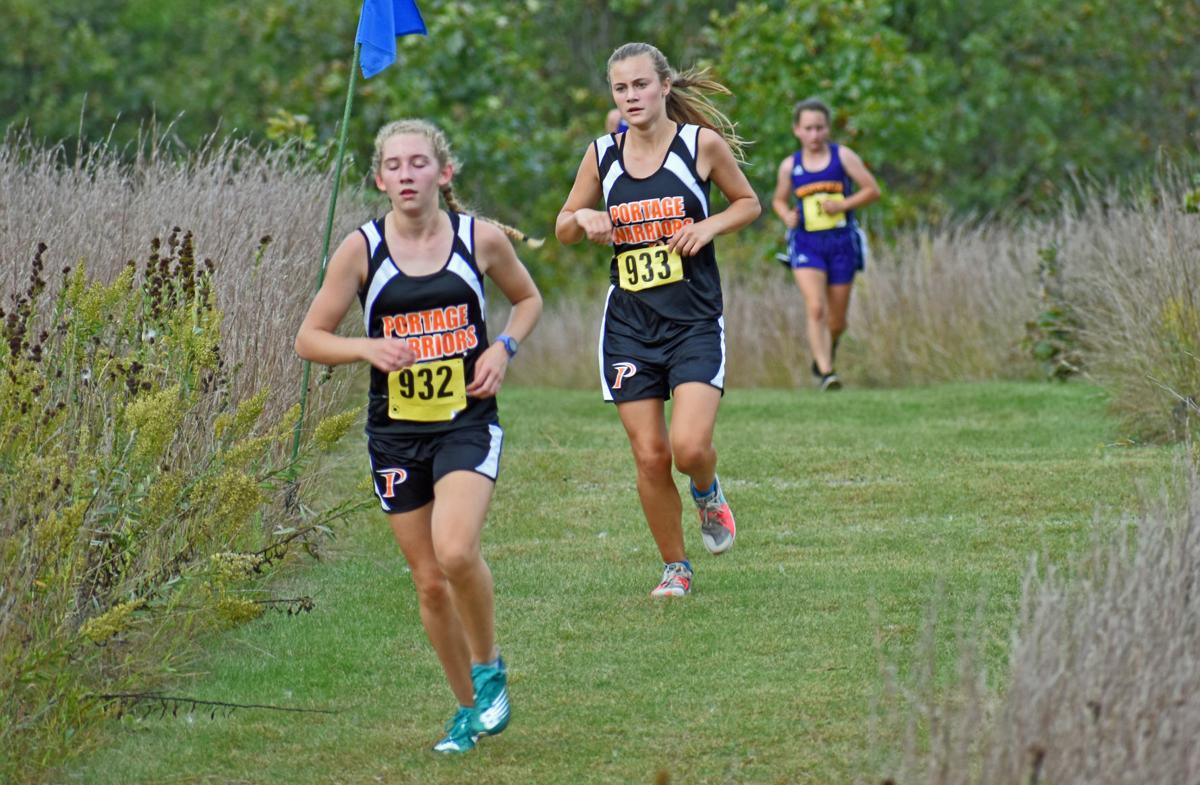 The road to Wisconsin Rapids for the WIAA State Cross Country Championships begins this weekend, as teams from all over the state compete at sectional meets trying to qualify for the state meet.
At sectionals, the top two teams advance onto Wisconsin Rapids. Also qualifying for the state meet out of sectionals are the top five runners that are not members of one of the top two teams.
Here is a look at the area teams and the sectionals they will be competing at:
Division 2 Mayville Sectional
When, where: 4:15 p.m. today, Mayville Golf Club.
Teams competing: Portage, Berlin, Campbellsport, Columbus, Grafton, Kettle Moraine Lutheran, Kewaskum, Lomira, Mayville, North Fond du Lac/Oakfield, Omro, Ripon, Waupun, Wautoma/Wild Rose and Winneconne.
Sectional at a glance: The Portage boys and girls teams get an early start to the postseason, as the Mayville is just one of four sectionals — out of 26 sectionals statewide — to hold its sectional on Friday instead of Saturday. The sectional features just two teams that are ranked in the Wisconsin Cross Country Coaches Association Coaches Poll. On the boys side, Wautoma/Wild Rose is ranked 14th in Division 2, while Winneconne is ranked ninth in Division 2 on the girls side. Portage sophomore Macy Goldthorpe has been the top runner for the Portage girls most of the season. She finished 31st at last week's Badger North Conference Meet in Windsor with a time of 22 minutes, 15 seconds. Other runners to keep an eye on for the Portage girls includes freshman Greta Shortreed, who was 42nd at the conference meet in 22:56, while junior Aubrey Rietmann was 43rd in 23:02. The top finisher for the Portage boys at last week's conference meet was sophomore Jeremy Saloun, who finished 40th in 18:52, while junior Levi Wood was 43rd in 18:59.
Division 2 River Valley Sectional
When, where: 11 a.m. Saturday, Spring Green Golf Course.
Teams competing: Lodi, Brodhead/Juda, Dodgeville/Mineral Point, Edgerton, Madison Edgewood, Evansville, McFarland, Monroe, Mount Horeb, New Glarus/Monticello, Platteville, Prairie du Chien, Richland Center/Ithaca, River Valley, Southwestern/Benton/Cuba City.
Sectional at a glance: This sectional is loaded on the boys side, as it features four ranked teams in Division 2, led by the Dodgeville/Mineral Point boys, who are ranked eighth. Other ranked boys teams running here include New Glarus/Monticello (11th), Monroe (15th) and Madison Edgewood (16th). The Lodi boys enter the meet after finishing third at the six-team Capitol North Conference Meet in Poynette on Saturday. Lodi's best shot at advancing a boy onto the state meet is likely sophomore Parker Heintz, who finished fifth at the conference meet with a time of 18:09, but watch out for sophomore Luke Collins, who was eighth in 18:36. McFarland has the sectional's only ranked girls team, as the Spartans are ranked 15th in Division 2. The Lodi girls finished sixth at last Saturday's conference meet. The top finish for the Blue Devil girls at the conference meet came from sophomore Norah Lee, who was ninth with a time of 22:06.
Division 3 Westfield Sectional
When, where: Noon Saturday, Westfield High School.
Teams competing: Cambria-Friesland/Randolph, Pardeeville, Rio/Fall River, Westfield, Bonduel, Coleman, Crivitz, Gillett, Laconia, Lena/St. Thomas Aquinas, Manawa, Markesan, Oconto, Oneida Nation, Princeton/Green Lake, Saint Mary Catholic, Suring, Oshkosh Valley Christian, Wausaukee, Weyauwega-Fremont, Wolf River Lutheran.
Sectional at a glance: Gillett's boys and girls squads are both the favorites to win the Westfield Sectional championship as they are the only ranked teams at the meet. The Gillett girls are the No. 2 ranked team in Division 3, while the Gillett boys are ranked sixth in Division 3. The area individual with the best shot of advancing out the Westfield may be Pardeeville's Nathan Brant. The sophomore is coming off a ninth-place finish at last week's Trailways Conference Meet in Waunakee, where he finished with a time of 18:30. As a team, the Pardeeville boys finished fourth out of 10 teams at the conference meet. The Rio/Fall River boys finished 10th at the Trailways Meet. The top runner at the conference meet for the Rebel boys was freshman Todd Bateson, who finished 47th with a time of 20:53. The Randolph/Cambria-Friesland boys enter the sectional with junior Ricardo Castilo as their top runner. Castilo was 33rd at the Trailways Conference Meet in 19:58. Host Westfield will hope home-course advantage will help. The Pioneer boys were led at last week's South Central Conference Meet by Noah Anason. The freshman finished 17th in 20:15. On the girls side, the area individual with the best shot at advancing might be Randolph/Cambria-Friesland freshman Kamber Pekarske, who finished 16th at last week's Trailways Conference Meet with a time of 23:03. The Pardeeville girls come to Westfield with Josie DeLapp leading the way. The senior had her team's top finish at the conference meet last week, finishing 21st in 24:05. The Rio/Fall River girls were also in action at the Trailways Conference Meet, where they were led by freshman Riley Landsverk, who was 41st in 25:39. The top runner for the Westfield girls at Saturday's SCC Meet in Wisconsin Dells was freshman Mary Shirley, who was 18th in 24:21.
Division 3 Boscobel Sectional
When, where: 11 a.m. Saturday, 16207 Riley Rd., Boscobel.
Teams competing: Poynette, Albany, Belleville, Belmont, Boscobel, Cassville, Darlington, De Soto, Fennimore, Iowa-Grant, Lancaster, Madison Country Day/Abundant Life Christian, North Crawford, Parkview, Pecatonica/Argyle, River Ridge, Riverdale, Saint Ambrose, Seneca, Shullsburg, Wauzeka-Steuben, Wisconsin Heights/Barneveld.
Sectional at a glance: The Poynette girls enter sectionals ranked 15th in Division 3. That's the good news. The bad news for the Pumas is that the Boscobel Sectional is loaded, as there are four other teams at the meet that are ranked ahead of Poynette. The list of ranked girls teams at the sectional includes Lancaster (4th), Darlington (7th), Boscobel (8th) and Albany (12th). Even if the Poynette girls can't advance out of the sectional as a team, there are some individuals that have a chance of qualifying for the state meet, including Katelyn Chadwick. The junior finished second at the Capitol North Conference Meet last week in 20:13. Chadwick is trying to advance to the state meet for the third year in a row. She finished 35th at state in 2017 as a freshman, and was 18th last year as a sophomore. Poynette senior Abbey Marquardt enters sectionals after finishing eighth at the Capitol North Conference Meet in Poynette on Saturday with a time of 22:05. The Poynette boys are not currently ranked, but were ranked earlier this season. They also face a stacked sectional, as there are five boys teams that are currently ranked that will be in Boscobel on Saturday. It's a group that includes Boscobel (2nd), Iowa-Grant (7th), Darlington (9th), Lancaster (14th) and Wauzeka-Steuben (16th). The Poynette boys are led by senior Elias Ritzke, who will be trying to advance to the state meet for the third straight year. Ritzke, who won the Capitol North Conference meet last Saturday with a time of 17:08, finished 28th at the state meet last season, and was 43rd in 2017 as a sophomore. Other Poynette boys who will be trying to book a trip to the state meet include sophomores Tucker Johnson and Trent Sickenberger. Johnson was sixth at the conference meet (18:10), while Sickenberger was seventh (18:31).
Get in the game with our Prep Sports Newsletter
Sent weekly directly to your inbox!