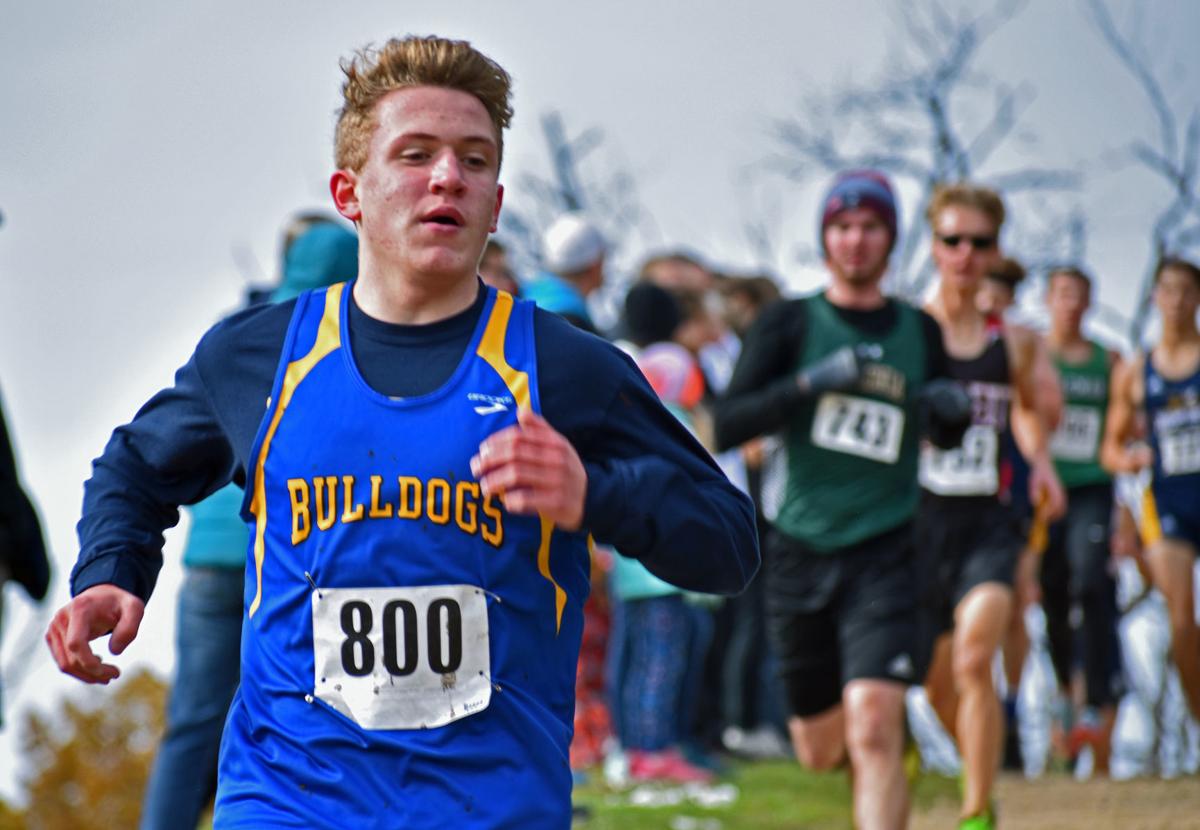 WESTFIELD — While running at the Trailways Conference Meet back on Oct. 17, Pardeeville sophomore Nathan Brant saw a couple of runners pass him just meters before the finish line, bumping him back to ninth place overall and out of contention for first team all-conference honors.
Brant had an opportunity at redemption at Saturday's WIAA Division 3 Westfield Sectional and he didn't let it pass him by. After moving into sixth place shortly after the first mile, Brant held his position the rest of the way, holding off another late challenge at the finish line to finish in sixth place overall with a time of 18 minutes, 16 seconds. More importantly, he earned himself a berth in the state next Saturday in Wisconsin Rapids.
After the race, Brant was amazed he was able to finish as strong as he did.
"That was all glory to God. There's no way I could have done that all on my own," Brant said. "Coming back through there, coming back to that finish, I was dead. That's all God."
Brant becomes the first Pardeeville boys cross country runner to advance to the state meet since 2003, when the Bulldogs advanced as a team and finished 12th in Division 3.
Helping Brant was his familiarity with the Westfield course, which includes a huge hill that runners have to climb on two different occasions. It was Brant's second time running in Westfield this season and the fourth time in the last two seasons. Those past runs helped him figure out how to best handle the steep uphill climbs.
"Knowing that hill really helps. It would not be fun to see that for your first time here," Brant said.
Pardeeville coach Wes Babcock said the strategy for the race was for Brant to make sure he was inside the top 10 when he climbed the hill for the first time, which comes shortly before the one-mile mark, but to make sure he had enough in the tank after that to keep up a good pace. 
"Anytime in a meet this big where you have that kind of a challenging course, it's important not to get out too strong," Babcock said. "I was a little worried. He got out stronger than I liked when I saw him come over the hill for the first time, but he held right on to it and never faltered."
Brant flashed the potential to become a runner that could run at the state meet last year as a freshman, when he finished in 15th place running on the same course at the Westfield Sectional with a time of 19:15. In the year since, Brant has logged plenty of miles. And it showed when he dropped 59 seconds off his sectional time from a year ago.
"It's been growing through the year," Brant said of when he started to believe he could qualify for the state meet. "Coach might have mentioned it once or twice at the beginning of year and as we've gone on, the reality of it has grown. I'm so excited."
Brant will now take a week to get ready for the state meet on Saturday. He will run in the Division 3 boys race, which will be the last of six races on the day, and is scheduled to start at 3:10 p.m. The state meet is run at the Ridges Golf Course in Wisconsin Rapids.
Brant's finish helped the Pardeeville boys finish in seventh place out 14 teams with 185 points. Other top finishers for the Pardeeville boys were sophomore Erik Brouette, who was 45th in 20:08, and junior Spencer Smith, who finished 52nd in 20:25.
The Rio/Fall River boys finished in 10th place with 261 points. The Rebels were led by senior Adam Bristol in 49th place (20:20) and freshman Josh Dietzenbach in 54th (20:29).
The Randolph/Cambria-Friesland boys finished 12th with 311 points. The top finisher for the RCF boys was junior Ricardo Castillo, who ended up 40th in 20:05.
The Westfield boys didn't field a full team, but did get a strong individual finish from freshman Noah Anason, who was 21st in 19:21.
The top area girls team was Westfield, which was sixth with 195 points and was led by freshmen Kayla Tassler, Mary Shirley and Sidney Hoffa. Tassler was 27th in 23:46, Shirley was 40th in 24:47 and Hoffa was 41st in 24:48.
The Randolph/Cambria-Friesland girls finished eighth led by freshman Kamber Pekarske, who took 26th with a time of 23:41.
The Pardeeville girls ended up in ninth place with 257 points. The first to finish for the Bulldogs girls team was senior Josie DeLapp, who was 35th in 24:09.
The Rio/Fall River girls were 12th with 306 points. Leading the Rebels girls team was junior Kylee Schraufnagel, who finished 44th in 25:05.
-- Results from the Westfield Sectional are in the Scoreboard on page A5.
Get in the game with our Prep Sports Newsletter
Sent weekly directly to your inbox!