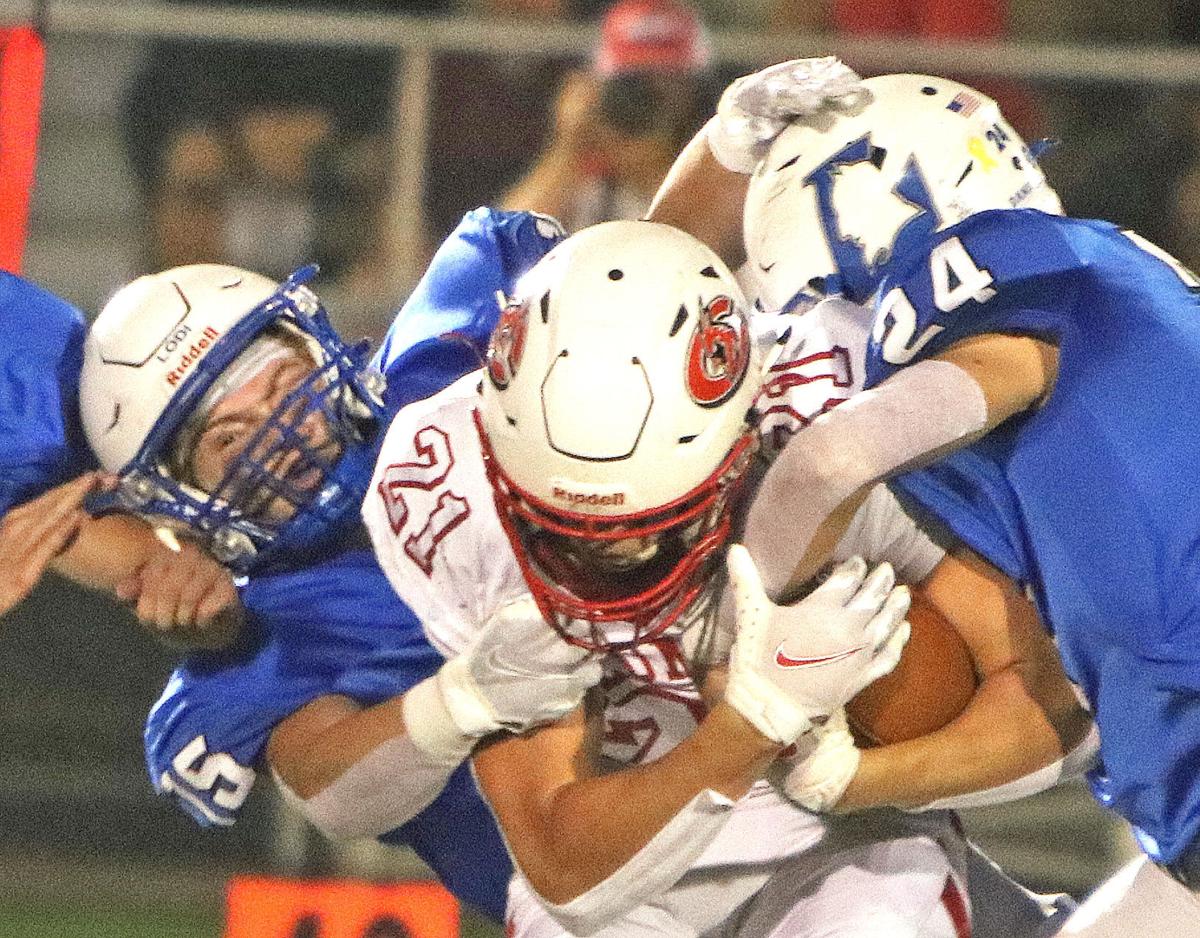 The last two weeks haven't gone the way the Lodi prep football team would have wanted.
In Week 7, the Blue Devils dropped down after losing to Columbus, 40-7. Then last week, the Blue Devils suffered a heartbreaking 27-20 Capitol Conference loss at the hands of Lake Mills.
Now they're outside the top-10 of the Medium Division (301-899 enrollment) for the first time all season. However, the Blue Devils did earn one vote to earn honorable mention status heading into the final week of the regular season.
The Cardinals on the other hand kept rolling after their big rivalry win in Week 7, throttling Beloit Turner, 55-6, last week to earn four votes in the Medium Division.
Mayville also came away with a 56-14 Flyway Conference victory over Fond du Lac Winnebago Lutheran last week, and earned one vote in the Medium Division as well.
Beloit Turner was no match for the Columbus prep football team as the Cardinals easily won 5…
Wisconsin Dells earned three votes in the Medium Division after last week's 42-6 non-conference victory over Tomahawk. It was a replacement game after South Central Conference opponent Montello/Princeton/Green Lake cancelled due to mounting injuries in the Phoenix program.
All four of these teams have big match-ups coming up to end the regular season. The Chiefs travel to Mauston for a chance at winning the SCC title outright, while Columbus can secure at least a share of the Capitol title with a road win over Lakeside Lutheran.
The Cardinals would win it outright if Lake Mills loses to Horicon/Hustisford.
Lodi has already guaranteed itself a spot in the postseason with a 4-2 league record, but a win over Watertown Luther Prep won't hurt their odds at a better matchup in Level 1 of the playoffs.
Mayville, like Wisconsin Dells, will head to Campbellsport with an outright Flyway title up for grabs. The Cardinals earned at least a share against Winnebago Lutheran last week.
Ahead of the four area vote getters, Catholic Memorial stayed atop the Medium Division rankings earning nine first-place votes for a total of 99 points.
As far as the other two divisions, Franklin earned nine first-place votes in the Large Division (900-plus enrollment) to keep hold of its No. 1 ranking after the Sabers manhandled Kenosha Tremper, 63-7, in a Southeast Conference match-up last week.
Sun Prairie edged out Middleton 26-21 in a Big Eight Conference game and are still ranked second in the Large Division. The Cardinals end the season at Verona this week. Kimberly tied Sun Prairie for the second spot and earned the other first-place vote after it defeated Neenah 36-23 in a Fox Valley Association Conference game.
Badger Large teams Waunakee and Deforest stayed where they were last week at fourth and sixth, respectively, following lopsided wins over Janesville Craig (55-6) and Watertown (42-6).
Following a ho-hum first half that saw just a field goal, the Golden Beavers and Vikings went tit-for-tat. But the Golden Beavers game-winning drive stalled out late.
Regis earned nine first-place votes in the Small Division to stay atop the class, while Cumberland garnered the other first-place vote to remain at No. 2.
Regis got by Stanley-Boyd 27-19 in a Cloverbelt Conference game and will end the season hosting Neillsville/Granton this week. Cumberland stayed undefeated with a 46-28 Heart O'North Conference victory over Bloomer last week. It will end the season traveling to fellow unbeaten Northwestern, ranked No. 6 in the Medium Division, this week.
Oshkosh Lourdes is the lone Trailways Conference school among the rankings this week after it earned one vote following a 55-8 rout over Deerfield last week. The Red Knights will end the regular season at Saint John's Northwestern Academies.
Large Division (enrollment 900 and up)
(tie) Kimberly (1) 8-0 83 3
8. Appleton North 6-2 29 8
Others receiving votes: De Pere 5. Union Grove 2. Hartland Arrowhead 2. Menomonie 2. Mount Horeb/Barneveld 2. Middleton 1. 1Sussex Hamilton 1.
Medium Division (301-899)
1. Catholic Memorial (9) 8-0 99 1
2. Lake Country Lutheran 8-0 86 2
4. Ellsworth (1) 8-0 59 4
5. Luxemburg-Casco 8-0 58 5
Others receiving votes: Wittenberg-Birnamwood 5. Columbus 4. Kohler-Sheboygan Lutheran-Christian 4. Wisconsin Dells 3. Denmark 3. Grafton 1. Lodi 1. Mayville 1.
Small Division (301 and lower)
2. Cumberland (1) 8-0 91 2
(tie) Cedar Grove-Belgium 7-1 38 T8
Others receiving votes: Hilbert 12. Kenosha St. Joseph Catholic 9. Racine Lutheran 5. Edgar 4. Bangor 2. Spring Valley 1. Oshkosh Lourdes 1. St. Mary's Springs 1. Darlington 1.