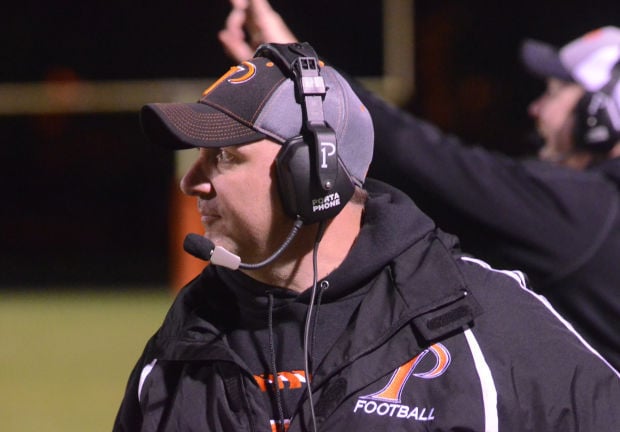 It seems as if the country keeps moving further and further away from high school football's old-fashioned days — when water made you weak and a headache could be cured by "running lines" at the end of practice.
In those days, just about every high school boy wanted to be a football hero.
And just about every parent wanted his boy to play football — to learn the lessons in teamwork, humility and hard work the sport teaches as well as any other.
"It used to be one of those things that was special and unique," said WIAA deputy director Wade Labecki, who coached in multiple state championship football games at Baldwin-Woodville before becoming an administrator.
Today's game is safer than it ever was; better taught, better coached, better managed. Still — even as the National Football League and NCAA football soar to new heights of popularity and profit — more and more student-athletes (and their parents) are opting to take a pass on high school football.
As participation in many other prep sports grows, both in the state and nationwide, numbers released by the WIAA show the number of Wisconsin high school football players has declined every year since 2007.
And in the five-year span from 2007-2012, nationwide participation dropped by 21,353 players, according to the National Federation of State High School Associations. That's dangerously close to the total number of high school football players in all of Wisconsin last fall: 27,840 student-athletes at 424 high schools.
A stunning illustration of this trend manifested itself Thursday at Nicolet High School in the Milwaukee County suburb of Glendale. Eight days before the season opener, the school — which has an enrollment of 1,085 students — called off its varsity football season due to lack of participation.
The move leaves Nicolet's nine opponents, including its seven fellow North Shore Conference members, scrambling to fill the open date on their schedules.
Administrators and coaches have gone the extra mile devising and implementing methods to make the game safer. For years, coaches have been trained to emphasize the correct way to hit opposing players, and millions of dollars have been spent designing and acquiring upgraded equipment.
It was only three summers ago, though, six high school football players across the country died from dehydration or other heat-related issues.
The NFHS addressed the situation immediately, updating its suggested guidelines for management of heatstroke and concussions and making them a point of emphasis for coaches and schools nationwide. And the WIAA has been firmly on board with the new guidelines, educating and reminding coaches about the importance of frequent hydration and, this summer, reducing the amount of contact allowed during preseason and regular-season workouts.
Even with practice limits and reduced hitting, some dangers of playing football still persist. Those at all levels of the game continue to seek out new ways to manage them.
"You're making sure coaches are doing things the right way and they're getting trained to do things the right way," Sun Prairie coach Brian Kaminski said. "As bad as we all want to win, I know we want our kids to be safe, and that's got to be the No. 1 thing."
Schools also have spent large sums — even in these austere times — to make football more attractive. More than 40 school districts have raised the funds to install artificial turf for football and soccer, and more than 60 regularly play their games on their own (or rented) turf fields.
Growth seen elsewhere
The drop in football participation goes against the grain of overall athletic participation growth. Although Wisconsin has seen declines in some other sports, according to Labecki, the NFHS reported an increase in overall athletic participation in 2012-2013, the 24th consecutive year of growth.
For instance, the number of high school athletes playing soccer has increased by more than 50,000 over the past five years, a 14 percent increase. Many other sports, such as track and field, volleyball and tennis, continue to see a steady rise in participation.
Labecki, though, worries about those who simply point to concussions and other health-related issues to explain this shift.
The participation numbers that concern him most come from Wisconsin's ninth-grade classes, which have declined at a rate more than four times as high as senior-class participation every year since 2007.
Labecki believes the growth of youth football in the state over the past 10 years means kids are starting football earlier — and, perhaps, leaving it earlier.
"If they have a successful early entry into the sport, they stay," Labecki said. "If they don't have success early in the sport, do they get out?"
Labecki thinks so, believing that youngsters shift to other sports, or other activities, if their first taste of youth football goes sour.
"I'm kind of convinced that starting football earlier has led to a partial decline in the (high school) game," he said.
Recent enrollment issues at small, rural schools have forced more programs into playing eight-man football. The sport that is beginning to take off in Wisconsin and has seen a 5.5-percent participation increase nationwide from 2007-2012. The sport does not yet have a WIAA-sponsored state championship tournament, though as participation grows, it's an inevitable occurrence.
Specialization also could be part of the equation. Many high school athletes place their focus on earning a scholarship, and the number of kids playing multiple sports has dropped significantly.
Football, basketball and baseball — the most common combination for three-sport athletes in the old days — all have seen a decline in national participation from 2007.
"Back in the '70s, we all played three sports," Monona Grove football coach Mike Stassi said. "We went from fall to winter to spring. That's just not happening as much."
Reasons addressed
It may be impossible to pinpoint exactly why boys are gradually turning away from the chance to play football, still the most popular sport in the country by far. The sport had 1,086,627 prep participants last year — close to double the total of the second-most popular sport, track and field (580,672).
Despite the big numbers, more and more schools find themselves with rosters so small that they are unable to field junior varsity teams, or are forced to take a year or two off of varsity competition — thus throwing opponents' schedules into disarray.
While it's obvious a combination of many factors are at play, many of them are not fixable. But some are, and Labecki believes stopping the decline can start with each school — whether that be recruiting inside the hallways or making sure coaches don't drain kids with demanding summer requirements or high-pressure youth programs.
"You can't have a mini-college program," Labecki said.
"There are kids who are trying to go ahead and get out of playing football, there's not doubt about it. We have to see why kids might be changing their minds about whether or not they participate.
"We all have to go ahead and try to examine ourselves and examine our programs on a consistent basis, because that's what we're supposed to do."