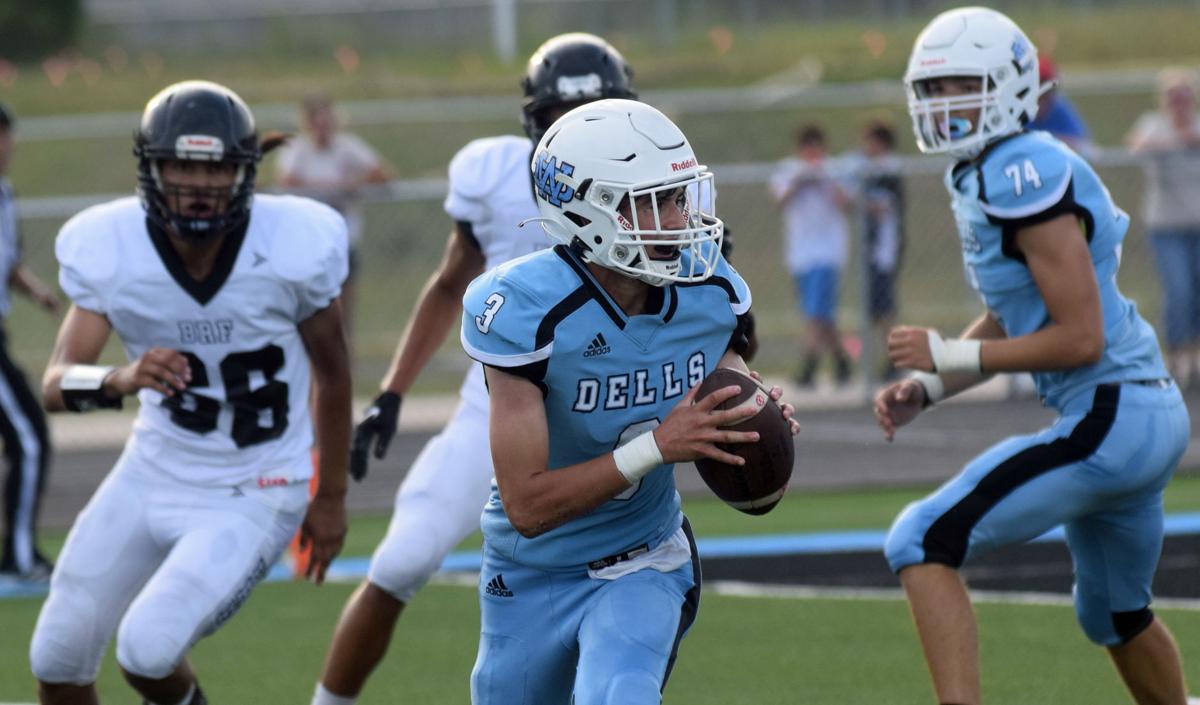 The Wisconsin Dells prep football team has gotten off to one of the most dominant starts of the season so far.
The Chiefs didn't slow down one bit Friday night either.
The Wisconsin Dells train kept rolling Friday night as the Chiefs motored past New Glarus/Monticello, 48-13, in a South Central/Southwest Wisconsin Conference crossover game in New Glarus.
The Chiefs never trailed, taking a 27-7 lead into halftime and only turned things on from there. On the Glarner Knights opening possession of the second half, junior Braden Buss snared an underthrown pass and raced 57 yards back to the NGM 3-yard line with 11 minutes, 15 seconds left to go in the third quarter.
On the very next play, Buss handed the ball off to junior Lewis Waterman, who plowed in for the 34-7 lead.
Buss added another interception on the next Glarner Knights possession, but the Chiefs following drive sputtered out. It didn't matter, as Wisconsin Dells forced another stop before Buss connected with Degan Jensen on a 34-yard pitch-and-catch for a 41-7 lead with 3:15 remaining in the quarter, giving the Chiefs plenty of cushion.
With the win, Wisconsin Dells stays unbeaten in conference play at 3-0 and moves to 5-0 overall for the first time since at least 2002 according to WisSports.net. The Chiefs can clinch their first true playoff berth since 2012 next week when they host rival Westfield.
Blue Devils topple Trojans
A slow start didn't stop Lodi as the Blue Devils put together another solid night at the office, grinding out a 24-6 win over Beloit Turner in a Capitol Conference game at Lodi High School.
Senior Jaylen Montgomery rushed for 117 yards and two scores on 16 carries, while the Lodi defense limited the Trojans to just 156 total yards, including just 16 yards rushing on 18 attempts, to remain unbeaten and move to 5-0 on the year.
The Blue Devils (3-0 Capitol) never trailed, taking just a slim 10-0 lead into halftime. The Trojans (2-3, 0-3) eventually got on the board in the third quarter as the teams traded touchdowns as Lodi's lead grew to 17-6, but the Blue Devils defense didn't break down the stretch.
Lodi pitched a shutout over the final 12 minutes to preserve their perfect start and end the night as the lone unbeaten team atop the Capitol Conference following Lake Mills' 14-13 win over Lakeside Lutheran, and Columbus' forfeit loss to Walworth Big Foot.
Along with Montgomery, Keegan Fleischman threw for 142 yards on 14-of-23 passing with a touchdown and an interception, while connecting with Alex Rashid three times for 35 yards and the score.
Lodi returns to action with a chance to cinch up a postseason spot next week when they head to Lakeside Lutheran.
Cardinals coast past Foxes
Blake Schraufnagel had speed to burn for Mayville Friday night as the junior running back racked up 246 yards on 18 carries and three touchdowns as the Cardinals rolled past Omro, 42-11, in a Flyway Conference game.
Schraufnagel chewed up the majority of the Cardinals' 373 rushing yards while Mayville also threw for 130 yards to pick up its fourth straight win.
The pass came through late in the first quarter as Adison Mittelstadt connected with Bradley Bushkey on a 49-yard pitch-and-catch with 1 minute, 8 seconds left for a 14-3 lead.
The score came just 28 seconds after Damen Johnston booted a 22-yard field goal for the Foxes, but Omro never got closer than 7-3. The long touchdown pass sparked a run of 35 straight points by the Cardinals (4-1, 3-0 Flyway), capped off by an 82-yard Schraufnagel touchdown run with 7:04 left to play for a 42-3 lead.
Mittelstadt completed 6-of-9 passing for 130 yards t touchdowns and an interception, while Braedon Vollmer added 113 total yards, including three catches for 55 yards and nine carries for 58 more. Mayville will look to secure a playoff berth next week when they head to Laconia.
Rockets fly by Demons
After delivering a furious rally to stun rival Fall River/Rio, Randolph left no doubt Friday night.
The Rockets never trailed and motored to a 56-8 win over Deerfield in a Trailways Conference game at Randolph High School. Traiton Lininger rushed for 105 yards and a touchdown on just 7 carries as the Rockets piled up 320 yards on the ground on 33 attempts.
Randolph (3-2, 2-1 Trailways) wasted little time scoring, forcing a fumble on the Demons opening drive of the game and scoring just two plays later on a Bryce Rataczak 2-yard plunge for a 6-0 lead with 8:54 left in the first quarter.
It was just the beginning for the Rockets who two more scores in the first quarter, including a 26-yard Lininger scamper, before tacking on two more scores in the second to seize a 35-0 lead at the break. The Demons eventually scored just before the midway point of the fourth quarter, but it was far too little too late.
Rataczak rushed for a pair of scores while the Rockets defense hounded the Demons on the ground, recording five tackles for loss and holding Deerfield to minus 8 rushing yards on 15 carries.
Hornets keep buzzing
Off to a perfect start, Markesan continued its high-scoring start Friday as the Hornets rolled to a 60-0 shutout win over Palmyra-Eagle in an Eastern Suburban Conference game.
The Hornets piled up 44 first-half points and never looked back, improving to 5-0 on the year and keeping pace with fellow ESC front-runner Marshall, which topped Waterloo, 15-14.
Markesan, which has outscored its opponents 176-61 this season, still has yet to allow a first-half point all season long. The Hornets (3-0 ESC) will try to stay unbeaten and clinch a playoff spot against Clinton next week.
Pioneers get back on track
Having lost three straight games, Westfield got off the schneid in a big way Thursday as the Pioneers picked up their first South Central Conference win in six years with a 26-8 win over Poynette.
The Pioneers improved to 2-3 on the year, including 1-2 in league play, with the win, while handing the Pumas their third straight defeat. Poynette (1-3, 0-3) will try to keep its playoff hopes alive next week against Adams-Friendship.
Trojans, MarshFalcons suffer lopsided losses
Dodgeland and Horicon/Hustisford's early season woes continued Friday as both the Trojans and MarshFalcons both suffered lopsided losses in respective league tilts.
The Trojans failed to keep pace with high-scoring Cambridge, suffering a 53-7 loss in an Eastern Suburban Conference game. Meanwhile, the MarshFalcons failed to extinguish Watertown Luther prep in a Capitol Conference clash, suffering a 44-0 loss.
Both teams fell to 0-5 and 0-3 in conference play with the loss and will try to break into the win column next week as Dodgeland hosts Marshall, while Horicon/Hustisford welcomes Big Foot.
Bulldogs blanked by Chiefs
A last-minute change in opponent hurt Pardeeville Friday as the Bulldogs didn't have an answer for Shiocton as they suffered a 27-0 non-conference loss.
Pardeeville initially had been scheduled to play Clinton, but the Cougars were forced to forfeit the Eastern Suburban Conference game due to COVID-19 issues within the team. The Bulldogs added a non-conference game with the Chiefs later Friday afternoon and weren't able to find the endzone.
Pardeeville (2-2) heads to Cambridge next Friday looking to get back above .500.
Warriors offensive woes continue
For the second time in three weeks, Waupun was shutout suffering a 40-0 loss to Berlin in an East Central Conference game at Waupun High School.
The Warriors, who were blanked, 54-0, by Port Washington on Sept. 3 had no answer for the Indians, who spoiled Waupun's Homecoming. The up-tempo Berlin offense scored just under three minutes into the game as Cade Martin scored on a 5-yard plunge with just 9 minutes, 15 seconds left in the first quarter for a 7-0 lead.
Waupun (2-3, 0-3 East Central) looked to answer on its ensuing drive but the Indians forced a turnover on downs inside their own 10-yard line. Berlin (4-1, 2-1) truly turned things around with the shift in momentum, scoring on each of their next three possessions to seize a 28-0 halftime lead and never looked back.