MADISON – One year after having a front-row seat as Poynette's starting shortstop when then-senior Mattie Bredeson tossed a one-hit shutout to lead the Pumas to a 2-0 victory over Tomahawk in the 2018 Division 3 state championship game, junior Casey Fountain got her turn to spin a gem in a state title game.
Fountain, who gave up just two hits in Poynette's 7-0 win over Prescott in Friday's semifinal, was even better on Saturday. The junior hurler gave up just one hit — a bunt single to lead off the fourth — and struck out 13 to lead Poynette to a 4-0 victory over Campbellsport in the Division 3 state championship at Goodman Diamond.
With the victory, Poynette (30-0) completes an undefeated season, wins its fifth state championship in program history, and its second state title in a row.
"This was our goal all season. The Poynette Pumas have never won two championships in a row," Fountain said. "This is what we were working for, and we made it. It's exciting."
And if blanking Campbellsport (17-8) wasn't good enough, Fountain also terrorized the Cougars with her bat. She was a perfect 4 for 4 at the plate with an RBI and a pair of doubles. It was a performance that Poynette coach Bob Tomlinson saw coming a long time ago.
"She's a great kid. I've known her since she was in kindergarten. I had her as an elementary phys ed teacher," Tomlinson said. "I knew she would be super at something someday, because she's just always worked hard."
The only two Campbellsport batters to reach base came in the fourth inning. After Fountain had set down the first nine batters in order, Campbellsport leadoff hitter Morgan Fryman dropped down a bunt that she just barely beat out for a single.
Adriana Dechant followed with a sacrifice bunt that moved Fryman to second, but it also left first base open with slugger Alyssa Muench, who had eight homers during the season, coming to the plate. Tomlinson made the decision to intentionally walk Muench, a move that paid off when Fountain retired Lauren Heisdorf on a fly ball to left field, and then struck out Grace Nerat to end the threat.
"I think the key was walking (Muench). That was a really good choice," Fountain said. "We knew we could get out of it. This happens to the Poynette Pumas a lot. We focus on grit a lot. I know you've probably heard that, but we always know how to persevere through it."
Poynette took a 1-0 lead in the top of the third inning. No. 9 hitter Mollie Blochwitz was hit by a pitch to open the inning, and would score two batters later when Fountain roped a line drive all the way to the fence in left-center to make it 1-0.
With the way Fountain was pitching, the one run was probably enough, but Poynette added three insurance runs in the fifth to take control. All three runs were scored with two outs.
Junior Brianna Kowald got things started by smacking a single to left field. Fountain followed with a double down the left-field line, putting runners on second and third. Next up was junior Lucy Cuff, who had struck out looking with a runner on second base in her previous at bat, but this time she came through, hitting a single to center that scored both runners to make it 3-0.
"That hit could have come from anyone in the lineup. We're really strong up and down the lineup. I was just the one that got that pitch," Cuff said. "It was great that there were runners on, I could move them around. I knew I had to protect, because the at-bat before, I went down looking and it wasn't going to happen again."
Poynette would get one more run in the fifth when Molly Anderson's pop-up was dropped by Campbellsport second baseman Dechant, allowing Cuff to come home to make it 4-0.
Pitching with a four-run lead, Fountain went to work. She struck out the side in the fifth and fanned two of the three batters she faced in the sixth.
Then in the seventh, Fountain faced Muench to open the inning. Fountain fell behind the count 3-0, but battled back to get the count full, where she then fooled the Campbellsport slugger with a changeup, getting her to watch strike three for the first out of the inning.
You have free articles remaining.
Fountain would then strike out Heisdorf and pinch hitter Paige Schneiss to seal the victory and deliver the state championship back to Poynette.
The big game for Fountain in the circle was even more impressive, considering she was called for an illegal pitch in the first inning.
Tomlinson was impressed with how Fountain didn't let the call rattle her.
"I've seen adult men pitch in world class fastpitch that get screwed up when the umpire calls one illegal pitch," Tomlinson said. "That kid just sucked it up and fixed what she did wrong and pitched her heart out."
The victory also sends Poynette senior Ashley Hellenbrand out on a high note. Hellenbrand, who is the only senior on the roster, was hitless in six at-bats in the two state tournament games, but that doesn't mean she didn't play a key role in her team's success on the weekend, and all season long.
"Ashely is just glue. Whatever has to be done, she does it," Tomlinson said. "She didn't have a great weekend at the plate, but still, in the dugout and getting things organized and being the team leader, she's like a mother hen, kind of. She gets everything organized. We couldn't have done this without Ashley. We couldn't have done it last year without Ashley. I can't say enough about her."
Hellenbrand, who is headed to UW-La Crosse in the fall, where she has yet to decide if she will try to play softball, was shedding tears of joy following Saturday's victory.
"This is amazing. It's everything I could ever dream of and imagine," Hellenbrand said. "This group of girls, they're awesome, and it's hard leaving them, just knowing next year I won't be on the field with them. But I know they will do great things next year and hopefully be back here again too."
Poynette celebrates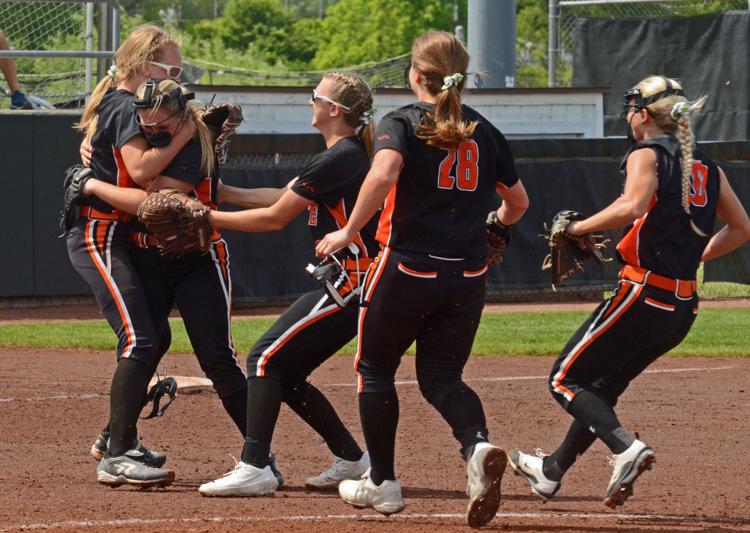 Lucy Cuff bunt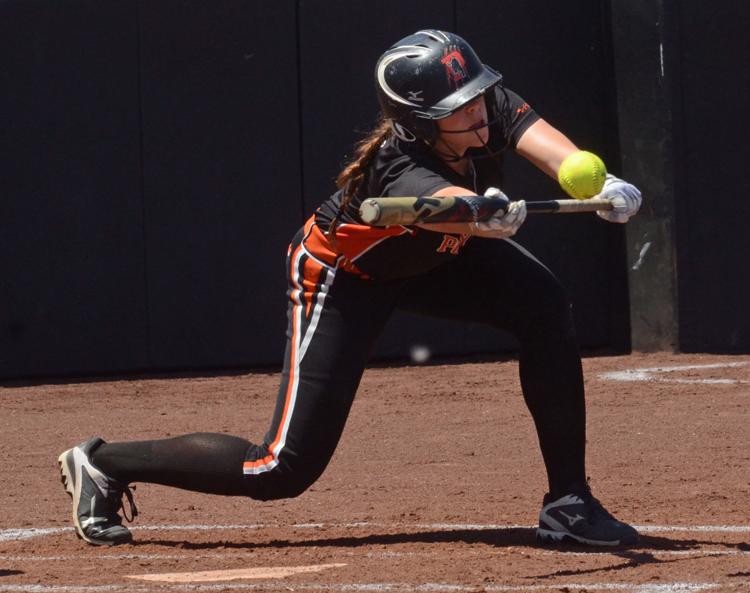 Fountain leaps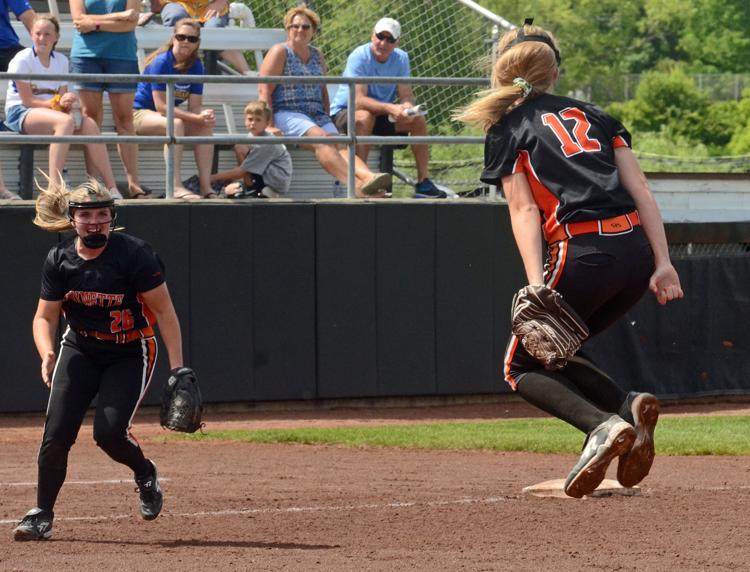 Fountain double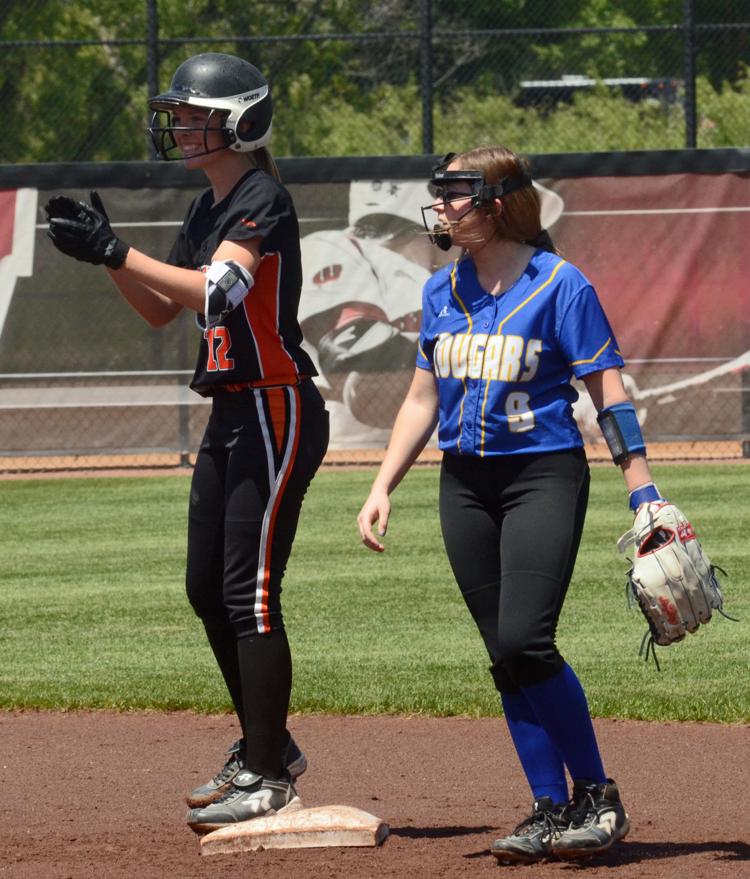 Fountain pitching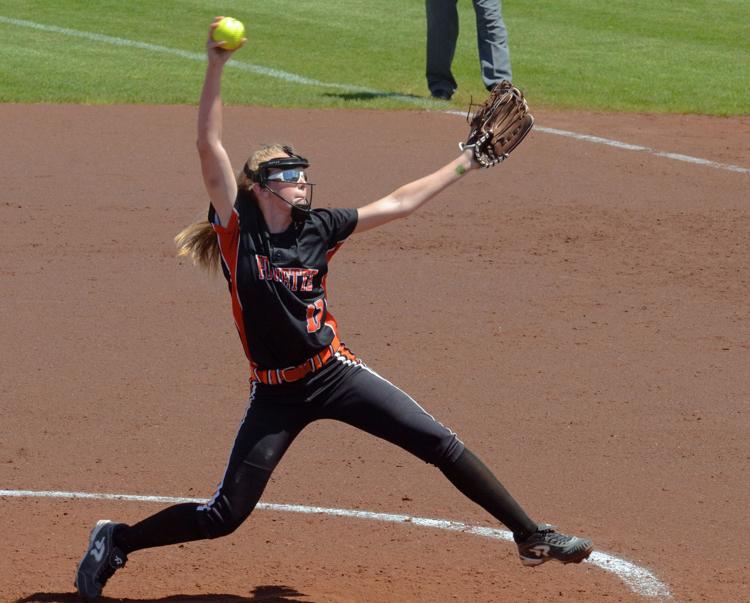 Genz and Hellenbrand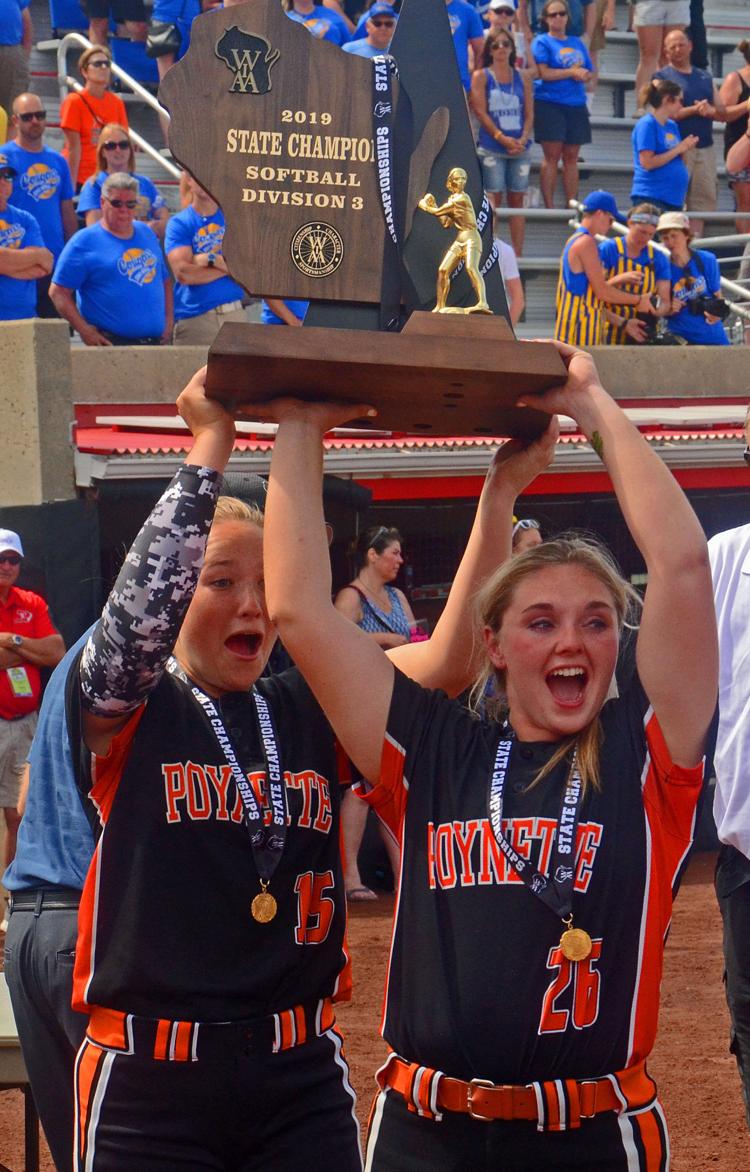 Hellenbrand and Fountain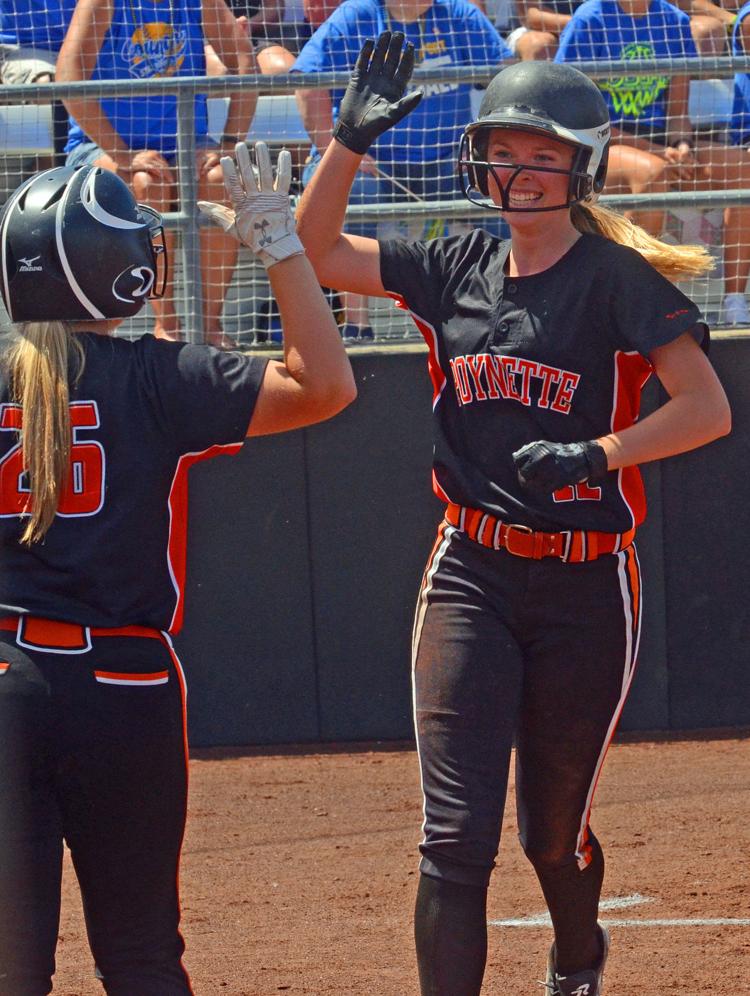 Hellenbrand and Fountain celebrate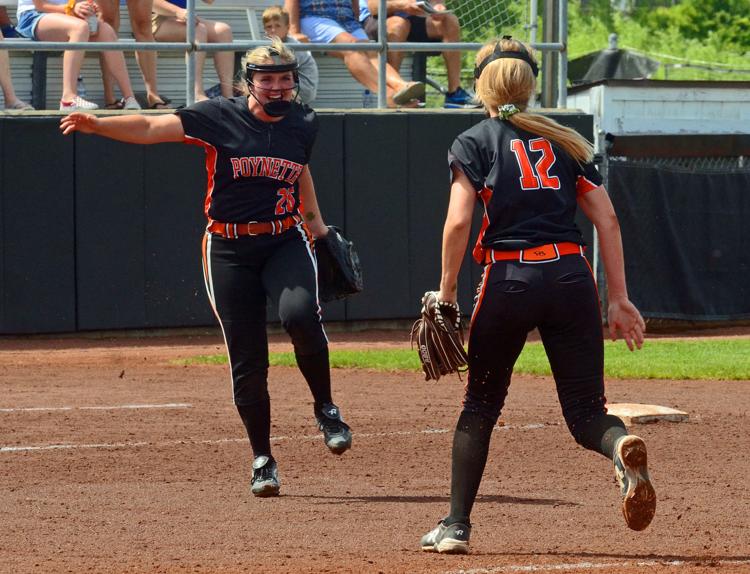 Brianna Kowald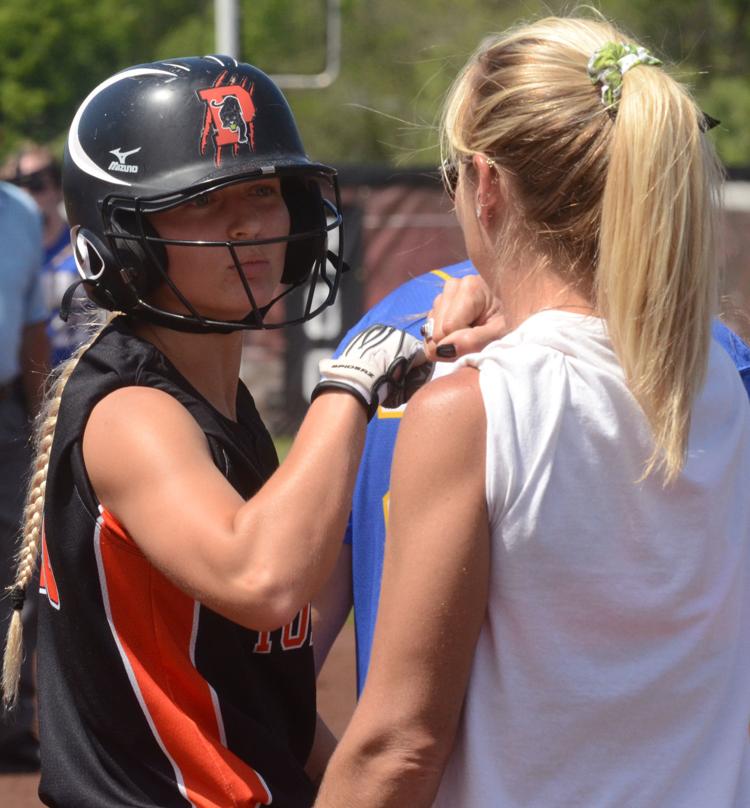 Poynette Pumas celebrate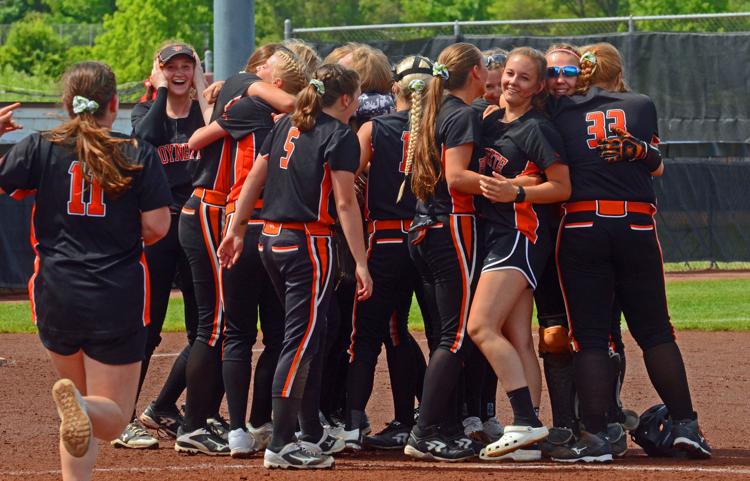 Poynette team photo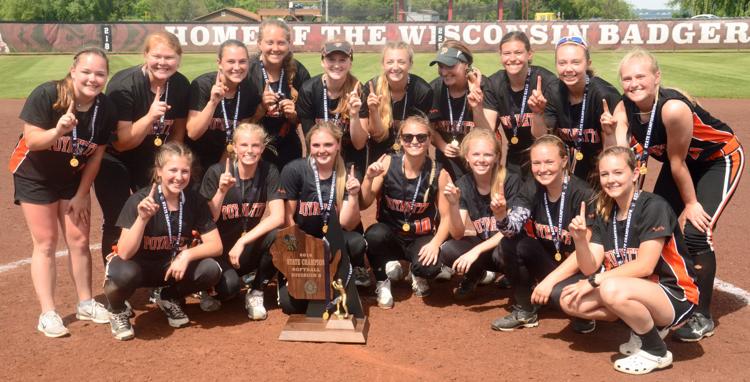 Tomlinson and LaBlanc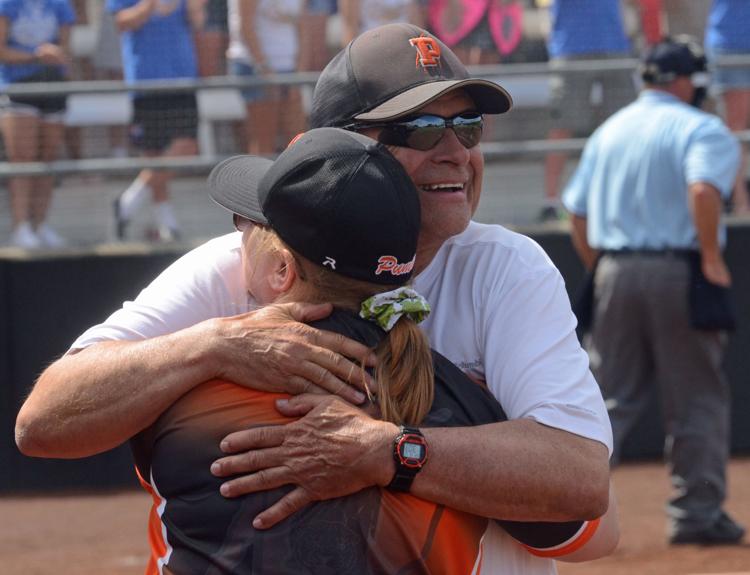 Poynette hoists trophy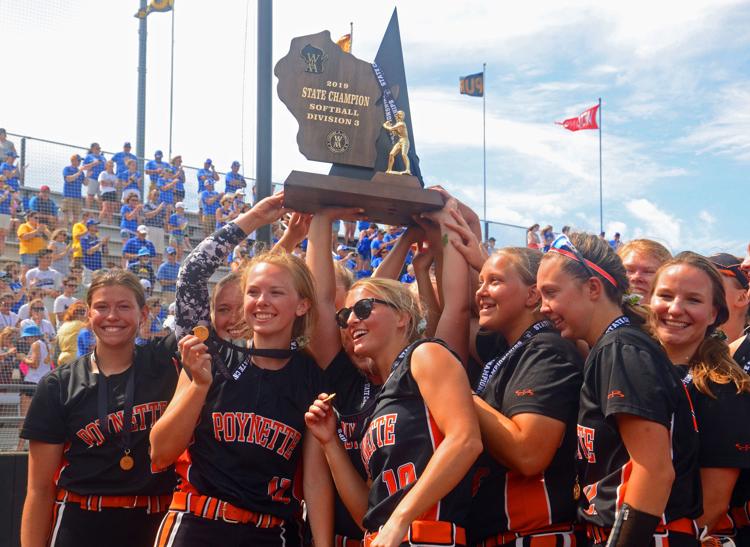 Poynette trophy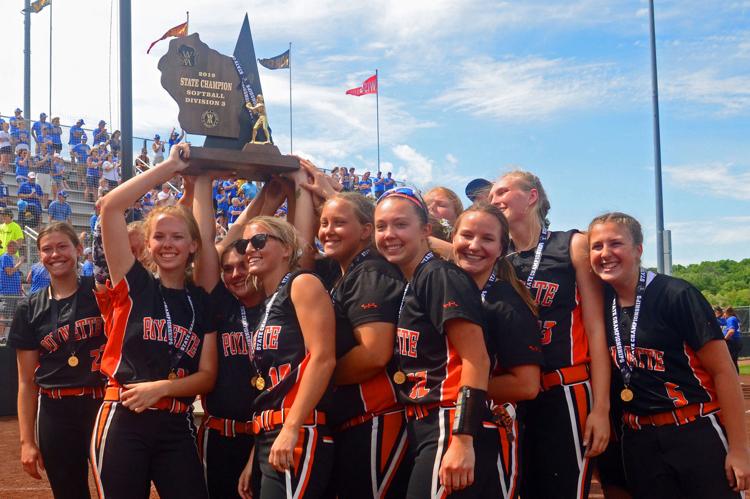 POYNETTE WINS NO. 5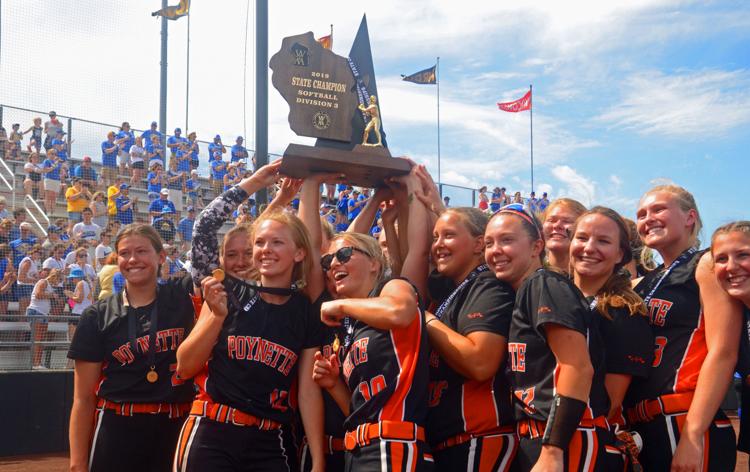 POYNETTE 4, CAMPBELLSPORT 0
Poynette 001 030 0 — 4 7 0
Campbellsport 000 000 0 — 0 1 1
Pitchers (ip-h-er-bb-so) – POY: Fountain (W, 7-1-0-1-13). CAM: Muench (L, 7-7-3-1-15).
POYNETTE (ab-h-r-rbi) – Kowald 2b 4-1-1-0; Fountain p 4-4-1-1; Genz pr 0-0-0-0; Cuff lf 3-1-1-2; Anderson rf 4-0-0-0; Hellenbrand 3-0-0-0; Millard dp 3-0-0-0; Schwenn 1b 2-1-0-0; Ramberg c 2-0-0-0; Schulz ph 1-0-0-0; Blochwitz cf 1-0-1-0; Jones ph 1-0-0-0; Kingsland ss 0-0-0-0. Totals 28-7-4-3.
CAMPBELLSPORT (ab-h-r-rbi) – Fryman cf 3-1-0-0; Dechant 2b 2-0-0-0; Muench p 2-0-0-0; Yahr pr 0-0-0-0; Heisdorf c 3-0-0-0; Nerat rf 2-0-0-0; Schneiss ph 1-0-0-0; Klahn dp 2-0-0-0; Narges 1b 2-0-0-0; Feucht ss 2-0-0-0; Andrews lf 2-0-0-0; Marchant 3b 0-0-0-0. Totals 21-1-0-0.
2B – Fountain 2. SB – Cuff. SH – Cuff; Dechant. HBP – Blochwitz. E – Dechant. LOB – POY 6, CAM 2.