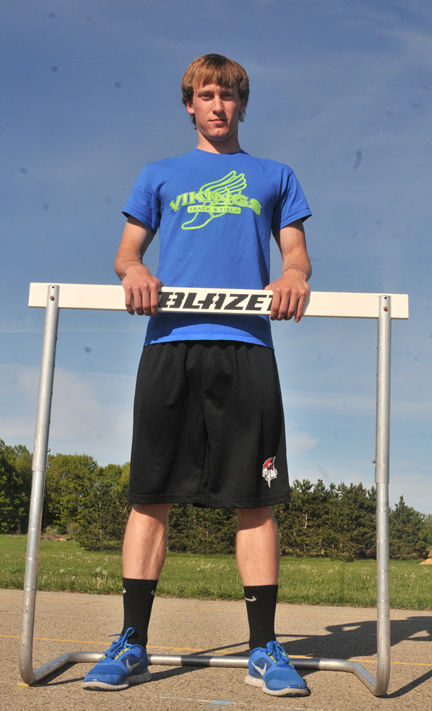 Five seconds went by. Then five more. Finally, after pausing to give it some thought, Josh Selje answered the question.
But he didn't answer which was his favorite event — the 110-meter hurdles, the 300 hurdles or the triple jump — instead, the senior for Rio's prep track and field team ruled one out.
"I'd say the 300 hurdles are definitely my least favorite to do," he said, "because that's an awful race."
"It doesn't seem that long, but running it is so long, because you have to sprint the whole time. Then you're jumping eight times.
"And getting over that last hurdle is (difficult) — you're legs are tired and you can't lift them, and it's just a struggle.
Well, unfortunately for Selje, he'll have to run it at least one more time.
But really, he doesn't mind. In fact, he's actually excited for the chance to compete in all three of his events beginning today at the WIAA Division 3 state meet in La Crosse.
Last season, he finished fifth in the 110 hurdles — his only event at state — to earn a spot on the podium.
This weekend, he's seeded sixth in that event, seventh in the 300 and eighth in the triple jump, meaning it's entirely possible he'll medal in all three and punctuate his four-year varsity career with an exclamation point.
"That's the goal ..." he said, "so I'm kind of expecting it for myself.
"But it's definitely going to be tough — there's some good competition."
Selje's athleticism definitely has helped fuel his postseason run. But given the tricky events he competes in, the recipe for his success has involved more than just that one ingredient.
For one, Vikings' head coach Deb Hutzler said Selje spends considerable time focused on flexibility — a key component of the hurdles.
"And he's very smooth," she added.
But another thing that helps Selje is that he's very thoughtful at practice and with regards to his training routine.
"He's a technician — he's a smart kid, and he likes to know what he's doing and why he's doing it," Hutzler said.
"And I think that definitely helps him in (all three) events, because they are a little more technical."
In case you were wondering, Selje's best times this season are 15.3 seconds in the 110 hurdles and 41.17 seconds in the 300.
And his best leap in the triple jump is 42 feet, 8 inches.
Oh, by the way, he's the school-record holder in all three, having first eclipsed Jeremy Reierson's previous record in the 110 hurdles (:15.38 in 2008) at sectionals a year ago (:15.35) before setting it again this season.
Twice this season he ran :41.17 in the 300 hurdles, erasing Brendan O'Malley (2009) and Dan Buttery's (1987) names from the record book after they shared the record at 42 seconds.
And in the triple jump, his best leap of the spring edged Buttery's previous record of 42-5 set in 1987.
Selje earned his Nos. 6, 7 and 8 seeds this weekend with sectional times of 15.56 seconds in the 110 and :41.54 in the 300, as well as a fourth-place leap of 42-2 in the triple jump. And that leap came on his final attempt, after he scratched on his first two tries during finals.
"And it takes some composure to make sure your approach is where it needs to be (in that situation)," Hutzler said.
Hutzler would know — she finished fourth in the triple jump at state for Wautoma in 1992. She also finished fourth in the 100 hurdles that year before finishing third at state in both hurdles events the next year.
And she's had the pleasure of watching Selje get better and better each year, first showing his potential by making finals in the 110 hurdles at the conference meet as a freshman before getting the school record — and that fifth-place state finish — last season.
Now, the first team, all-Small Trailways Conference running back for the Vikings football team last fall and the scoring guard who eclipsed 1,000 career points for the Vikings over the winter will try and punctuate it all with three state medals.
But come Sunday, the star three-sport athlete for Rio will be done, and only memories will remain.
"It's definitely been fun to watch him as an athlete," Hutzler said.