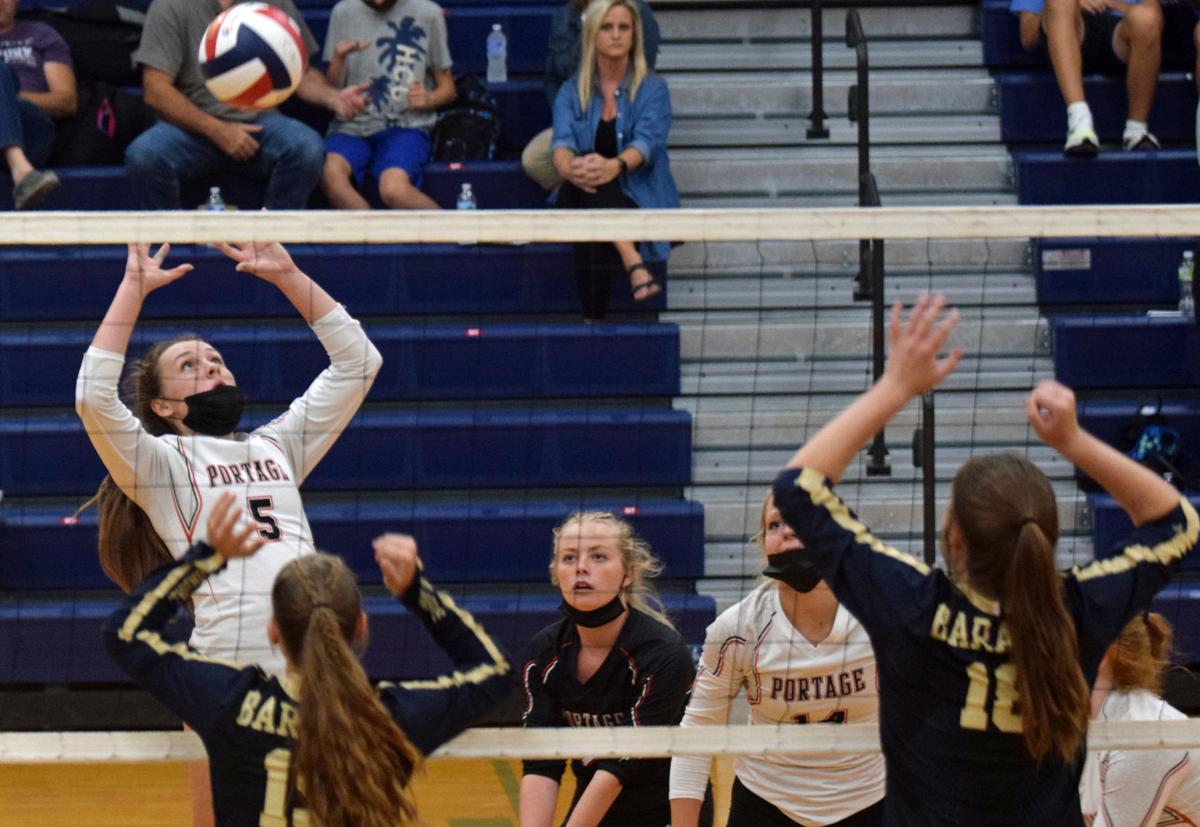 The Portage prep volleyball team couldn't keep pace with Madison Edgewood on Thursday night as the Warriors were swept in a Badger West Conference match.
Portage tried to hang tough but didn't have an answer for the Crusaders, who rolled to a 25-14, 25-18, 25-9 win to improve to 15-5 overall and 5-0 in league play.
The Warriors (2-16, 1-5 Badger West) were led by the duo of senior Olivia Jones and sophomore Estella Brees. Both girls registered a team-high three kills, with Jones adding an ace and Brees tacking on three assists.
Senior Emma Colling had 12 digs while senior Sydni Kratz had four assists and sophomore Madison Maass also had an ace for the Warriors. Portage's hitting woes were largely due to the Crusaders height, mainly 6-foot-2 junior middle hitter Addie Schmotzer, who registered 6.5 blocks.
Senior Natalie Ring had 11 kills while senior Lauren Hazelett notched 21 digs and senior Kayla Buelling dished out 14 assists. The Warriors, who were swept by Oregon (25-18, 25-11, 25-22) on Tuesday, return to action Monday with a non-conference match against Adams-Friendship.
Pioneers rally past Chiefs
Westfield picked up a big win in the South Central Conference title race on Thursday as the Pioneers rallied for a five-set win over Wisconsin Dells in an SCC game at Wisconsin Dells High School.
After taking the opening set 26-24, the Pioneers dropped the next two tightly contested stanzas to the Chiefs, 25-23, 25-22. However, it didn't deter Westfield as it held off the Chiefs in the fourth, 25-22, before pulling away for a 15-8 win in the fifth to move to 2-1 in league play.
Westfield (7-5 overall) was led by the trio of Nadia Hoffa, Braylee Wolff and Maddie Chappell, as Hoffa registered a match-high 11 kills. Wolff and Chappell each had 11 assists, with Wolff notching 16 digs and Chappell recording four aces.
Wisconsin Dells (9-10, 1-2 SCC) was paced by Angie Grant and Macy Platt, who each had 11 kills. Sophomore Bryn Janke had 31 assists, eight aces and a block alongside Ari Partlow, while Paisley Lindner had 31 digs in the loss.
The Pioneers head to Fall River for an invite on Saturday, while the Chiefs return to the court next Tuesday for a crucial league clash against Nekoosa.
Vikings coast past Big Red
Rio continued its hot start to the year on Thursday as the Vikings cruised to a 25-10, 25-11, 25-16 sweep over Beaver Dam Wayland in a non-conference match.
The Vikings hammered the Big Red from the service line as Anna Benisch, Vivian Hoene and Ashley Lamke each recorded four aces apiece. Hoene also had 16 assists while Benisch had six digs and five kills.
Emily Loging led the Vikings with seven kills while Kayla Staveness had a team-high seven digs for the Vikings, who improve to 10-6 overall. Rio, which remains unbeaten in Trailways West play at 4-0, will join the Pioneers in Fall River on Saturday.
Hilltoppers continue to claim towards .500
Montello continued to its current run of form on Thursday as the Hilltoppers won their third straight match with a 25-20, 25-20, 25-19 sweep over Dodgeland in a road non-conference match.
The Hilltoppers have now won four of their last seven following an 0-4 start thanks in part to a balanced attack against the Trojans. Senior Nellie Kendall had a team-high five kills while junior Emma Krentz added four and senior Courtney Gardner tallied three.
Addi Urbaniak had a team-high three aces and matched Krentz with 13 digs apiece, while Kennedy Calnin and Gardner each had 11. Anna Stueck had a team-high 13 assists for the Hilltoppers, who head to Fall River on Tuesday for a Trailways West tilt.