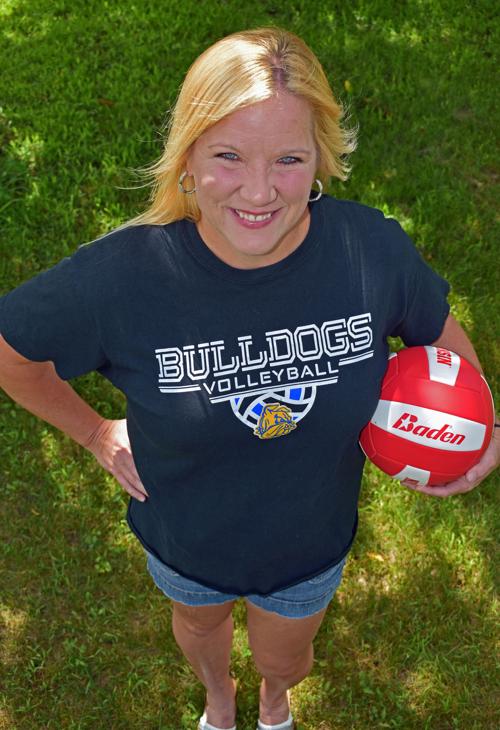 PARDEEVILLE — While a lot of uncertainty still surrounds the upcoming fall sports seasons, the Pardeeville prep volleyball program is turning to a familiar face to lead the Bulldogs back onto the court.
At last Monday's school board meeting, Pardeeville approved the hiring of Heather Falkner as the school's new volleyball coach. Falkner, who is also Pardeeville's varsity softball coach, spent five seasons with the volleyball program, including two years as the head coach in 2010 and 2011.
Falkner, who is getting ready to start her 19th year as a teacher in the Pardeeville School District, stepped away from the volleyball program following the 2011 season, but has always looked for an opportunity to return. That opportunity officially presented itself after Tammy Heck resigned after three seasons as Pardeeville's head volleyball coach.
"Last year I had the opportunity to volunteer with the volleyball program, and it basically got me all excited, because I was able to play the game, coach the game and show my excitement for the game," Falkner said. "So when (the head coaching position) did open up for this year, I kind of jumped all over it, because I think with the excitement I have for it, I will be able to share with the girls and get them excited, and just to have fun and have them love the game like I do."
Falkner takes over a Pardeeville program that struggled last season, finishing 0-7 in the Trailways West Conference, and was just 3-22 overall. The Bulldogs could potentially have some talent on the roster. Savannah Manthey, who was second on the team in kills last season with 67, is a junior this fall. Also potentially returning this fall is the team's leading setter from last year in senior Cami Johnansen (181 assists), and the team's leading server and defender in senior Brooke Peterson (19 aces and 352 digs).
Whoever ends up being on Falkner's roster, the coach hopes they bring an aggressive approach to their game.
"That's one of the things I would like to focus on this year. To be excited and let that show through their play," Falkner said. "I would like them to work on their offense and go for it, go hard. I have all these ideas, I just really hope it can all play out and they can just get as excited about it as I am."
Falkner graduated in 1997 from Portage High School, where she played for Wisconsin Volleyball Coaches Association Hall of Fame coach Joann Armson. In Falkner's final two seasons playing at Portage, she played for Warrior volleyball teams that finished as undefeated South Central Conference champions in 1995 and 1996.
Falkner said the opportunity to play for Armson has helped develop her into the coach she is today.
"Playing volleyball for Joann was a great experience. She pushed us, but you also knew that she wanted to make us the best we could be," Falkner said. "I like to use that same philosophy when I coach the girls. I want them to do well in the sport, but I also care about them as a person. I think that's an important quality to have as a coach."
Falkner also pointed to former Portage High School softball coach Don Andringa as a major influence to hear coaching career.
"(Andringa) always made practice fun. We were always very excited to go to practice and games," Falkner said. "He had us pumped up and just wanting more and wanting to do our best and wanting to play well for him. Those two coaches, Joann and D.A., I was very lucky to have them as a coach."
Just when Falkner will get the chance to start coaching this year's Pardeeville team is up in the air due to the ongoing COVID-19 pandemic. Last week, the WIAA Board of Control voted to delay the start of practice for girls volleyball from Monday, Aug. 17 to Monday, Sept. 7, with the earliest possible date for competitions being Sept. 15.
The delayed start to the season will likely mean a shortened schedule, which will likely only include conference games. Falkner said the uncertainty to the future does make it hard to plan for the season.
"You obviously want your athletes to be safe and healthy, and you would never want to put them in situation that would jeopardize it, but also it's a little bit out of my control too," Falkner said. "We'll play where we are allowed to play, and if we can play different places, then we will.
"I'm just going to have to take it one step at a time and see how it goes."