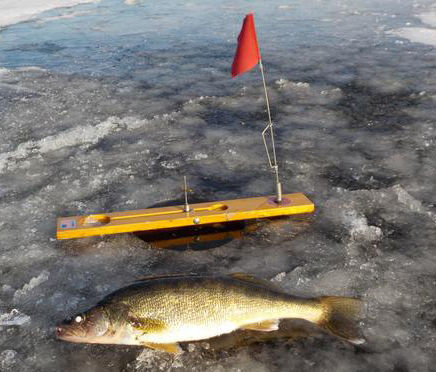 To the best of my knowledge, I have never ice fished in November. There are two reasons, with the main one being that generally it has not been cold enough, long enough, to ice fish this time of year. The other one, which is pretty significant, is that I am always hunting in November.
This week I was supposed to be duck hunting on the Mississippi River, but water became ice and that trip was changed to ice fishing on Lake Puckaway in Green Lake County. Ice fishing in the middle of November is unique.
Thursday, Nov. 14
It was killing me to not be duck hunting, but a guy has to move on. So I stopped in Montello at the Holiday Sport Shop for bait. I love this place, and they did not have shiners until the next day. My quarry was walleye and northern pike, and I was told I would not find shiners until the bait truck delivered.
Again, I had to think outside of the box, so I went with large suckers and fatheads. I would put two fatheads on each treble hook.
I drove to Puckaway and I love it here. I've spent over a dozen summers of my life at Stan's Puckaway Resort in Marquette.
I got on the ice and talked to a fisherman. He had been fishing for two days and not caught or seen a fish caught. Plus, there was only 2- to 3-inches of ice. My vision of camping on the ice vanished, as I do not want to die under the ice in a sleeping bag on top of a cot.
I parked my truck so I could view the lake and life was good. At dark, I have had no action. At 9:30 p.m., a light started blinking on one of my tip ups. There was 2 inches of ice underneath of me and I had a fish on. I caught the fish, it was a 19-inch walleye and life was good. Just like that, the same light started blinking again. I caught and released a 14-inch walleye.
There was a big, slow period until 5:24 a.m., when I missed a good fish at the hole. At 6:20 a.m., my stepson Travis Dushek, who just bought a place in the area, stopped to see how I was doing, when a light started blinking and I caught a 21-inch walleye.
Once it became light out, nothing happened as far as flags flying. I decided to pack up and head to Miller's Resort and try fishing in that area.
My plan was to head home at dark, as I have another trip planned for the following morning. I was greeted at Miller's Resort by Chad Gilbertson, who along with his wife Paula, own Miller's. They are related to Sonny and Elanor Miller.
My grandparents and their siblings and friends hung out at this place back about 70 years ago. They liked to fish and drink beer here, and I can see why.
I set up on the ice with high hopes. Travis texted me that he was going to join me at dark. So much for going home at dark. I left the ice at 10:30 p.m. and got home at midnight with one more 19-inch walleye for my efforts.
As soon as I finish writing this, I am having a fish fry. I am currently as busy as I could be without having my head explode, but after 31 years of experiencing my busy season, I am well-conditioned to the fact that come mid-December, my life will slow down.
I love Puckaway and I love my way of life!
Be the first to know
Get local news delivered to your inbox!