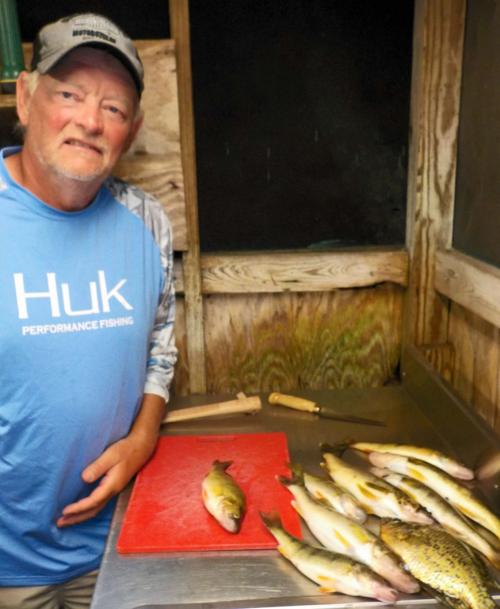 The Canadian border is closed to non-essential traveling. Ever since 1982, I have flown to Shultz Lake from Red Lake, Ontario, with family and friends for seven days of fishing and good times.
The border shutdown meant we had to figure something out in the U.S. for this summer's fishing trip, and we found a really cool place to stay in a great area.
Timbers Resort on Lake Gogebic, near Bergland, in Michigan's Upper Peninsula would be our home for a week, and folks, I have to tell you, Tim and Sarah Long run a great place. Everything works, it's clean and peaceful.
Saturday, July 4
One of the unique things about this trip is that all eight of us — Jeff Moll, Dick Schuster, Trent Schuster, Roger Frank, Gary Gray, Mike Walters, Tom Walters and myself — went to Poynette High School.
Three of the guys that are not related have always been buddies with either Tom, Mike or myself, and Trent is Dick's son and my nephew.
We also share a deer camp and a duck camp, go on ice fishing trips and do the Canada thing. This 10-cabin resort had other groups, that were like our group, and had hoped to be in Canada, but are fully aware that still having a good time together is always an option.
My brother Tom received the award for traveling the furthest, which was Denham Spring, Louisiana. But Timbers Resort had groups from Indiana, Iowa, Pennsylvania and Michigan, and some truly world class fishermen.
So here is the rough news: The night before we arrived there was a major mayfly hatch. That hatch, along with several days in the 90s, put a serious hurting on the fish bite.
We fished out of three boats and put in about 7-10 hours a day per person. Our goal was to do well on walleye, with a major side goal being to harvest a few of what I feel are the largest-body-sized perch anywhere in the Midwest.
Our techniques included using planer boards, which are not popular with some of the guys. We also drifted with leeches and crawlers, when there was enough wind, and used slip bobbers and anchored and fished for bluegill.
For the most part, we switched partners with regularity, and after day two, all we could do was hope that the fish were going to start to bite. What was really cool is that even though it was the weekend of the July 4th on Michigan's largest inland lake, there was hardly any boat traffic and everyone that you did see was very polite.
Once we realized, that at least for the time being, the fish bite was not happening, we started doing a lot of porch time, which in reality is a good share of the reason that we were doing this trip.
In other words, whose ever day it was to cook, would cook for the gang, and in the middle of the day, the rest of us would sit on the porch, have some beverages and laugh a lot. For the most part, we would fish the last three hours of the day, and after dark we would play "mess with your neighbor," which is a very fun card game.
Gary Gray is 4 years older than me, and as a kid he always thought of me as Mikey's snot-nosed younger brother. In the card game, Gary destroyed me, and loved doing it.
One night Jeff Moll was super crazy, as he always is late in the evening, and the following morning he cooked his "group meal." We should have called the Bergland Fire Department, because he forgot about it, then served the charred remains to seven guys, who all of the sudden were not very hungry.
The fishing really was slow, but we were all wise enough to know that it was just a period of time, and on the last day, I fished with Roger Frank. Roger and Julie Frank just created a vacation home at Pine Cove Resort on Castle Rock Lake.
Roger wanted to learn how to use planer boards, and we had our best day of fishing, catching walleye, perch and crappie.
Adventures like this do not always work out exactly as you dream, but I will return to Gogebic, and when the Canadian border opens, I will be back to Shultz lake.
It was cool to see so many people relaxing on their porches.
Be the first to know
Get local news delivered to your inbox!