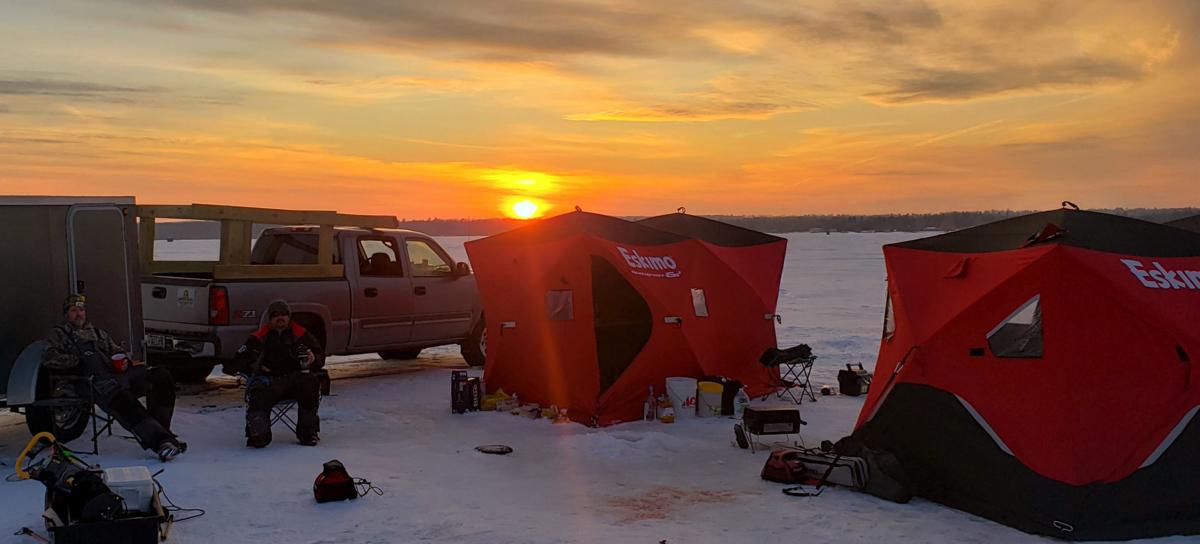 Without a doubt, the ice-fishing and winter-camping trip that I was looking forward to the most, was a three-day adventure to Little Bay de Noc, which is located on the north end of Green Bay and is in the upper peninsula of Michigan.
My 28-year-old stepson Travis Dushek would ride north with me, and the following day our good buddy Doug Cibulka would join us, and we had extremely high hopes of catching a very large walleye.
Friday, March 6
I fished and camped on Little Bay de Noc about 15 nights per winter from 1999 until 2012. The guys from my deer camp and myself kept three shacks on the ice just north of Gladstone, Michigan, and we had three annual winter trips that were a blast. We taught every kid in our gang how to love the ice, and the tip yielded us an incredible amount of 28-inch-plus walleye, with several over 30 inches.
The great fishing ended, and I have only been back one year, and that trip was fun, but unproductive.
This morning Travis and I left Necedah at 5 a.m. with my enclosed trailer loaded with gear, and did we ever have high hopes. Our first bit of bad luck came in the form of an overnight snow and ice event that at times made for some pretty tricky driving.
Our next interesting experience was when we hit the ice at the Days River, which is a popular on-ramp to the bay. It was extremely windy, had been the entire drive, and there were a lot of whiteout conditions on the bay. Much worse than the whiteout was that there was no path on the ice. Everything was drifted over in a big way, and pulling a trailer was going to require luck and skill.
Our luck improved when we met Randy Rein. who owns and operates Sleeper Shaks. Randy asked us a few questions and then said "follow me and drive fast." We did just that for close to 2 miles and beat the crap out of everything we had with us, but maybe two miles later, we had us a home. Randy told us why we should catch walleye there, and then Trav and I began setting tip ups and the big job of building a camp in hurricane-force winds that were out of the north.
You have free articles remaining.
We stayed up very late, ate very good meals and did not catch a fish.
Saturday, March 7
Our good buddy Doug Cibulka showed up very early this morning and was ready to have fun. It is a good thing Doug showed up, because he caught the first fish, which was a 32.5-inch northern pike.
Today the wind switched from the north to the south, and we moved my truck and trailer to block it.
We had two Eskimo pop-up ice shacks of which both were 13-feet long. We used them for wind blocks so that we could hang outside. For the most part, the fish were not hungry, so our entertainment was watching truck after truck get stuck in the snow drifts.
At about midday we had a Michigan conservation warden and local police officer arrive at our camp by snowmobile for a check. We were breaking no rules and they could tell. Both guys told us that the bite was dead, but that they did check one group of fishermen that had a 34-inch walleye that they had actually measured.
I have to tell you, Doug and I have been buddies pretty much all of our lives. I helped raise Travis since he was 6, and the three of us had a complete blast living on the ice with each of us taking turns cooking great meals.
We were having so much fun trying to catch a fish that we stayed up until 4 a.m., and in reality, we never quit laughing.
The three of us came up with a better plan for next year after we scoped out the lay of this body of water, with both maps and electronics, and decided that this must be an annual trip.
The truck ride back to shore was interesting, but successful. We made it back to my house after dark, and it might have been the most fun unsuccessful walleye fishing trip of my life.
Be the first to know
Get local news delivered to your inbox!