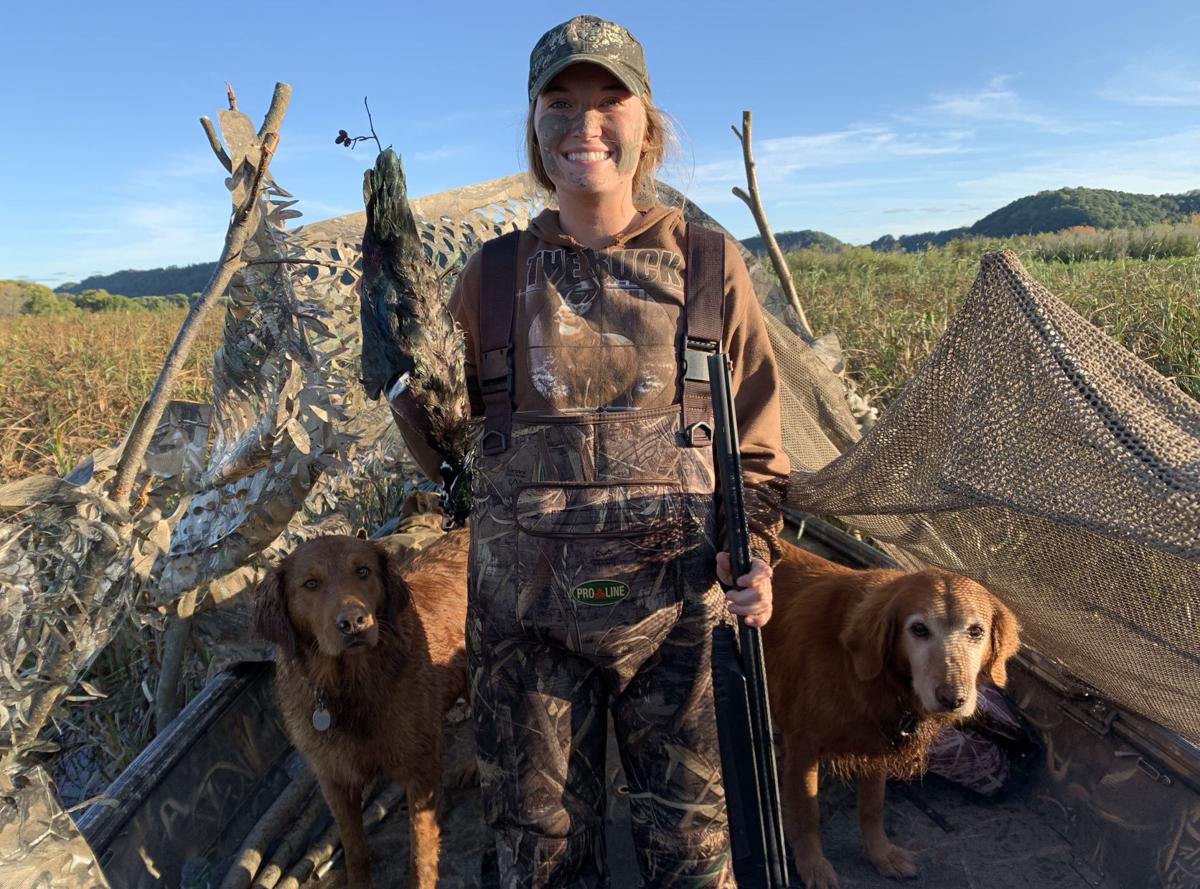 For myself, it is very hard to believe that 48 years ago, I camped on an island on the Mississippi River near Ferryville and hunted ducks for the first time. How can time pass so fast?
Friday, Sept. 27High 73, low 54
High water and a wedding had this group of 20 hunters narrowed down to 12, and let me tell you, high water is becoming a major issue for much of the world. To understand what I mean, look at all of the dead trees on our riverbanks and islands, which are due to being flooded for extended periods of time over the last three years.
As the trees succumb to the high water, they fall over, and the loss of their root structure causes the islands to become smaller with the loss of each tree.
Today, we found an island that was high enough for us to pitch our tents and stay dry on. One by one, our group arrived, with the last being Dick Schuster and his son Trent, after the Trevin Krier and Erika Gundlach wedding.
Something that was very special for me was that my 18-year-old daughter Selina arrived today after her last class at UW-Stevens Point. Selina would not miss a class, which meant she had to drive alone.
It is hard to describe the mood on the first night of this adventure, but electric would work. The old timers are Dick Schuster, Jeff Moll and myself. Everyone else is 17 to 30, and to listen to each of these kids around the campfire as they describe their love for this trip is pretty darn cool.
Saturday, Sept. 28
Selina and I would be hunting in my War Eagle, which I had built a blind around, and we were both very excited as we started to become comfortable at 4:30 under very pleasant conditions.
You have free articles remaining.
Our golden retriever Fire and her pup Ruby would be our official duck retrievers. Our day started and lasted with quite a bit of bad luck. I had all four of my 12 gauges serviced and started my day by not really shooting, but watching Selina. I bought Selina a Tri Star, and that was not a good purchase, as it lasted for one round.
Next round I gave her my 11-87, which I love, but it is severely worn out. That lasted one round and literally broke inside. Next, I gave her my Charles Daly, and just like that, the ducks quit flying by us.
Another interesting fact is that 99 percent of the ducks we were seeing were wood ducks, and that really had me thinking, as usually we are harvesting teal, woodies, mallards and a stray widgeon.
About noon, with not a duck to our name, we moved our setup about 100 yards and headed back to camp for a snooze, and to hang out with our buds. The common talk was all woodies, with just one teal for 12 guys, and at this time I came up with the following theory.
For three years, the nesting habitat has been flooded on this section of the Mississippi. Wood duck can adapt as they nest in trees. I believe that the teal and mallards are getting flooded out of their nests, and it is really putting a hit on their numbers.
This afternoon, Selina and I returned to the blind, and though she did not want to, she did homework for two hours before she started hunting. It did not matter, as I did not come close to getting a shot.
At 5:30 she turned off the computer, closed her books and grabbed her 12-gauge. Just like that, a drake wood duck flew over. She shot, and by God, it fell out of the sky. Ruby did an excellent retrieve and we were on the board.
The Charles Daly also died on us, but we got three more wood ducks and went back to camp in an excellent mood.
Tonight, camp was simply a blast. We cooked our dinner on the campfire, watched a lot of dogs do stupid things, as Ross Moll's golden doodle was in heat.
We laughed our heads off all night long. As usual, it rained, and when the final man left camp on Monday, all the ducks harvested were wood duck, except for two teal and a widgeon. Not one mallard was shot.
My guess is, come hell or high water, I will be back next year.