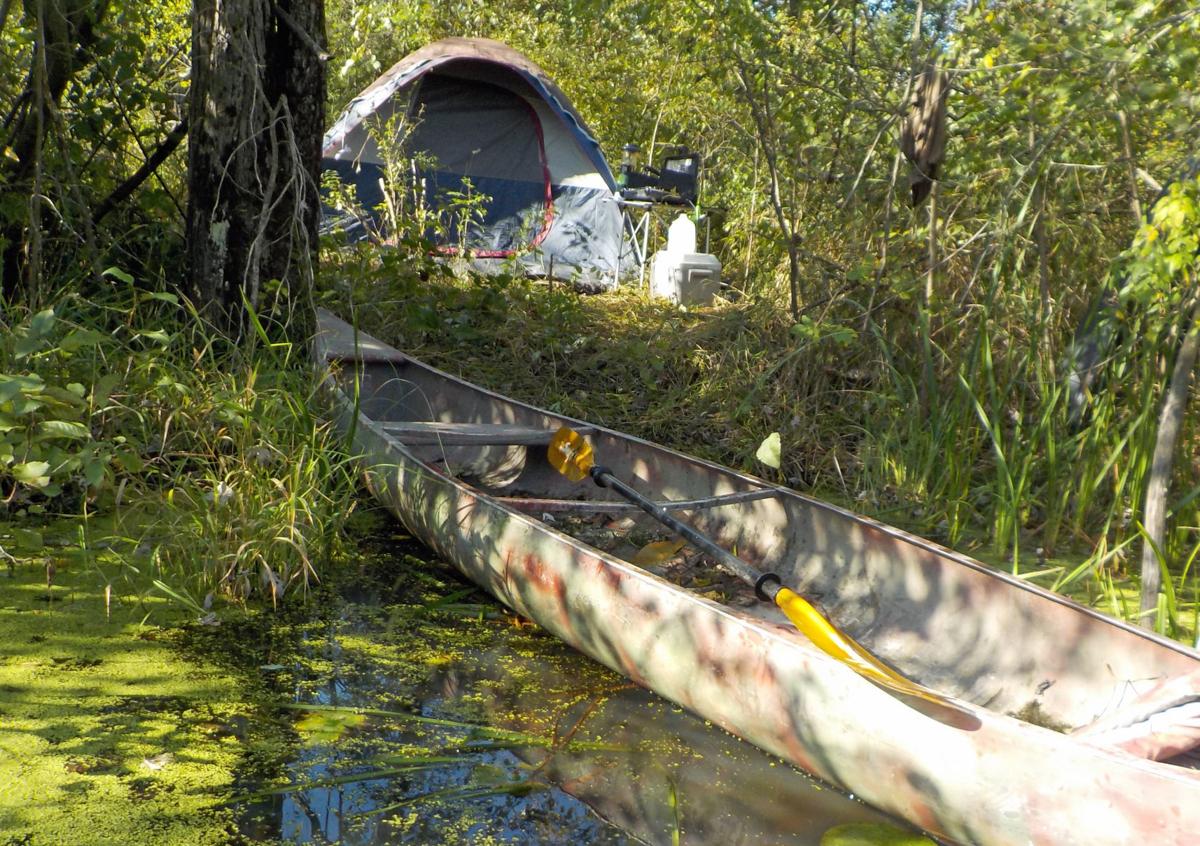 I have never really had a good place to bow hunt for whitetail deer and that is pretty crazy when you think of what I do for a living. Juneau County's Meadow Valley Wildlife Area is a total adventure, as the area has hundreds of square miles of land open to the public. The problem is there is no baiting, no agriculture and lots of wolves. Long story short, you do not see many deer when bow hunting.
One year ago, a reader of this column told me I needed to check out the Tiffany State Wildlife Area, which is located in Buffalo and Pepin counties, and is a vast river bottom with the Chippewa River flowing through it. Last fall I hunted this beautiful piece of paradise. I traveled by canoe and on foot wearing hip boots. Folks, I have found my bow hunting home and this week I made my first trip of the season.
Sunday, Sept. 22
Today would be the 18th out of the last 19 days that I sat in a tree. The other 17 days were while bear hunting. Today I traveled by canoe and looked for a campsite that would be private and in deer country. I wanted this campsite to be a place that I would think about during the offseason as another one of my homes away from home.
About a mile away from where I had some very memorable bow hunts last fall, I found just what I was looking for. The place I chose to make my camp cannot be reached by boat, and is not visible, except from the air.
As is almost always the case, I was fighting daylight. After building a quick camp, I paddled to where I hunted last year, put out three trail cameras and hung a portable tree stand.
I had purchased an antlerless tag, and in reality, wanted to harvest a doe more than I did a buck, as I plan on coming back for the rut, and I am super excited about that trip.
I don't know if I have ever written this, but I am not the best at bow hunting, but I still love the sport. The area that I am hunting is made up of water, marsh and tag alders. The absolute farthest that I can see is 40 yards, and in most cases, I hear the deer walking in the water before I see them.
That was the case today for my first deer experience, and it was a beautiful doe that I did not get a shot at. Just like the other two that I would see before day became night.
At dark, I climbed out of my tree, paddled back to camp and felt great about my first hunt.
Monday, Sept. 23
I paddled in the dark to my stand this morning and paddled back to camp in the dark tonight. For myself, the adventure of traveling by canoe in hip-boot-only country to hunt for whitetail deer is a good feeling.
I did not see a deer this morning, but this afternoon I got a quick look at a buck, and had two experiences with doe. As is now the norm, I heard them in the water before I saw them. In the middle of the day I went scouting, and tonight back at camp, I cooked my supper on a propane stove by the light of a propane light and drank a cold beer.
The following morning, I saw two more doe and have come up with what I feel is a real good plan for my whitetail hunt during the rut.
I like vast areas of remote public land for hunting and camping, and as I wrote at the start of this column, just did not have my bow hunts where I wanted them.
Be the first to know
Get local news delivered to your inbox!