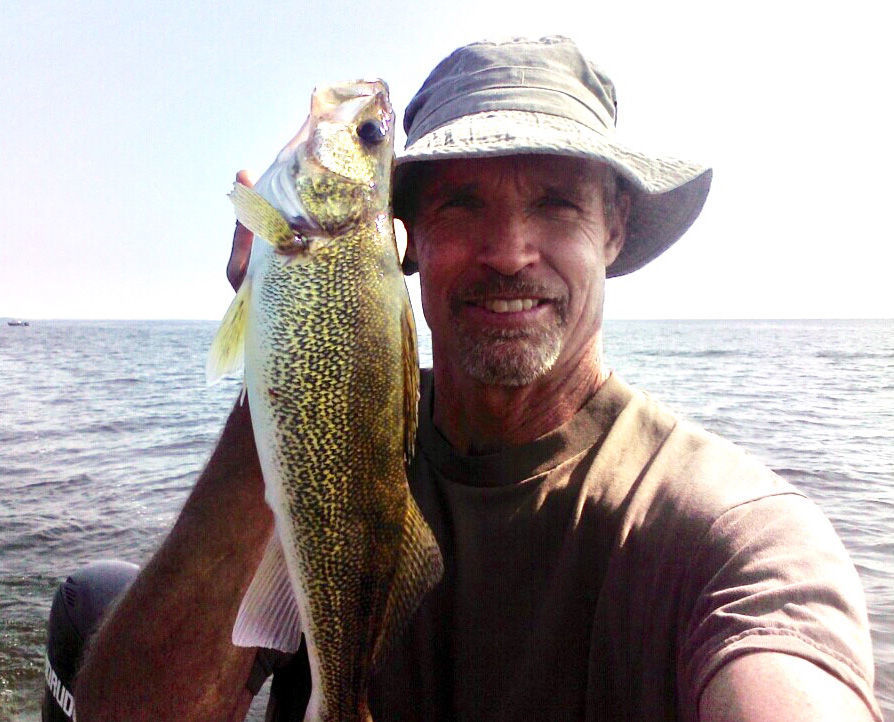 One year ago this past week, I paddle trolled on Green Bay with my canoe for two days. I slept where I ended up each day, and most importantly, limited out on walleye and caught a 47-inch musky on a night crawler harness that literally pulled my canoe around for 25 minutes before I even saw it.
For several months, I have been thinking about doing a repeat of that trip. I was extremely excited, and on the last minute, chose to take my two golden retrievers and use my 18.6 WarEagle instead of the canoe. My plan was to spend two nights on the bay and catch a lot of fish.
As you are about to read, sometimes things go wrong.
Tuesday, July 23
I launched my boat at Geano Beach Resort, which is about 15 miles north of Green Bay and on the west shore. Geano Beach Resort is a very cool bar and restaurant that has a popular boat launch where the fishing is excellent on the bay.
I hit the water about 5 p.m. with a plan of not touching land for 48 hours. I would sleep in the boat, cook in the boat, and most importantly, fish in the boat.
To reach water that is at least 12 feet deep, you have to motor out about a mile, and that is where I started setting my lines, which in this case, would be two Flicker Shads and a night crawler harness. It did not take long and I caught a small walleye, which I released, and then another, and just like that, a 17-incher, which I put in my livewell.
Here is where the rest of this trip kind of started taking on steady heaps of adversity. My low voltage alarm went off, and said I was operating on 9.7 volts while running my motor. I called a friend and a nephew for advice. Both mentioned either a bad battery (which I have three) or something else electrical. My starting battery is the only one that is not new, and close to dark I made the decision to head to shore, trailer my boat, sleep in my truck and figure this out in the morning.
There were so many mosquitoes that I could not have my windows open. I tried sleeping in the front seat but could not fall asleep. It was really hot. I eventually kicked the pups to the front and slept until 5 a.m. in the back seat. At 5, I unhooked the starting battery and hooked up to one of my trolling motor batteries and all seemed well.
Thursday, July 23
I was fishing shortly after 6 a.m. I figured that I had about 32 hours to live in my boat and my mood was excellent.
The catching was slow, but I had no cares as I trolled in 13- to 25-feet of water. At noon, I had one 17-inch walleye for the day, so I pulled my lines and went on a 4-mile boat ride to do some exploring. That adventure did not produce a thing, so I headed back to where I had been fishing, which was about 3 miles from the landing. Right away I caught a sheephead, a catfish, and then an 18-inch walleye.
About 5:30 p.m. I noticed some clouds forming to the north and was not too concerned, but they were kind of dark. I then caught a 22-inch walleye and was all smiles, but the clouds were getting closer.
I sent a text to my buddy Jeff Moll and asked if he heard if there was any weather predicted for the area.
Ten minutes after sending the text, Jeff answered by telling me there was a small craft warning, and I was gonna get whacked. I started packing up ASAP, and just like that, the southwest wind switched to the northeast and the waves were 4- to 5-footers. I almost cut my lines to save time but reeled each one in.
I cannot tell you how bad this got in the space that I have, but it was horrible. I was taking on anywhere from 1 to 20 gallons of water with each wave. My bilge could not keep up and some of the waves had my boat going straight into the air.
There were plenty of other fishermen in the same situation, as this was 100% a freak storm. I made the decision if I sunk, I could not save the dogs or the boat. Motoring into Geano Beach, you go through a canal that is lined with rocks, and is at best is 40 feet wide.
The high seas made it so you could hardly control the boat or see the rocks, and I would have taken my lower unit out if I got on them.
I felt like a superstar when I got past the rocks, and a man that would become a new friend of mine, by the name of Troy LaCount, had videoed the entire experience.
Geano Beach Resort is close to the water and the high seas flooded it out. There were dozens of us in literal shock. One boat with 22- and 24-year-old passengers sank and its occupants were rescued by the Coast Guard.
This was a man-up-or-die situation, and I am thanking God I decided not to use the canoe!
Be the first to know
Get local news delivered to your inbox!