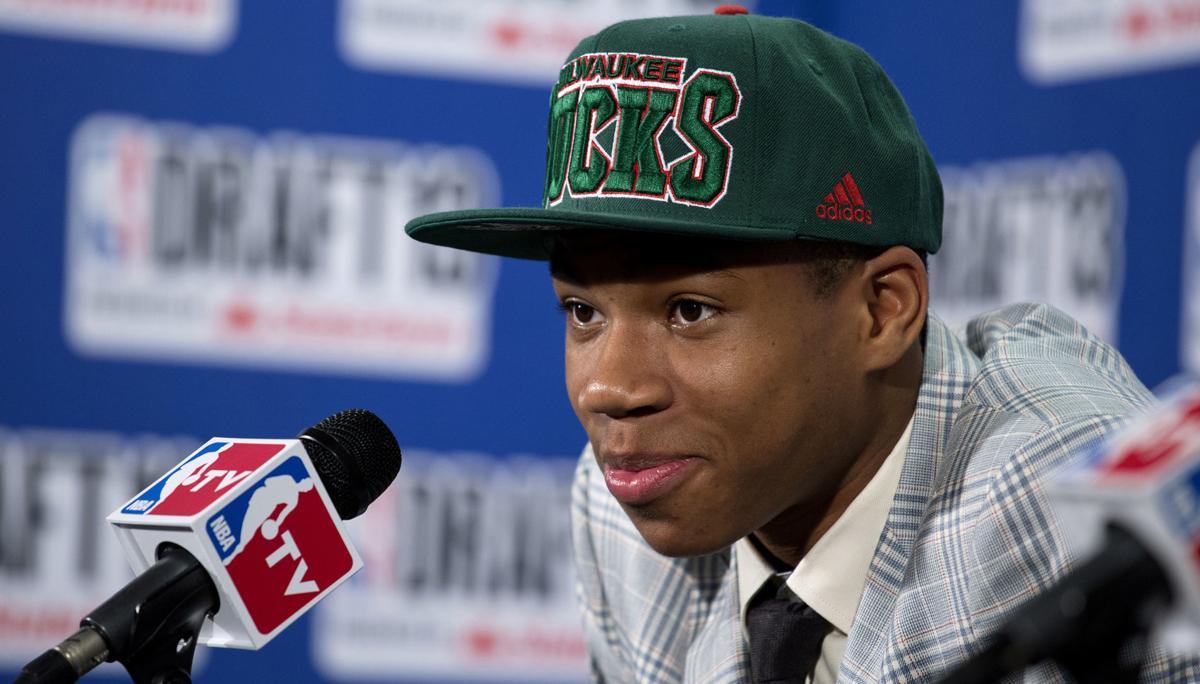 June 27, 2013
The Cleveland Cavaliers surprised many when they selected UNLV's Anthony Bennett first overall at the NBA Draft, but the most memorable pick came at No. 15, when the Milwaukee Bucks selected a little-known forward from Greece named Giannis Antetokounmpo. Bucks general manager John Hammond ignored more pressing needs at point guard and shooting guard when he made the selection. "Anytime you go into a draft … you're going to say, 'We're going to take the best player on the board,'" Hammond said. "With the 15th pick, that's what we did. We took the most talented player on the board."
June 27, 2007
Damian Miller picked a good time to hit his first home run of the season, as the backup catcher hit a three-run shot that sailed into the Milwaukee bullpen in the bottom of the 11th inning and lifted the Brewers to a 6-3 victory over Houston Astros at Miller Park. Ironically, the home run came on La Crosse Day at Miller Park. Miller was born in La Crosse in 1969 and attended high school nearby in West Salem. The victory finished off an 8-1 homestand. It was Milwaukee's 12th victory in the last 14 games and improved the team's NL-best record to 46-32.
June 27, 2005
Matt Kabele hit a pair of two-run home runs and pitched all seven innings for the Portage American Legion Baseball team in a 7-3 victory over host DeForest. Kabele's first home run came in the top of the first inning. Kabele, who also had a sacrifice fly in the second inning, picked up RBIs four and five with a two-run homer in the fifth. On the mound, Kabele gave up six hits and struck out 10.
June 27, 1989
The Portage American Legion Baseball team got its first official victory of the season, scoring three runs in the sixth inning for a 3-1 win over Mauston. The victory improved Portage's record to 2-9, with the other victory being a forfeit by Wisconsin Dells. Portage took a 2-1 lead on a two-run homer by Brian Clemmons in the sixth. An RBI double by Dan Mills would make it 3-1. Portage dodged a major bullet in the opening inning, when starting pitcher Matt Manthey worked out of a none-out, bases-loaded jam without allowing a run.
Be the first to know
Get local news delivered to your inbox!