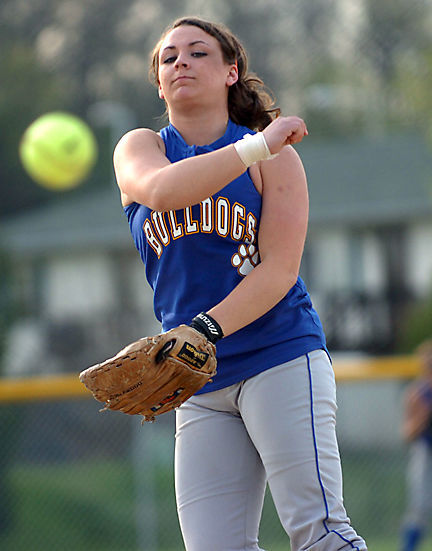 May 21, 2017
In a battle of undefeated teams, the Portage Skeeters got a six-hitter from Colyn Buss on their way to a 6-0 victory over Cottage Grove in a Home Talent League Eastern Section game at Bidwell Field. Portage turned three double plays in the game. Brady Greene and Travis Hamilton each had three hits. Greene had a pair of doubles, while Hamilton hit a home run and drove in a pair.
May 21, 2009
Senior Natalia Chapman tossed a four-hit shutout and struck out 11 while leading the Pardeeville softball team to a 6-0 victory over host Marshall in a Division 3 regional quarterfinal game. Ashley McLaughlin had three of Pardeeville's six hits, smacking two doubles and a triple while driving in a pair. In other regional tournament games; Portage drew 14 walks in a 19-2 win over Mauston, Poynette got a four-hitter from freshman pitcher Kirsten Tomlinson in a 2-1 win over Cambridge, Rio's Amber Schmidt had three hits and drove in three runs in a 6-3 win over Cambria-Friesland and Westfield blanked Reedsburg, 11-0.
May 21, 2004
After finishing tied for first place during the conference dual meets, the Portage boys golf team clinched the Badger North Conference championship by beating Waunakee by three strokes to finish in first place at the conference tournament in Spring Green. The Warriors were led by Craig Cerbins, who shot an even-par 72 to earn medalist honors. Portage's Ty Robinson finished in fourth place with a 79, while Ryan Brunt shot an 85 and Mike Kayartz shot a 90. The conference championship was Portage's first in the Badger North Conference, and the first league title since it won the South Central Conference championship in 1993.
May 21, 2003
Milwaukee Brewers outfielder Geoff Jenkins homered in his first three at bats against Jake Peavy, leading the Brewers to a 10-0 victory over the San Diego Padres at Miller Park. With the chance to hit four home runs, Jenkins grounded out and struck out in his final two at bats of the game. Wayne Franklin threw a two-hitter and struck out five to get the win on the mound for Milwaukee.
May 21, 1998
Portage softball pitchers Jenny Bushey and Jacque Tollison combined to throw a no-hitter as the Warriors cruised to an 11-1 victory over Reedsburg. The win not only avenged Portage's only conference loss of the season, but it clinched the outright South Central Conference championship. Bushey threw the first four innings before Tollison finished things off with a hitless fifth inning. Tollison and Bushey also both had homers in the win for Portage.
May 21, 1991
Pardeeville freshman Alice Brusveen, making only her third appearance on Pardeeville's varsity softball team, led the host Bulldogs to a 10-5 upset victory over Montello in a WIAA Division 3 regional semifinal game. Brusveen walked three and struck out four, and added a pair of hits, as the Bulldogs knocked off a Montello team that had beaten Pardeeville 18-0 and 15-7 in their two previous meetings during the season. Noelle Porter and Jenny Watkins also had two hits for the Bulldogs. Pardeeville improved to 6-9 on the season while Montello finished the season at 14-3.
May 21, 1990
Mike Thompson, Tim Filiatraut and Marc Brockley all did well enough at the Division 1 track and field regional meet in La Crosse to advance to the Portage sectional later in the week. Filiatraut won both the 110 and 300 hurdle races, while Thompson won the discus and was second in the shot put. Brockley was second in the 300 hurdles.
May 21, 1989
Former Milwaukee Brewers catcher Bill Schroeder, who was traded to the California Angels in the offseason, hit a third-inning grand slam to lead the Angels to a 12-9 victory over his former team. "The game was on TV (in Milwaukee), and I'm sure all my friends were watching," Schroeder said after the game.
May 21, 1987
The Portage girls track and field team topped Tomah by 7 points to finish in first place at the South Central Conference meet in Mauston. It was Portage's first girls track and field conference championship since 1980. Earning conference titles for the Portage girls were Cindy Kramar, Kris Koerner, Meaghan Mandli and Deb Koch. Kramar won the the triple jump with a school and meet record distance of 34 feet, 2 ¼ inches. The jump beat the school record of 33-8, set by Amy O'Brien in 1985. Koerner was first in the 400 meters in 1 minute, 2.2 seconds. Mandli won the 100 hurdles, while Koch won the high jump. The Portage girls also won the 1,600-meter relay with the foursome of Koerner, Kristi Norland, Karen Salm and Mandli.
May 21, 1985
The unbeaten Montello softball team stayed that way with a 15-5 victory over Poynette in a regional tournament game. Sue Miller had four hits, including a home run and a triple, while Missy Theisen and Sarrey O'Malley both had three hits for Montello in the victory. Lucy Robinson got the win for the Hilltoppers, striking out six.
Be the first to know
Get local news delivered to your inbox!