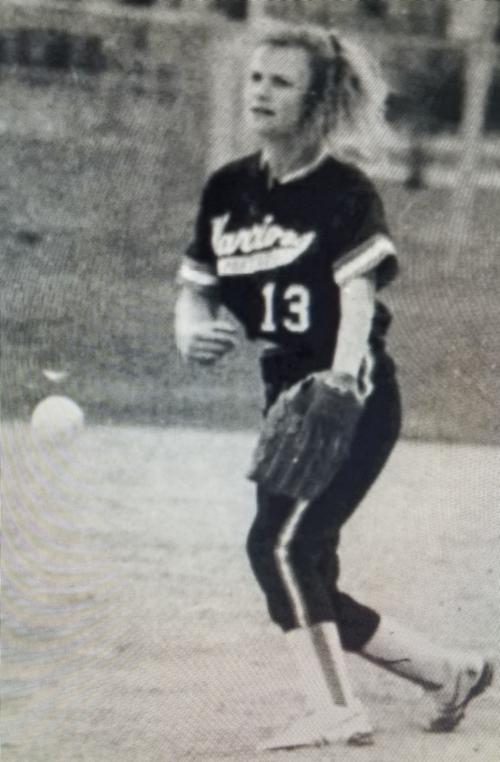 April 30, 2005
Portage junior Craig Cerbins shot a 73 to win the Waunakee Invitational by one shot over McFarland's Nick Engen and Janesville Craig's Sam Van Galder. Cerbins was three strokes behind Engen, his playing partner, with nine holes to go, but rallied down the stretch for the victory. McFarland won the Division 2 team battle with a 328, while Portage was sixth with a 345.
April 30, 2002
Portage softball seniors Sadie Kleespie and Lauren Canales combined to score the game's only run in a 1-0 victory over host Waunakee. With the game scoreless heading to the seventh inning, Kleespie lead off the top of the frame with a double down the left field line. Kleespie would advance to third on a wild pitch before scoring on a sacrifice fly to left by Canales. Megan Koch got the win in the circle for Portage, striking out six while holding Waunakee scoreless on six hits. … The Poynette softball team picked up an 8-2 victory over Wisconsin Dells, giving head coach Bob Tomlinson his 300th career coaching victory.
April 30, 2001
Pardeeville's J.D. Kath tossed a five-inning perfect game in a 10-0 victory over Cambria-Friesland in a Dual County Conference baseball game. Kath struck out 13 while holding the Toppers without a hit. Greg Jenkins and Mike Scheele both homered in the victory for the Bulldogs.
April 30, 1999
The Portage baseball team earned a 10-2 South Central Conference victory over Wisconsin Dells, giving head coach Ed Zydowsky his 100th career coaching victory. Nick Sawyer homered in the win for the Warriors.
April 30, 1993
The Portage softball team scored 19 runs on 26 hits on its way to sweeping a South Central Conference doubleheader from Mauston. In the opening game, Laura Mittlesteadt gave up just two hits, lifting the Warriors to a 6-0 victory. In the second game, Staci Quirk held Mauston to just two hits as the Warriors picked up a 13-0 victory. Portage freshman shortstop Jenny Krueger had three doubles on the day while Krista Durney hit a homer and had five hits in the two games.
April 30, 1991
Portage softball pitcher Amy Polnow threw the first no-hitter in program history, leading the Warriors to a 10-0 victory over Mauston. Polnow walked two and struck out 10 in the game that ended after five innings. Lisa Mayfield, Krista Durney and Amy Gibbs all had two hits for Portage, while Brenda Wolfram and Margaret Gerstenkorn both drove in a pair. … Playing in cold and windy conditions, the Portage boys golf team won the six-team Devils Head Invitational. Led by Scott Anthes, who earned medalist honors with a 39, Portage shot a 171 and finished seven shots ahead of runner-up Middleton.
April 30, 1990
In a battle of two of the top pitchers in the South Central Conference, Westfield's Jason Sengbusch came within one batter of a perfect game on his way to throwing a no-hitter in a 5-0 victory over Pardeeville and Bulldog ace Matt Manthey. The only Pardeeville runner to reach base against Sengbusch came on an error. Sengbusch finished with 12 strikeouts. Manthey held Westfield to just two hits in the game, but two Pardeeville errors and a pair of hit batters cost the Bulldogs.
April 30, 1988
Pardeeville's Bridget Griepentrog finished in first place in both the 100- and 300-meter hurdle races, leading the Bulldog girls track and field team to a second place at the Marshall Invitational. Griepentrog won the 100 hurdles in 16.2 seconds, tying a school record in the event, which was also held by Sheila Simonson and Patti Van Swol.
April 30, 1981
Portage's Louan Wade set a new school record in the girls shot put, throwing it 39 feet, 11 ½ inches at the Oregon Relays. The throw by Wade, along with throws from teammates Tracy Gohlke and Vickie McDougall helped Portage win the shot put relay with a collective distance of 100 feet, 4 ½ inches. As a team, the Portage girls finished in fifth place.
Be the first to know
Get local news delivered to your inbox!