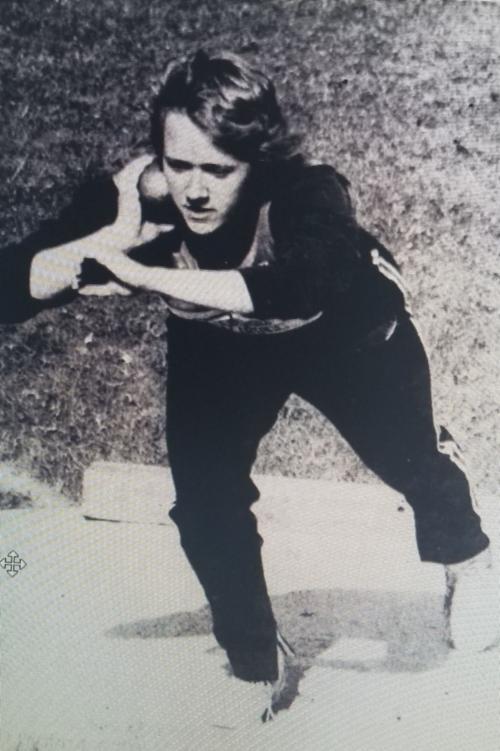 May 23, 2018
Portage, Poynette and Westfield softball teams all won regional titles. The most dramatic of those victories was Westfield's 6-3 win over Lomira in eight innings. With Westfield trailing 3-2 entering the bottom of the eighth inning, Westfield's Tahya Reetz hit a grand slam to lift the Pioneers past the Lions. Portage's regional title came on a 7-0 victory over Madison Edgewood. Brianna Brandner had three hits for the Warriors, while Meghan Witt gave up just five hits to get the complete game victory. Poynette advanced with a 5-1 win over Waterloo. Poynette senior pitcher Mattie Bredeson gave up just three hits and struck out 15 to get the win.
May 23, 2006
The Portage baseball team clinched at least a share of the Badger North Conference championship with a 7-2 victory over Mount Horeb at Bidwell Field. With the win, the Warriors finished the conference season with a 10-2 record. Portage took a 6-1 lead with three runs in the fifth inning. The inning included senior Steven Considine's first career home run on a drive over the right-center field wall. … Pardeeville's Tyler Sommers had four hits, including a pair of home runs in a 16-6 victory over Poynette for the Bulldog baseball team. The big game for Sommers continued a hot stretch that saw him reach base in 11 straight at-bats, while driving in 14 runs over the last three games. … Portage freshman golfer Lee Swan shot a three-over-par 75 to finish in first place at the Division 1 Beaver Dam Sectional. Swan beat out teammate Craig Cerbins and Beaver Dam's Austin Ehlenfeldt — a pair of University of Wisconsin recruits — for top honors at the meet. Cerbins and Ehlenfeldt both shot 70.
May 23, 2002
Portage's Amanda Knapton and Matt Engebretson both qualified for the WIAA state track and field championships by finishing in second place at the Division 1 Holmen Sectional. Knapton earned her spot in the girls shot put by hitting 37 feet, 6 inches in her final throw of the day. Engebretson was second in the discus with a throw of 149-6. Tony Cimaroli finished third in the high jump at the sectional, which would also qualify him for the state meet because his distance at the sectional would end up being good enough to advance.
May 23, 2000
Portage softball pitcher Jenny Bushey faced the minimum 21 batters in a one-hit shutout, leading the Warriors to a 2-0 victory over Madison East in a Division 1 regional tournament opener. The lone hit off of Bushey was a bloop single, and that batter was thrown out trying to steal by Amanda Brant. Bushey finished with 14 strikeout. Bushey and Lindsay Amend both had RBI singles for Portage in the victory. … The Pardeeville baseball team kept its season alive with a 3-1 victory over Montello in a regional tournament game. Pardeeville's three runs all came in the opening inning. Greg Jenkins hit a two-run homer to get the scoring started, and was followed by Rob Fisk, who hit a solo homer to make it 3-0.
May 23, 1996
Portage sophomore Paul Nuttall qualified for the WIAA state track and field meet by finishing second in the discus at the Division 1 sectional meet held in Portage. Nuttall threw the discus 142 feet, 6 inches.
May 23, 1991
The Pardeeville softball team, which finished the regular season with a losing record, pulled off it second upset in three days with a 16-5 victory over Cambria-Friesland in a Division 3 regional championship game. Pardeeville had lost to Cambria-Friesland twice during the regular season by scores of 11-8 and 31-15, but dominated the third game between the Dual County Conference foes. Connie Gee had two hits, including a three-run double to lead the Bulldogs at the plate. She finished with five RBI.
May 23, 1990
Matt Manthey tossed a five-hitter and hit a pair of home runs to lead the Pardeeville baseball team to a 3-1 victory over Lomira in a Class C regional championship game. Manthey hit a two-run homer in the first inning before hitting a solo homer in the third. Manthey struck out eight.
May 23, 1983
Led by Kathy Hein and Dawn Jacobs, the Portage girls track and field team finished in first place at the WIAA Class B regional it hosted in Portage. Hein, a senior, won both the 800 and 1,600 meters and anchored Portage's 1,600-meter relay team (Lisa Pate, Amy O'Brien, Denise Hauck and Hein), which placed second. Jacobs, a sophomore, won the 3,200 meters and placed second behind Hein in the 1,600. The Portage girls finished with 90 points, edging out runner-up Berlin by 13 points. Amy Wilson finished second behind Jacobs in the 3,200 to also advance to sectionals. Other sectional qualifiers for the Portage girls included Vicki McDougall in the discus and Amy O'Brien in the triple jump.
Be the first to know
Get local news delivered to your inbox!