WISCONSIN DELLS — After an unbeaten start, the Reedsburg boys basketball team has hit a bit of a rut, dropping its last two games.
The Beavers failed to stop that losing skid Tuesday night as they were unable to keep pace in a 65-51 loss to Wisconsin Dells in a non-conference affair at Wisconsin Dells High School. Senior Will Fuhrmann scored a team-high 16 points and was one of three Beavers in double-figures in the loss.
"They shot really well and they wanted it more than us; that's really the bottom line," Reedsburg coach Josh Rupnow said. "That's what it looked like to me; the desire was there, they wanted to come out and drill us, and they did."
The Beavers, ranked alongside Monroe at No. 10 in Division 2 in the latest Associated Press poll, never led but began to gain ground late in the first half. After the Chiefs took a 19-10 lead on a eurostep layup by senior Riley Eck with 5 minute, 14 seconds left until halftime, Reedsburg (10-3) started to pick up steam.
Fuhrmann scored eight consecutive points, sandwiching a layup and two 3-pointers around an Eck runner, to cut the Beavers' deficit to 21-18 with 2:35 to go. Wisconsin Dells had a quick response, however, as it closed the final two-plus minutes on an 8-3 run to take a 29-21 lead into halftime.
After Eck and Reedsburg senior Max Tully traded layups, Chiefs senior Dylan Nevar buried back-to-back 3-pointers before Fuhrmann split a pair of free throws for the final point of the half.
The 8-3 spurt was just the beginning for Wisconsin Dells, which prolonged the run to open the second half. The Chiefs (12-1) extended their stretch to 21-6 in over the first five-plus minutes of the second half to seize a 43-27 lead.
Senior Bryson Funmaker buried a pair of 3-pointers, including a step-back triple at 13:25, before senior Brett Hirst converted a layup off a Beavers turnover with 12:15 to go up 16.
"I think that was the whole game," Rupnow said. "We got outplayed the whole game and I don't remember it feeling close. It just kind of looked like my team didn't want it tonight, and maybe that's me as the coach and being negative right now, but they played really well and all the credit goes to them being ready."
Reedsburg looked to turn the tide from there but the Chiefs countered right along with the Beavers. A three-point play by Fuhrmann and a layup off a steal by senior Danny Kast pulled Reedsburg back within 43-42 with just under 12 minutes remaining, but Wisconsin Dells senior Jack Steinhaus and Millard answered with consecutive jumpers.
Reedsburg senior Carter Daniels then traded 3-pointers with Steinhaus, before Reedsburg senior Max Tully got a layup, only to have Millard can another triple with 7:35 left for a 53-37 lead. The Chiefs' lead ballooned to as many as 20 at 58-38 on a three-point play by Nevar with 4:23 to go, and the lead never shrunk back below 15 until the final seconds.
The Beavers were held 13 points below their season average and turned the ball over 13 times unofficially. Rupnow attributed the giveaways to the Chiefs' ability to make the Beavers put on the breaks.
"You saw it right away, our guys were kind of backing up and stopping instead of moving forward and pushing through," he said. "We did a little at the end, attacking and getting to the rim, but most of the game we were not doing that."
While the Chiefs' defense was impressive throughout, the offense came out of the gates hot as well. Wisconsin Dells opened the game on an 11-3 run, with Millard tallying eight of his 14 first-half points. After the Beavers pulled within 11-8 after a 3-pointer by Daniels, Millard stacked a pair of 3-pointers around a short jumper by Reedsburg senior Trace Cherney for a 17-10 lead with 7:30 left.
Along with the turnovers, the Beavers had a number of missed opportunities as a bevy of shots bounced out. On the other hand, the Chiefs seemed to not miss during demoralizing stretches, but Rupnow knows the Beavers must continue to work through the adversity.
"The first 10 games we had this season, we didn't face adversity very much, but now we've lost three in-a-row and it doesn't get more adverse than that," he said. "When you play good teams in big games, you have to get up for them, understand there's going to be adversity and respond to it."
Warriors pull away late
Before falling to the Chiefs, the Beavers dropped their second consecutive Badger North Conference game with a 60-45 loss to Waunakee last Thursday.
Tully led the way with 12 points, but was the lone scorer in double-figures for Reedsburg, which failed down the stretch. The Beavers hung right with the league leaders in the first half, taking a 30-27 lead into halftime. Waunakee responded out of intermission though, and it ultimately seized a 42-37 lead with 7:35 left to play. Tully kept the Beavers close however, converting a pair of quick buckets to pull within 42-41.
Waunakee junior Caden Nelson answered with a 3-pointer to extended the Warriors' lead back to four at 48-44 with 3:33 remaining, and they began to pull away from there.
Fuhrmann, who eclipsed the 1,000-career point mark during the game, fouled out with three minutes left to go as the Warriors went on to close the game out on a 12-1 run. Along with Tully, Fuhrman and junior Zach Bestor each had nine points, while junior Jaxson Zibell scored 16 points to lead Waunakee.
Reedsburg (5-2 Badger North) returns to action this Saturday when it takes on Milton (7-5) in the third-place game of the Badger Challenge at Madison Edgewood High School at 4 p.m.
Max Tully, Brett Hirst, Danny Kast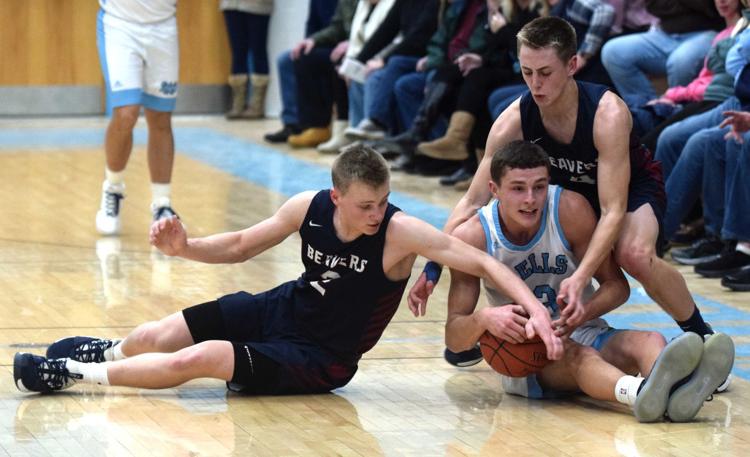 Jack Steinhaus, Carter Daniels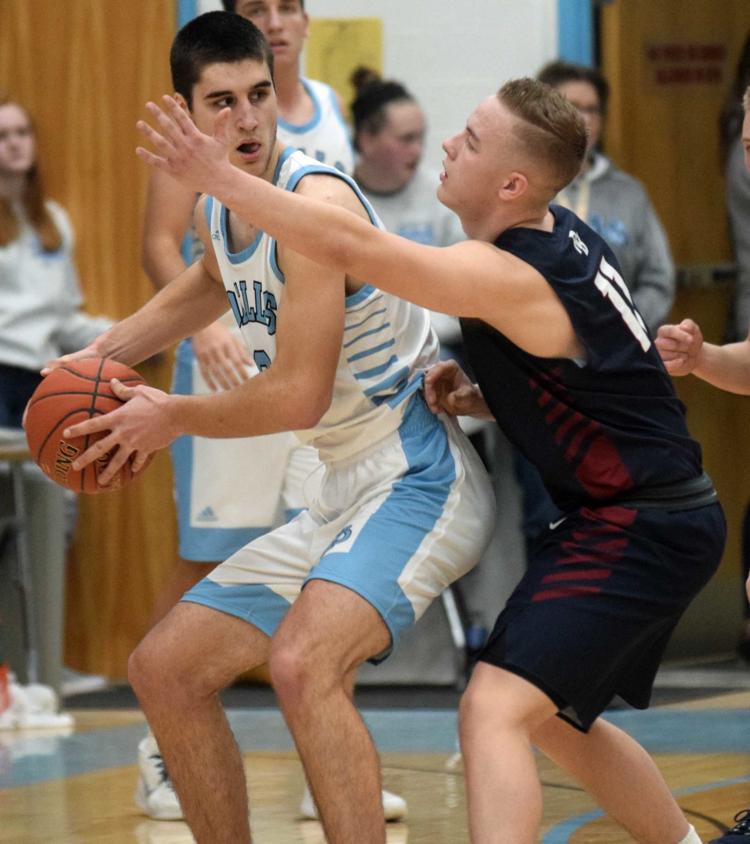 Bryson Funmaker, Zach Hale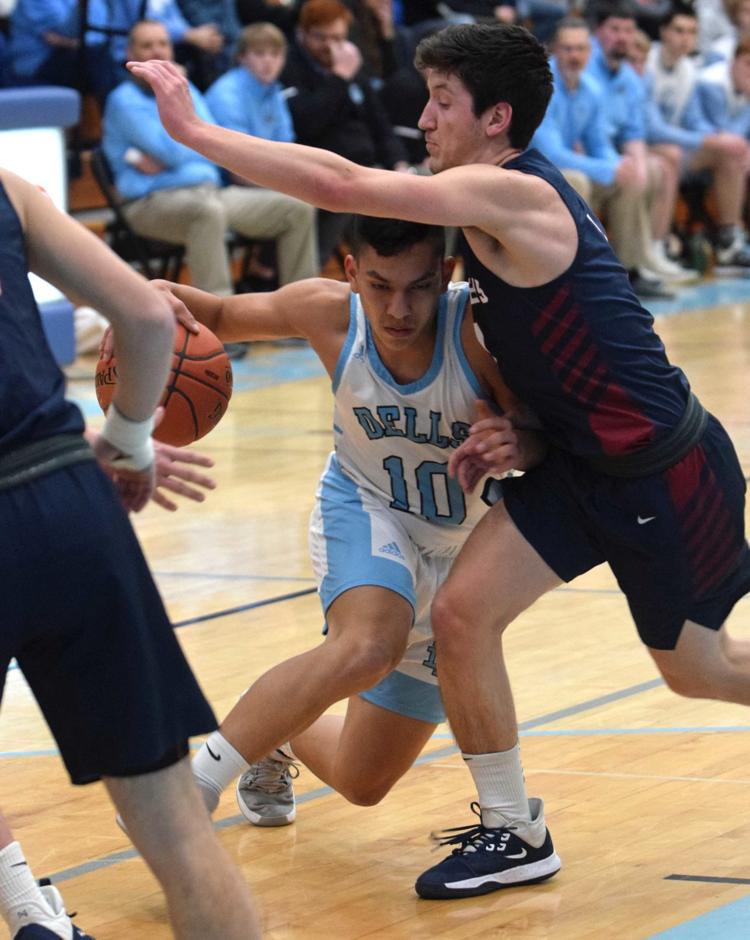 Chase Cherney, Brett Weiss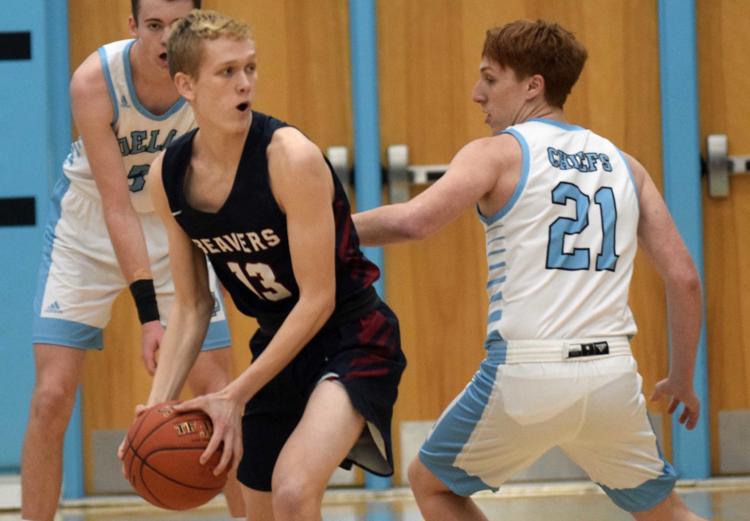 Riley Eck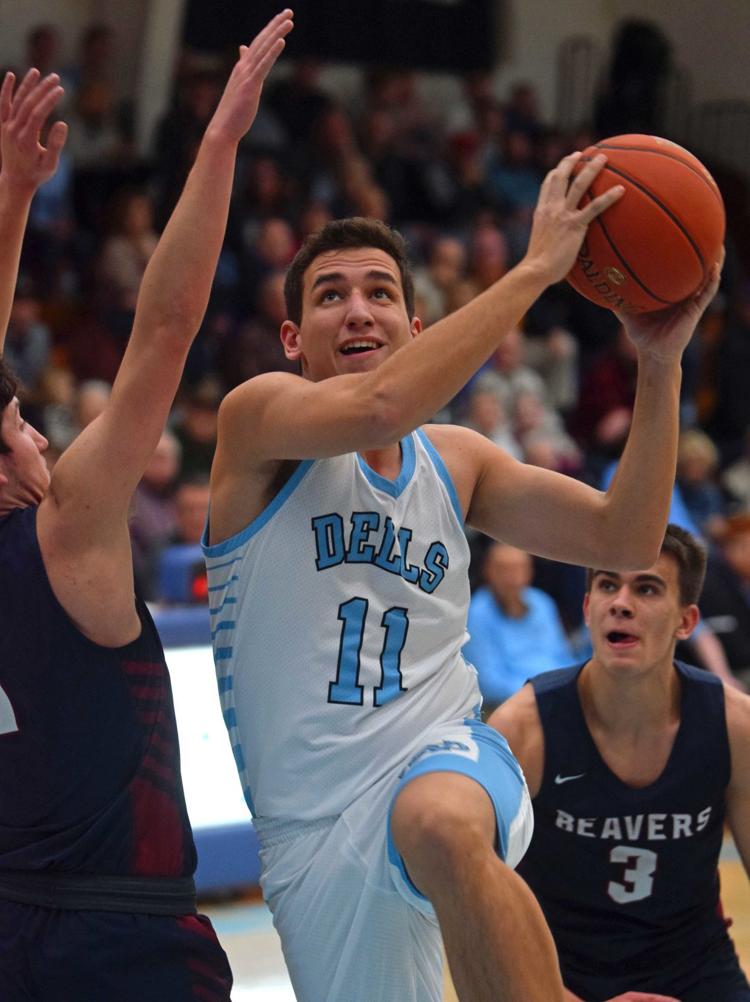 Zach Bestor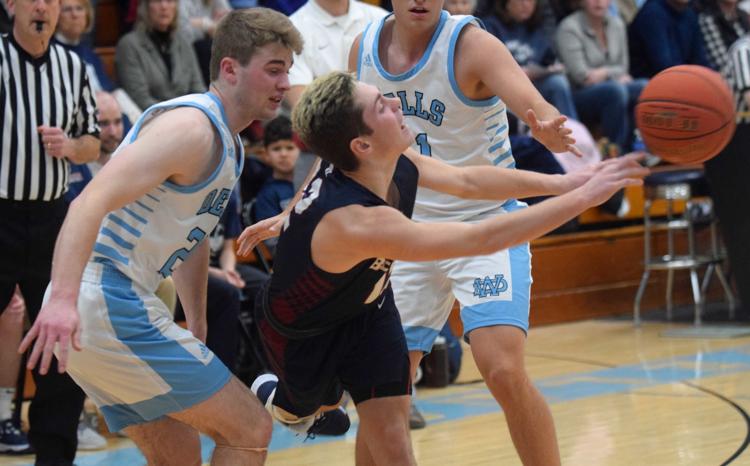 Sam Millard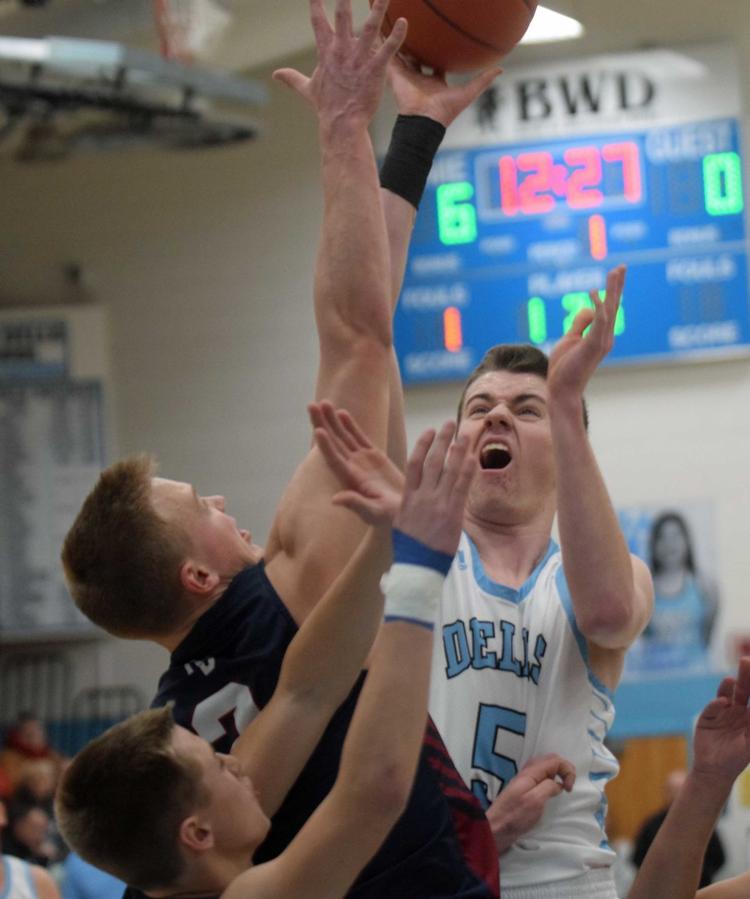 Keith Curtin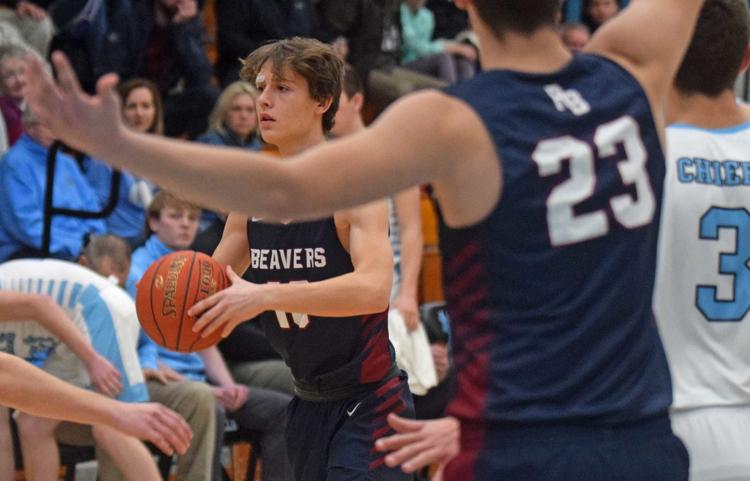 Max Tully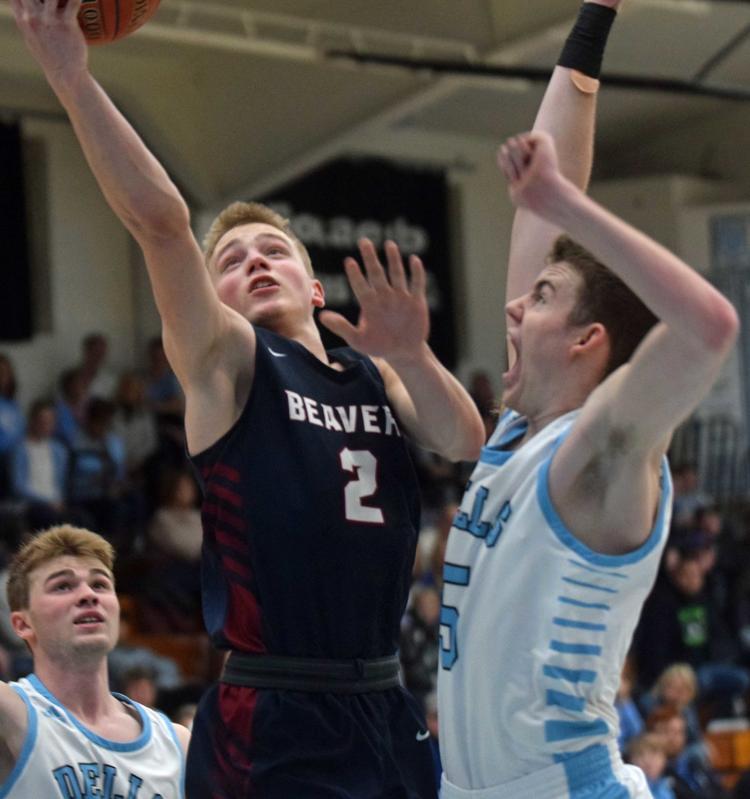 Bryson Funmaker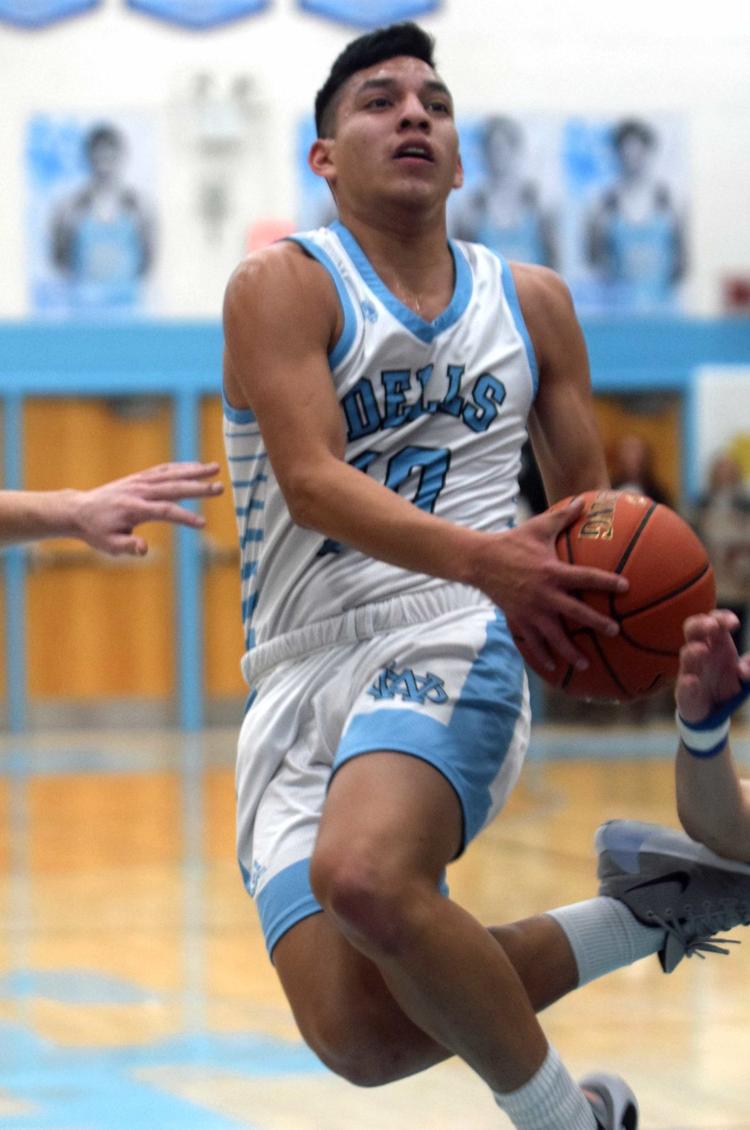 Danny Kast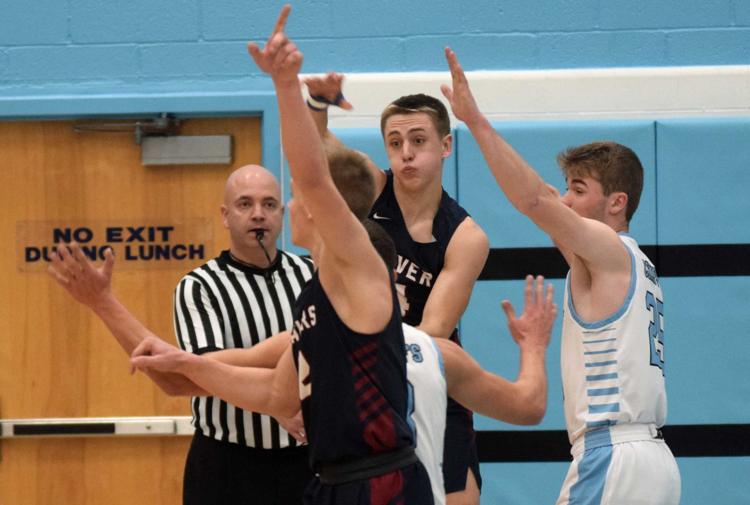 Jacob Rockwell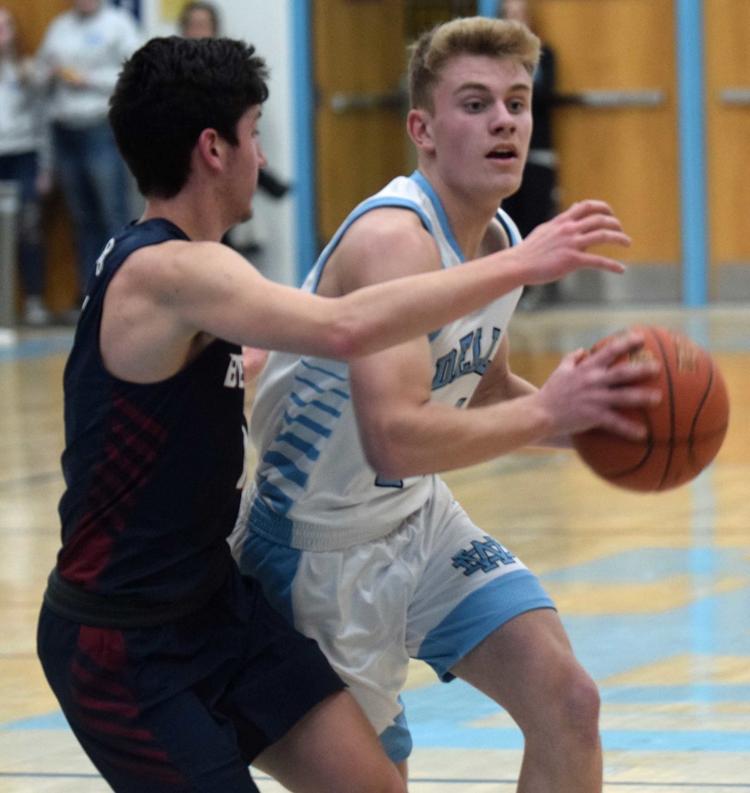 Will Fuhrmann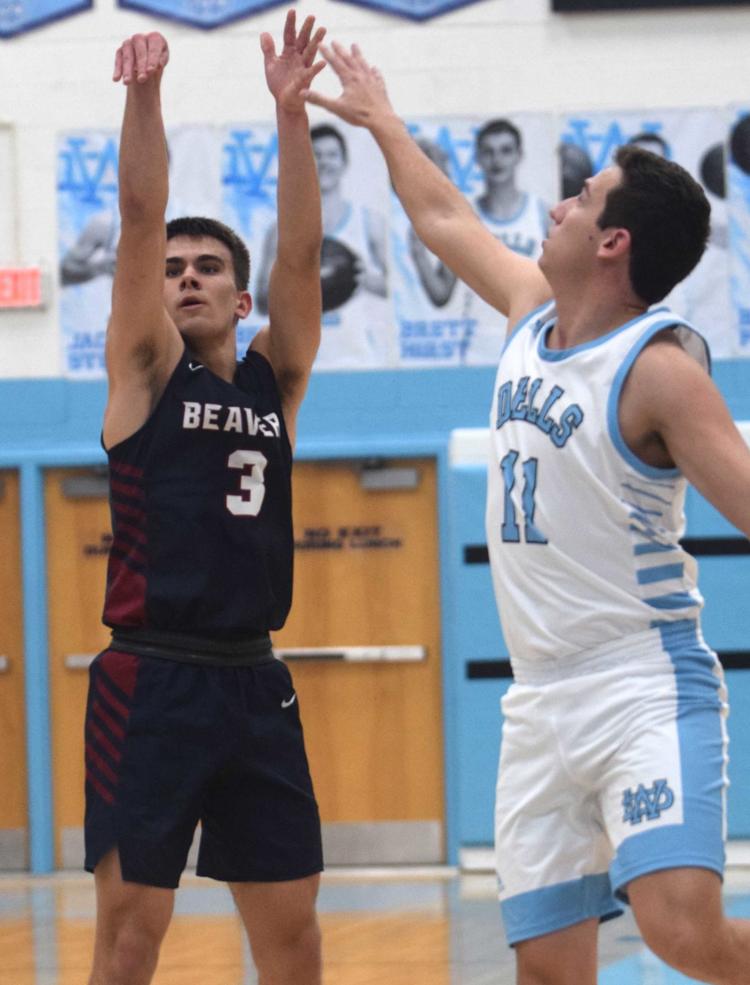 Jack Steinhaus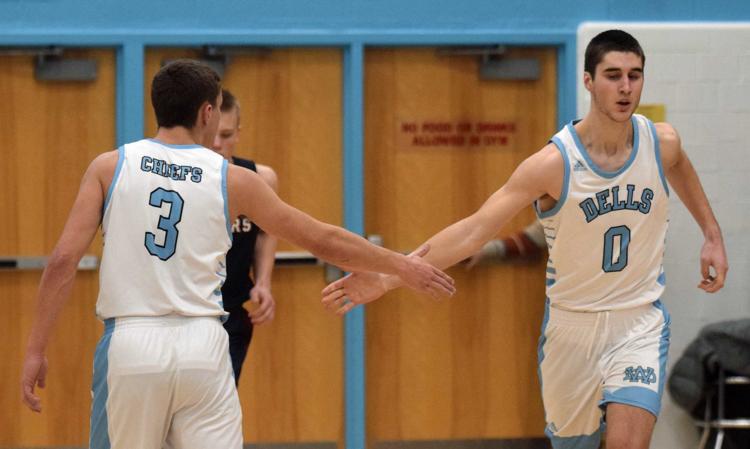 Carter Daniels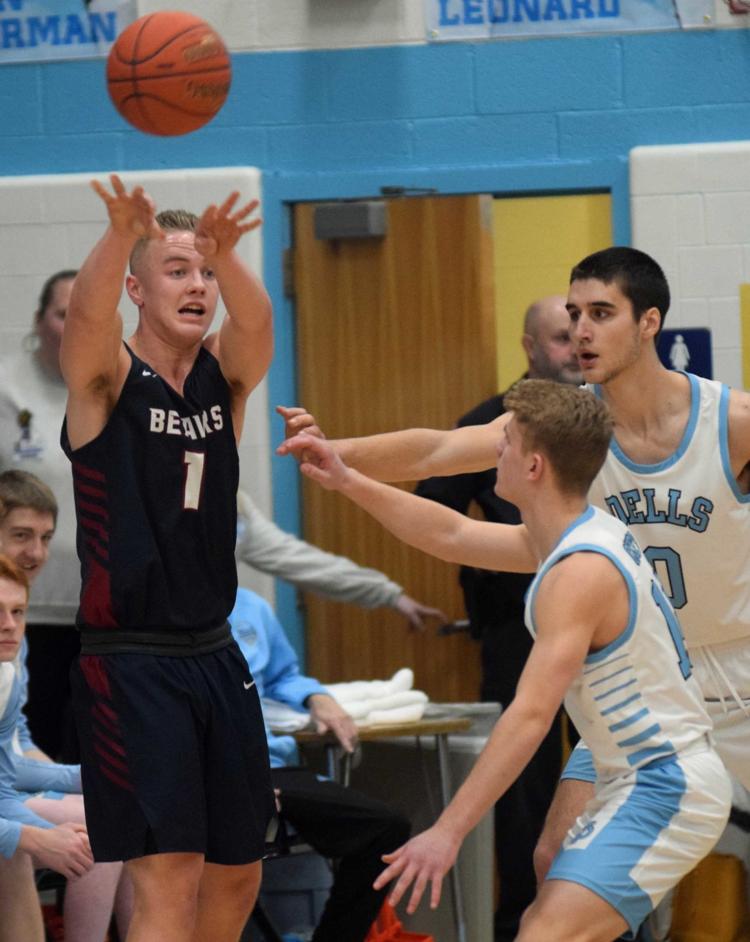 Dylan Nevar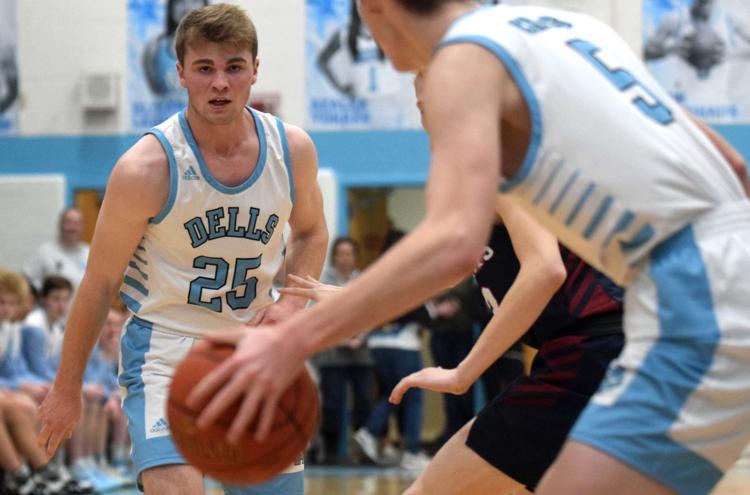 Chase Cherney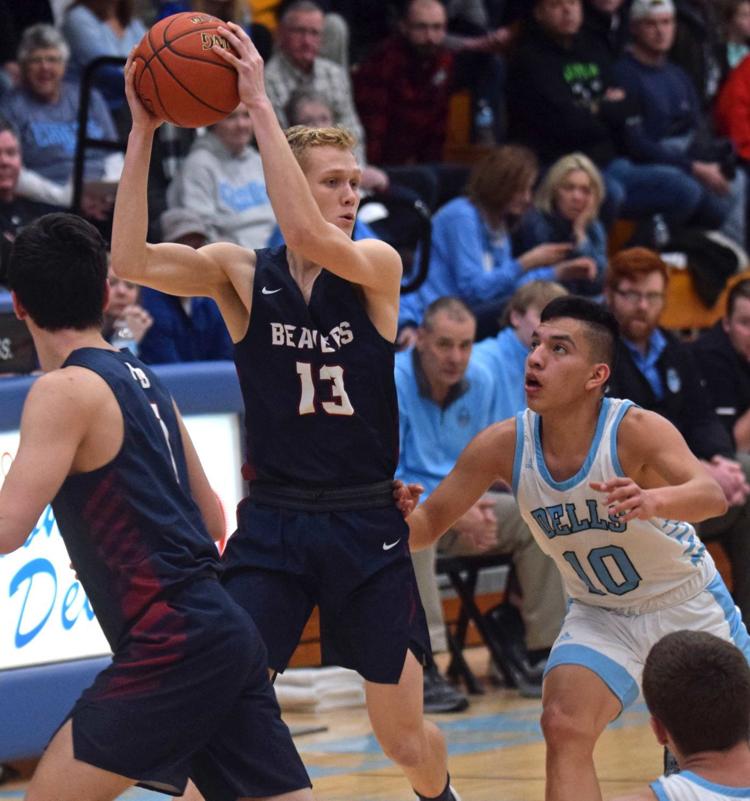 Riley Eck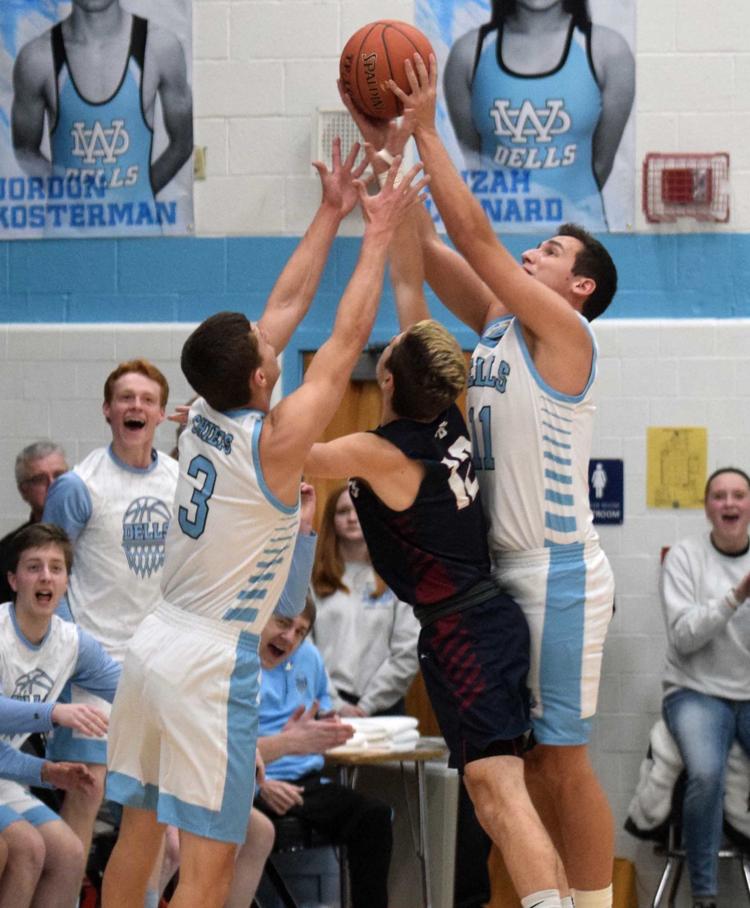 Ethan Peper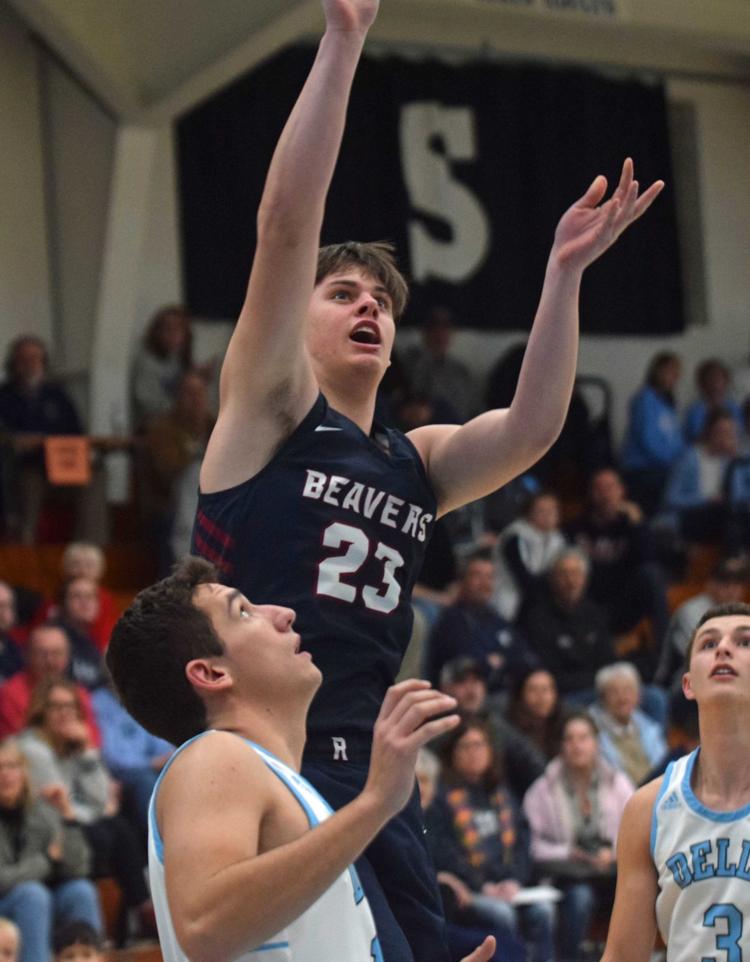 Brett Weiss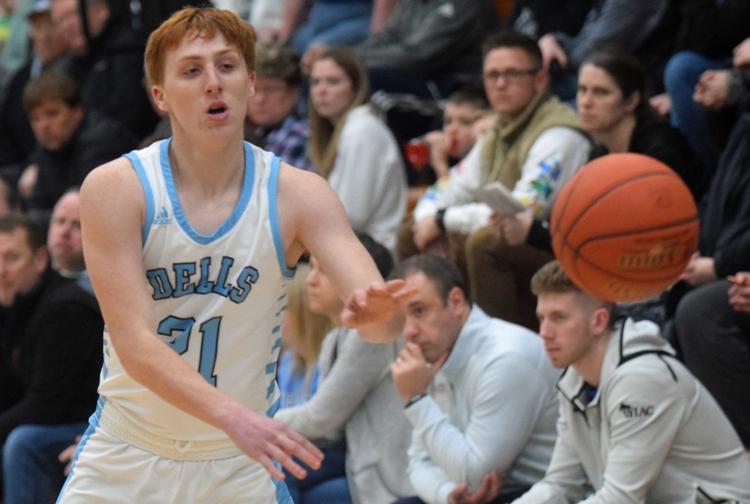 Danny Kast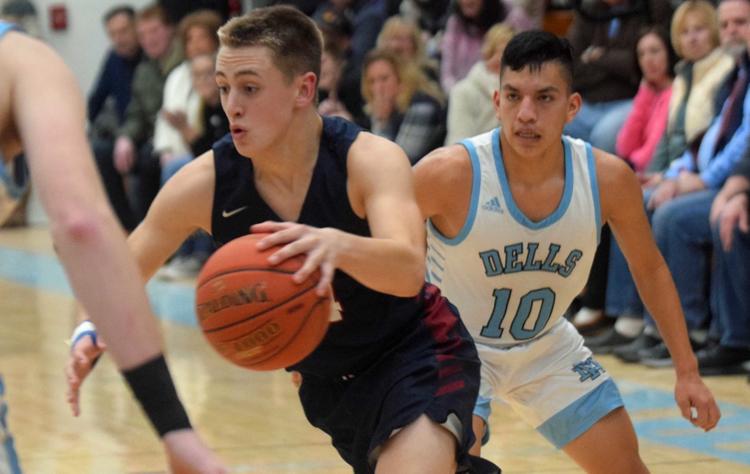 Wisconsin Dells bench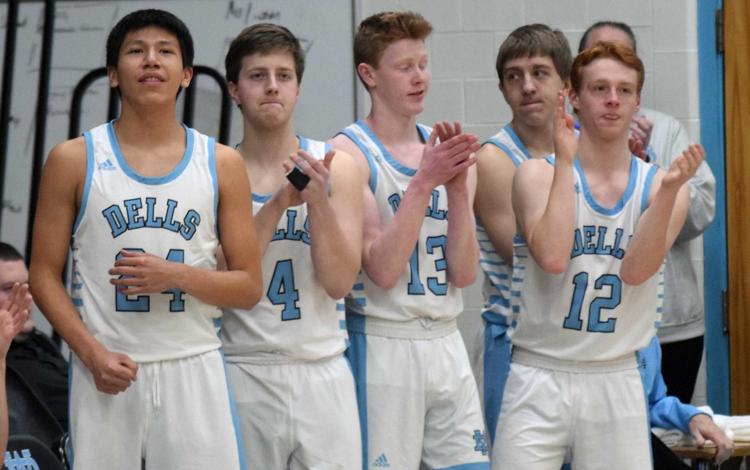 Zach Hale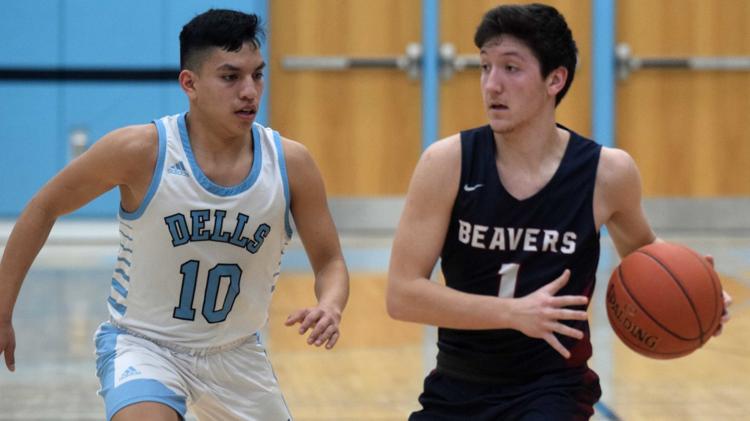 Brett Hirst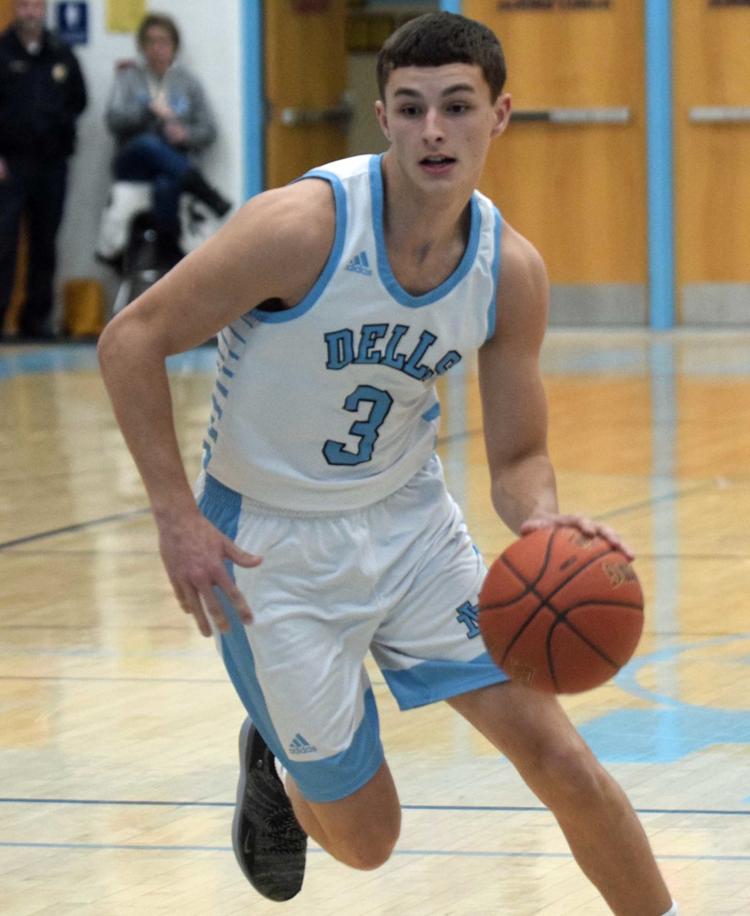 Reedsbug starters
Wisconsin Dells student section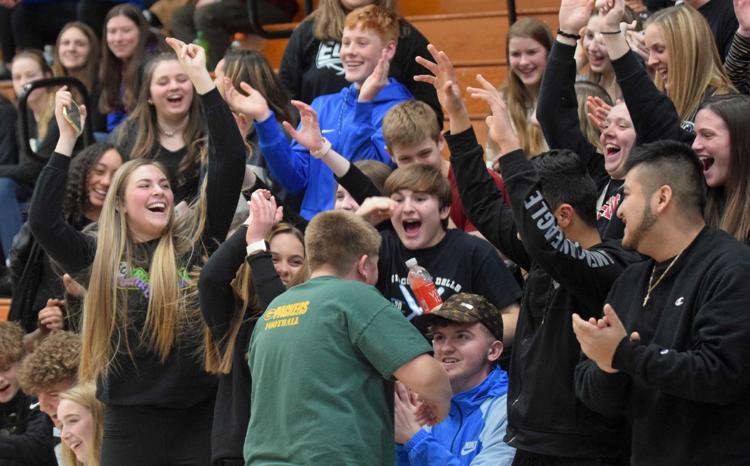 Reedsburg coach Josh Rupnow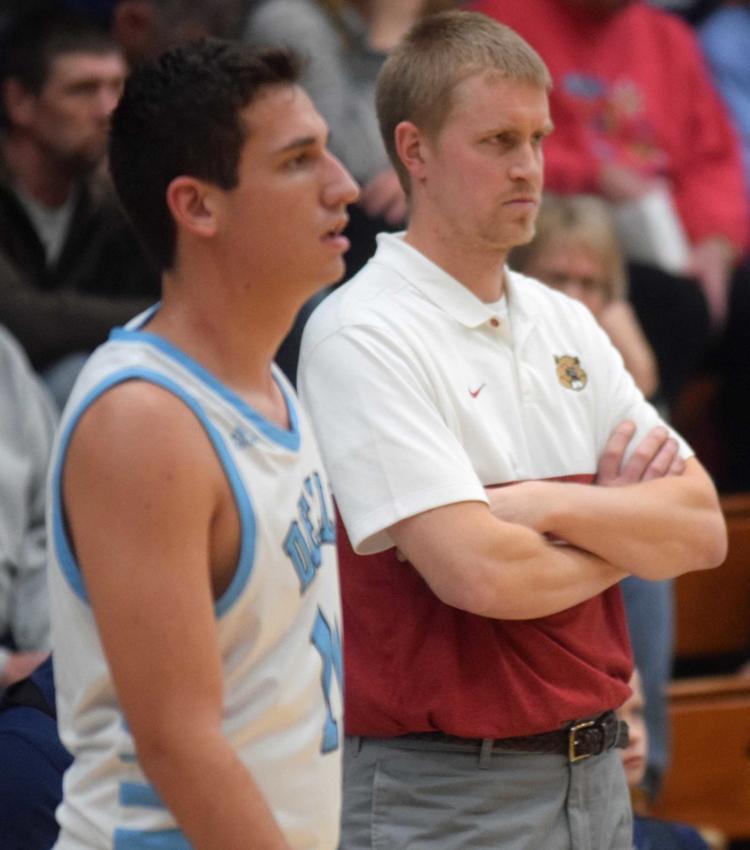 Wisconsin Dells coach Brad Rohling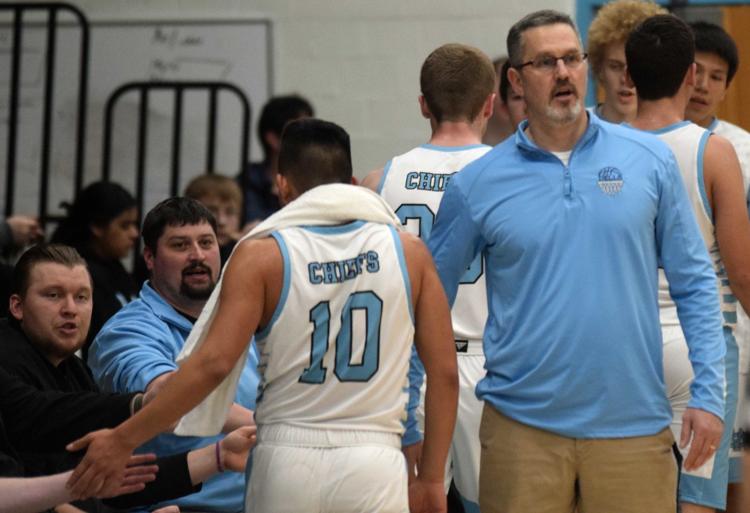 WISCONSIN DELLS 65, REEDSBURG 51</&hspag4>
You have free articles remaining.
Wisconsin Dells 29 36 — 65
REEDSBURG (fg ft-fta pts) — Tully 6 0-2 12, Fuhrmann 5 4-7 16, Kast 1 1-2 3, Daniels 3 0-0 8, Bestor 3 1-3 10, Cherney 1 0-0 2. Totals 19 6-14 51.
WISCONSIN DELLS — Steinhaus 2 0-0 5, Hirst 2 1-4 5, MIllard 9 0-2 23, Funmaker 4 0-2 12, Eck 4 1-1 9, Rockwell 0 0-1 0, Nevar 4 1-1 11. Totals 25 3-10 65.
3-point goals: R 7 (Bestor 3, Fuhrmann 2, Daniels 2); WD 12 (Millard 5, Funmaker 4, Nevar 2, Steinhaus 1). Total fouls: R 14; WD 15. Fouled out: Nevar.
WAUNAKEE 60, REEDSBURG 45</&hspag4>
WAUNAKEE — Nelson 4 2-4 11, Zibell 5 2-2 16, May 3 5-7 11, Dotzler 2 2-2 8, Fischer 2 2-2 8, Keller 2 3-4 7. Totals 18 16-21 60.
REEDSBURG — Hale 2 0-0 6, Tully 5 2-4 12, Fuhrmann 3 2-2 9, Kast 1 0-2 2, Daniels 2 1-2 7, Bestor 3 1-2 9. Totals 16 6-12 45.
3-point goals: W 8 (Zibell 4, Fischer 2, Dotzler 1, Nelson 1), R 7 (Bestor 1, Daniels 2, Hale 2, Fuhrmann 1). Fouled out: R (Fuhrmann).
1. Onalaska (6) 11-1 78 2
2. La Crosse Central 7-1 67 1
7. Glendale Nicolet 9-3 20 9
8. Wisconsin Lutheran 9-3 19 8
9. New Berlin Eisenhower 10-3 18 10
T-10. Reedsburg 10-2 11 7
Others receiving votes: West De Pere 10, Whitefish Bay 2, Grafton 2.
Follow Sean Davis on Twitter @SDavis_PDR or contact him at 608-745-3512.