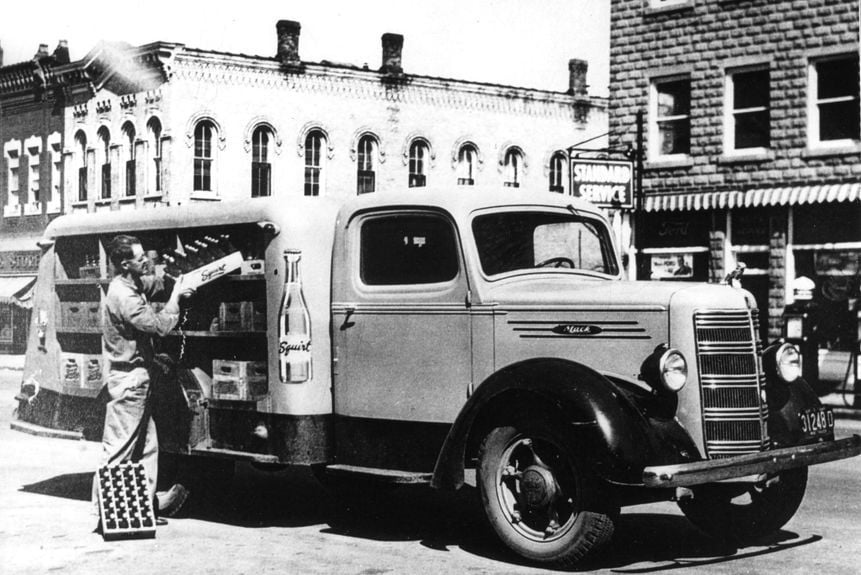 As we learned in last month's article, in 1904, Ernest F. Pape bought out two existing bottling works in Reedsburg and combined the operation into one business.
According to Bill Pape Jr., in a 1998 interview, the original pop factory used huge wheels on shafts from which belts were strung to each machine. When he worked there in the early 1950s, only the carbonation machine used the belt system.
The bottling machine could fill 30 bottles a minute and was hand operated. Three bottles were filled at one time, inspected for foreign objects, a crown put on and the bottle placed in a case. Each bottle was also inspected for cracks, "It wasn't too bad with the 8 oz. bottles, if they exploded, but with the 32 oz. bottles, occasionally when they'd explode it would be like a hand grenade going off. Anyone, including myself, would occasionally go home wounded from an exploding bottle." He said that if purple hearts were given out for wounds, he would have had a whole wall full of them, and his dad would have had a house full.
Pape recalled that during World War II, since the power plant was in full operation and the country had just come out of the depression, people had more money to buy luxuries like pop, and business was booming.
You have free articles remaining.
However, with the war on and the shortage of sugar, Pape invented a sugarless pop. "It was the most terrible tasting pop in the world," recalled Bill Jr., "but everybody else was making terrible tasting pop too, because they couldn`t get sugar either."
Pape also recalled the fun of delivering pop to grocery stores and taverns. "When we'd go down into the basements there would be rats running around the walls and floors. I'm not talking little ones, I'm talking rats that could pick you up and carry you away if they wanted. So we'd sit there and throw empty pop bottles at them. Of course the bottles would break, so my dad told us we'd have to use Coke bottles, they were our biggest competitor. I'm sure that when the Coke drivers went down there, they threw our bottles at the rats."
One way him and his friends made a few extra bucks during the summer in the late 1940s and '50s, was by selling pop to spectators at the local baseball games. "We would take down big tubs filled with ice and bottles. Then we'd go up through the stands and sell pop. After the game was over, we'd have to collect the empties. We made some pretty good money when a popular team played."
When the House of David team came, that old ball park was just jammed. "I doubt that I ever got above the fourth row," said Bill. "We sold out the truck twice and could have sold more. We each ended up clearing $30 or $40, which was a fortune at the time."
He said that mom and pop soda factories were abundant in the area in those years. There were factories at Baraboo, Portage, Mauston, Richland Center and New Lisbon. As new technology allowed the production of cheap, throw-away aluminum cans, the small factories couldn't afford to upgrade and most went out of business.
Bill Pape retired in 1974, due, in part, to the fact that competition and pricing were eclipsing his production. "A company can ship its product all over the country and not have to worry about how they are going to get the bottles back for re-filling," said Pape. "People would rather throw the cans away than return empty bottles."
Bill Schuette has served on the board of directors at the Sauk County Historical Society since 1993. He lives in rural Loganville.