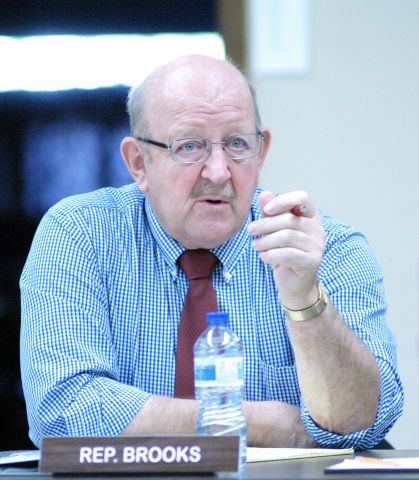 Wis. Rep. Ed Brooks (R-50), Reedsburg, says he backs Gov. Scott Walker's call for a special session of the legislature in December to extend BadgerCare coverage.
Brooks said Monday in Juneau County that he blames the need for a special session on the Obama administration's failure to deliver on the rollout of coverage under the Affordable Care Act. He added the special session is needed to fulfill a promise to residents losing BadgerCare coverage.
"When we did the budget last year there was kind of an agreement off the record that, indeed, if there were problems with the Affordable Care Act being implemented that the people who… are going to be asked to go to the Affordable Care (Act) would be given a period of time and the state would assist them during that period of time," Brooks said.
Walker said last week he will call the special session to ask the legislature to extend BadgerCare Plus coverage to the 77,500 residents who would lose it Dec. 31 under existing law. The extension would also extend by three months the state's high-risk health coverage, the Health Insurance Risk-Sharing Plan, which is also scheduled to end Dec. 31.
Online enrollment under the Affordable Care Act, the law expanding coverage for uninsured Americans often referred to as Obamacare, began Oct. 1 with coverage beginning Jan. 1 for enrollees. But the enrollment website at www.healthcare.gov proved faulty and has delayed or prevented enrollment for untold thousands.
Republican leaders in the legislature have backed Walker's plan, but some have offered only lukewarm support amid concern that the troubled rollout of Obamacare may force even more delays.
Brooks' comments came at a listening session with residents in the village of Hustler – one of several stops he made in the area Monday. He said he views the governor's requested extensions as a logical outgrowth of the budget he supported, but that he wants to see details before committing.
"I don't know where the money is coming from," Brooks said. "That may generate some discussion because it will have a fiscal note attached."
The proposed special session of the legislature drew no questions from the few residents who showed up for the listening session in Hustler, but healthcare was very much on the mind of New Lisbon resident Joann Klinker.
Klinker took Brooks to task for his recent vote in favor of a bill that would allow religious organizations to deny insurance coverage to female employees seeking contraceptives unless the medication is prescribed for a reason other than preventing pregnancy.
That provision could force women into "humiliating" and "degrading" conversations with male bosses, Klinker said, but males would not be required to have a similar conversation with female bosses if they wanted a prescription for an erectile dysfunction medication such as Viagra.
"Birth control should be given to women if they need it, period," Klinker said.
"Subject to their employers' belief, though," said Brooks, who added that the "driving force" behind his vote for the legislation, which is now stalled in the Senate, was his belief that employers should not be forced to provide something against their religious beliefs.