Brian Landers is frustrated.
As mayor of Wisconsin Dells, he knows bridges are inspected on a regular basis and feels the bridges are safe for motorists and pedestrians. But he also knows it takes money to keep them in decent shape, and in recent years, he doesn't think the state has done enough to protect Wisconsin's infrastructure.
Nearly 9 percent, or 1,232 of 14,230 of Wisconsin bridges are deficient, according to the American Society of Civil Engineers.
The lack of action from leaders has puzzled Landers, who sees firsthand the importance of quality infrastructure. The Waterpark Capital of the World has bumper-to-bumper traffic filling downtown and main highways during the peak summer season. The Department of Transportation estimates nearly 560,000 vehicles travel through the city annually.
Landers knows safe bridges are important to everyone, but questions linger on how to solve what appears to be a growing problem.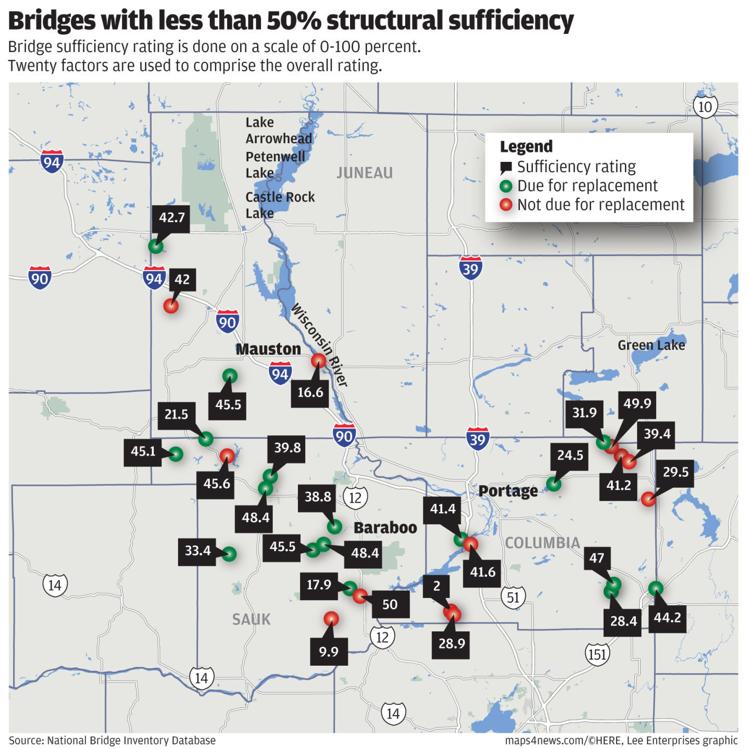 Deficient, obsolete
The state requires all counties, cities and townships to inspect their bridges every two years. If a bridge is deemed "deficient," it's checked every year, said Mike Keichinger, state highway superintendent for Juneau County.
Most communities don't have qualified inspectors on staff so they contract out. Keichinger said the state sets rigorous standards for bridges, with inspection crews checking a long list of factors including materials used, age, traffic volumes, width, damage from weather and water.
If a bridge covers water, dive crews spot what hides below the surface. He said everything on the report must be seen with the naked eye — guesses and estimates aren't allowed.
Points are tallied to create an efficiency rating. If a bridge falls below 50 percent, it's considered deficient. The lower the number, the more a bridge needs replacing.
Inspections cost about $1,000, said Steve Zibell, public works director for the city of Reedsburg. Money comes from the local budget.
Keichinger said a deficient bridge can result in weight postings, meaning vehicles over so many tons need to find alternative routes. But diverting traffic just puts the burden on other roads.
Columbia County has seven obsolete bridges, said Highway Commissioner Chris Hardy. The county has about 20 bridges posted with weight restrictions, and it's not easy diverting trucks around rural roads, he said.
Age doesn't always indicate deficiency. Keichinger said traffic and salt take the most toll on a bridge, so bridges with more travel are more likely to need rehabilitation or replacement.
If a bridge is too narrow for the road or difficult for multiple vehicles to pass, it can be classified as obsolete. Even a bridge in good or excellent condition can be considered obsolete, said Michael Erickson, local program manager for the state's Department of Transportation.
In Juneau County, the Lemonweir bridge, over One Mile Creek in the town of Lemonweir, is considered functionally obsolete yet has a rating of 95.9 percent, according to the National Bridge Inventory Database.
In Sauk County's town of Freedom, the bridge on Kosin Road over Seeley Creek is rated 94 percent yet also considered obsolete, according to the database.
Usually, a bridge below 50 percent is still passable, said Darin Carignan, interim highway commissioner for Sauk County. The formula helps officials calculate when a bridge is due for rehabilitation or repair and at what priority level.
"It's by no means a safety issue," he said.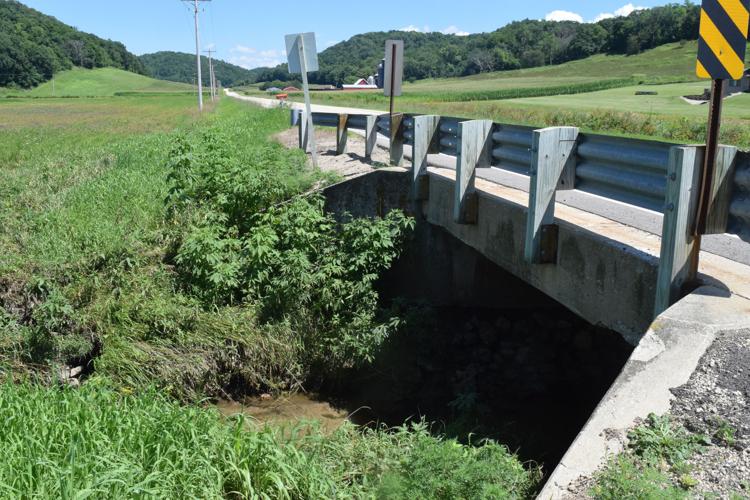 Local work
Municipalities constantly work on bridge maintenance.
In Mauston, crews can seal cracks on abutment joints, said Rob Nelson, the local director of Public Works.
The city's bridges need little attention because so much work has been done in recent years. Nelson said the state has invested significant money in the area. The 19th Street bridge over the Lemonweir River, with work done in 2015 for $1.8 million, is one example.
"I think we're in pretty good shape for the next 20 years," he said.
The city of Reedsburg has few bridges so it's easy to keep up on maintenance, Zibell said. Reedsburg's most prominent bridge covers the Baraboo River between Granite and Webb avenues.
In Prairie du Sac, public works sweeps and helps maintain street lighting, said local director Troy Murphy.
They've also spotted some graffiti, but the issue is forwarded to the state because it's beyond the scope of public works.
When vehicles damage bridges, the responsible state, county or city arranges repairs and then bills the motorist's insurance — if the culprit is identified, said Juneau County Highway Commissioner Dennis Weiss.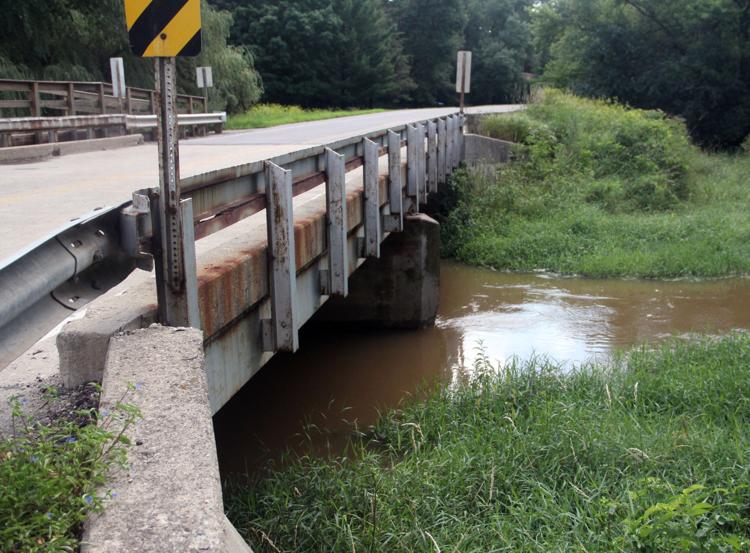 Finding a fix
When bridges fall under 50 percent sufficiency, local communities can submit applications every two years to the Wisconsin DOT Local Bridge Improvement Assistance program for aid.
The funding covers 80 percent of eligible costs at approval, according to Bob Reed, WisDOT program officer. The final split of the cost can vary depending if the cost increases or project changes.
The amount of projects approved changes depending on the amount of submissions, with 102 of 201 projects gaining approval in 2015, according to Reed. The total funding for 2015 was $50.6 million. The program receives $24.4 million in federal funds and $8.5 million in state funds annually.
Construction of the project normally starts within three to four years after approval, Reed said.
The selection process is laid out in state statute.
"Under these (statutes), WisDOT calculates an 'entitlement' of bridge funding for each county based on the ratio of that county's funding needs to statewide needs," Reed said in an email. "Projects are then selected by comparing the funding requested to the running total of a county's 'entitlement.' Projects using the lowest percentage of a county's 'entitlement' are ranked highest and those using the greatest percentage of a county's entitlement are ranked lowest. The ranking occurs in the order specified by the county highway commissioner in each county."
Hardy said he knows of only one bridge in Columbia County closed to vehicles: The Chestnut Street bridge in Lodi. Pedestrians and bikers can use the bridge, although it has an efficiency rating of 2 percent, according to the National Bridge Inventory Database. The deck is in poor condition, and superstructure and substructure failure are imminent.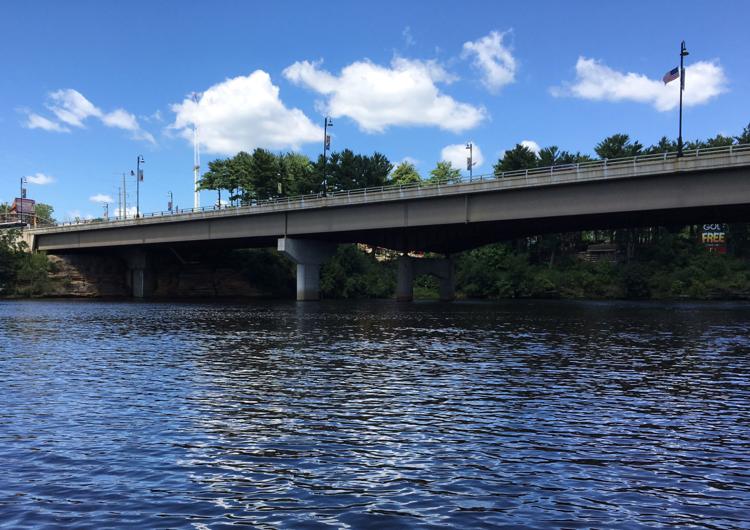 Gaining funds
Paying for a bridge can be difficult for a municipality, and action doesn't always happen right away.
During the 2015 cycle, Columbia County requested funding for two bridges: Highway U in the town of Caledonia and Hayes Road in the town of Marcellon. Hardy said he found out about approvals in 2016 and plans were finalized this year. Rebuilding is set to start in 2019.
Weiss worries about the possibility of caps, or a maximum number the federal government will allocate to states for funding. If higher-ups decide to limit money, it will be up to individual counties and communities to come up with the rest, Weiss said.
Bridges aren't the only ones in need. The DOT has to fund road construction, railroads, mass transit — practically anything related to vehicular movement, Keichinger said.
"They all take a piece out of the pie," he said.
Erickson said he doesn't believe there's a crisis, with Wisconsin being aggressive in its efforts to rehabilitate and replace bridges. He said he oversees 16 counties, including Columbia, Juneau and Sauk, to help them obtain assistance for bridges over 20 feet long.
An entitlement program ensures fairness, he said. Legislators allocate money by looking at percentages of deficient bridges, and each county receives a set amount per year. The resource can be used right away or saved for future work.
"They don't like to call them 'dollars,'" Erickson said. "They call them 'vouchers' — tickets to buy a bridge."
The 19th Street bridge over Lemonweir River near Mauston is an example of one such voucher-bought bridge, he said.
If communities use up their allotment, they need to wait until they have enough banked. In essence, it pays to save, Erickson said.
He said the state could always use more money, but it's not a simple fix.
"Are there needs? Yes, there are needs," he said. "Could we do more? Well, doing more means sacrificing somewhere else."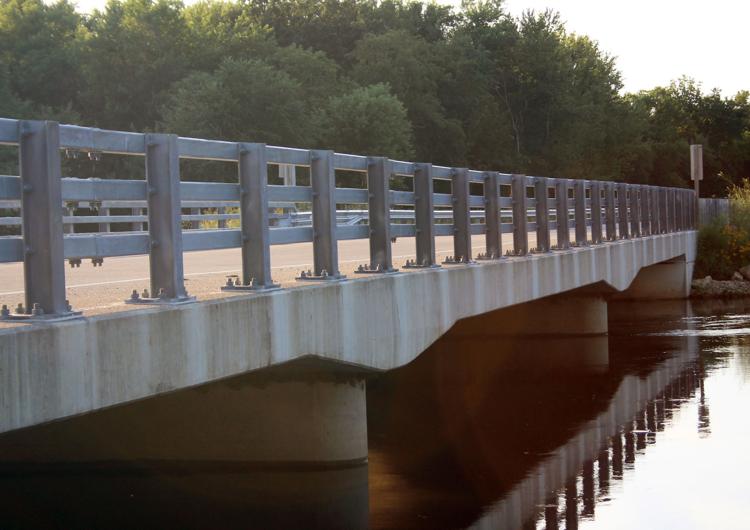 Solutions
Every year, the village of Lake Delton sets aside about $2,000 for bridges and culverts. Public Works Director Gary Hansen said it's an efficient way to fund work, although extensive projects require help from the county and state.
Landers said he's tried to convince legislators and Gov. Scott Walker of the need for infrastructure money, but hasn't seen enough movement.
"I'm pretty disappointed with the mechanism for funding our highways," he said. "I don't believe you can continue to kick the can down the road."
Landers said the governor's motto of the state being open for business rings hollow if roads and bridges are uncomfortably rough or impassable.
Wisconsin can't continue to borrow because projects ultimately cost more due to interest rates. Landers said raising the gas tax might be the most feasible option.
"I don't think people would mind paying a few more pennies for gas if it means they have safe roads," he said.
State Senator Howard Marklein, R-Spring Green, said all options should be on the table, which may include increasing the federal gas tax. Federal entities, however, doesn't seem committed to solving its infrastructure problem.
"It almost looks like the federal government is getting out of the business of infrastructure," he said.
In January, U.S. Sen. Tammy Baldwin, D-Madison, worked with other Senate democrats to outline infrastructure funding. She said they focused on road and bridge improvements, water and sewer rehabilitation and rural broadband expansion, to name a few.
Baldwin said she's been working on the Appropriations Committee to find money for highways, which includes seeking FASTLANE and TIGER grants. But it's only the the first step.
"Republicans and Democrats need to work together in Washington on a major federal investment to modernize our crumbling infrastructure and create jobs that our economy desperately needs," she said.
State Rep. Ed Brooks, R-Reedsburg, said the federal budget carries uncertainties, even though infrastructure should be an obvious priority. Government can't continue to delay on the issue.
Brooks doubts there would be enough votes to raise the fuel tax, but perhaps the answer lies in prep work. There may be more efficient ways to design and plan bridges without spending so much on engineering.
He would like to see borrowing limited because interest rates are just one more expense. Saving and paying as you go are short-term solutions.
"It does nudge the can, but maybe doesn't kick it," he said.
Follow Heather Stanek on Twitter @HStanek1 or reach her at 608-697-6353.
Be the first to know
Get local news delivered to your inbox!