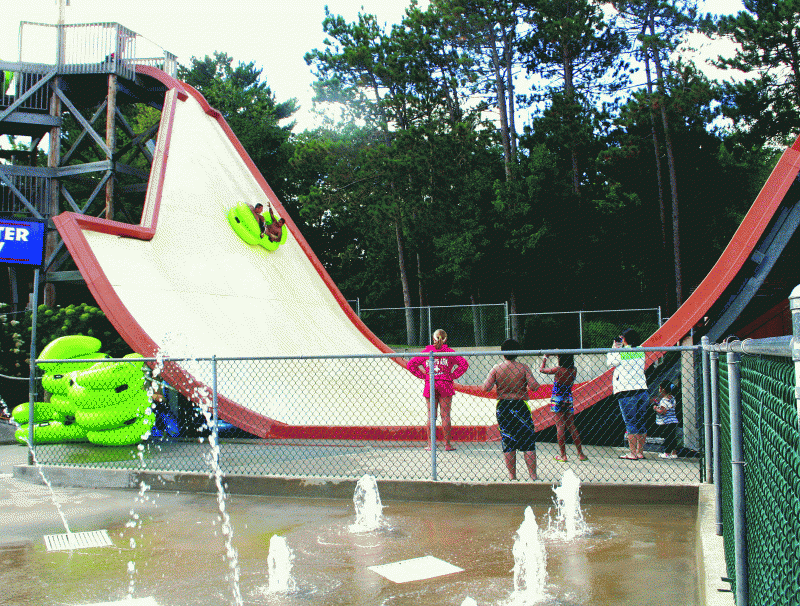 WISCONSIN DELLS — Noah's Ark Waterpark, the largest water park in the nation, has been sold to California-based Festival Fun Parks LLC, doing business as Palace Entertainment.
Former Noah's Ark Waterpark co-owner Tim Gantz said in an interview Friday that the sale was completed at 3:30 p.m. Thursday.
Gantz said Palace Entertainment initiated the purchase.
"The whole selling process started way back before the season even started, but of course we ran (it) in the 2011 season under our leadership," Gantz said. "Once the season stopped, we started the due diligence process and it was quite a process. There's a lot of layers there with a big company like that," he said.
The acquisition also was publicized in a news release Friday. According to the release, Palace Entertainment has parks in 11 states that feature roller coasters, Ferris wheels, live shows, variable-depth pools, water slides, animal shows, miniature golf courses and arcade games.
The release came out of Newport Beach, Calif., and stated Palace Entertainment properties draw more than 13 million visitors each year.
Gantz said employees at Noah's Ark Waterpark were told about the pending acquisition. He said he could not disclose the amount of the sale due to confidentiality agreements.
Gantz said when it came time to think about selling, his first concerns were about the future of the employees and the park. He said Palace Entertainment will keep the staff and the name of Noah's Ark.
He said that under the new owners, the park will continue to be the "safe, friendly, family park with some great customer service" that it has been.
Gantz said he is not retiring and has other involvements in addition to Noah's Ark. But he does plan to take some time off.
"For me, I've never had a summer vacation for my entire life, and so we've got a few of those planned," he said.
Gantz, with his five brothers, bought Noah's Ark Waterpark in 1994, he said. Eventually, four of the brothers sold the park to Tim Gantz and one of his brothers, Dan. Tim said he and Dan have owned the park for the past 18 years.
Fernando Eiroa, Palace Entertainment president and CEO, said in the release, "We are very happy to be adding such an iconic water park to Palace's array of family parks across the nation. We understand how important this park is within the Wisconsin Dells community, and we are dedicated to enhancing the Noah's Ark brand. We look forward to meeting our new neighbors and community leaders and forging lasting relationships and partnerships."
Also in the release, Dan Gantz said, "We look forward to the future success of Noah's Ark (and) its employees and see this as a positive move for the area as a whole."
Noah's Ark is America's largest water park, with 70 acres and 51 water activities, including two wave pools and two lazy rivers. The Travel Channel hailed Noah's Ark as "the place for water in the Midwest," and TripAdvisor.com named Wisconsin Dells the top family vacation destination in the U.S.
Noah's Ark was founded by Wisconsin Dells residents Turk and Jack Waterman about 34 years ago.