Ken Nolden first invested in two automatic milking robots 8 years ago at his 150-cow dairy operation in Rock Springs, Narrows Dairy.
The significant impact that investment has had on his operation led him to say there would be a "very unlikely chance" he would go back to the way his farm operated before those robots were added.
At Nolden's farm, cows walk on their own inside a milking parlor that leads to a robot. An automatic brush cleans the udder and a laser identifies the precise location for attaching the milking device. While being milked, the cow eats a defined amount of feed dispensed into a tray.
After the milking is finished, the udder is cleaned and the cow walks out of the parlor and returns to its stall to continue its day of rest and relaxation. The system cleans the device and the process repeats as the next cow steps in to be milked.
Each cow is represented by a number on a collar that sends a radio signal to a computer system that tracks the cow's health, movement and milk quality and plugs the data into a graph for Nolden to analyze.
Previously, he used "visual attention of the operators" to keep an eye on the cattle, watching for activity, signs of illness and to determine if it is in heat and ready to be bred, he said. Now the computer system keeps track of all that information.
Nolden said he invested in the equipment to have a more flexible schedule, deal with less hired labor and improve cow health by having a more free-flowing atmosphere that prevents the cows from standing around waiting to be milked. As a farmer, Nolden said he's seen other dairy operations become interested or making the switch to using the technology.
University of Wisconsin-Madison Professor and Extension Specialist in the Department of Biological Systems and Engineering Doug Reinemann said about 300 Wisconsin farms use an automatic robotic milking system, and the number is "growing steady" among smaller farms — usually those with 200 to 500 cows. However, he said as farmers struggle with low milk prices, such investments are sometimes placed on the back burner and adoption of new technology has "slowed down" on dairy farms.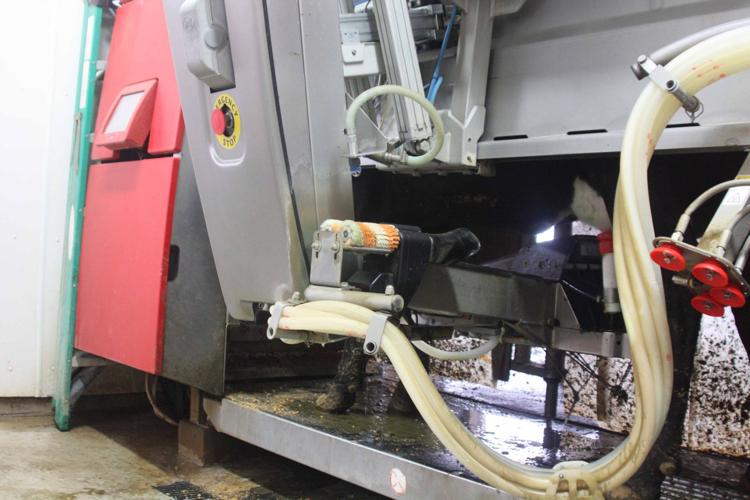 Quality of Life
Farmers often work 12-14 hour days, seven days a week with very little time off.
University of Wisconsin-Extension Farm Management Program Outreach Coordinator Trisha Wagner said as the agriculture industry evolves, more farmers are changing their values to take a night off or step away from the farm to attend a family event. This means they must rely more on hired labor or technology to get the job done.
Farms also are growing to take advantage of economies of scale as profit margins get tighter.
Larger farms require more labor, but that can be hard to find as the state is near full employment. 
Reinemann said the younger generation also has been less willing to take on the tedious and physical work common on farms, including milking dairy cows.
In addition to efficiency offered by new technologies, farmers have turned to immigrant workers to fill the void.
Reinemann said statewide, about 60 percent of the workforce on dairy farms is comprised of immigrants. However, he said as the federal government cracks down on immigration and the economy in Mexico improves, that labor pool also is "drying up."
Mechanical help
Reinemann said in addition to improved efficiency, automation can handle some of the physical aspects of dairy farming, such as moving cows around a milking parlor. 
"You can leave the farm, you don't have to be there to milk and as the farm gets bigger you have to spend more and more of your time in that regular schedule of milking," Reinemenn said. "On small farms it is often owners and operators that are doing that milking."
Dairy manager and second generation farmer Greg Lohr installed four robotic milkers on his family operation, Lohr Dairy, in Prairie du Sac and gets to take a half-day off each week.
"That's more than I got before," he said. "Work is a lot easier now."
Modern equipment also can be more beneficial for the animals. Nolden said his cows save an estimated 6 hours per day of standing in a parlor waiting to be milked.
You have free articles remaining.
Keep reading for FREE!
Enjoy more articles by signing up or logging in. No credit card required.
Tight labor market
Like other industries, farmers have to compete with the historically low unemployment rate, which stands at about three percent. Low commodity prices have made it harder to provide competitive wages to attract workers.
"(Farmers) haven't had the ability to compete with other industries because of the fact (they) haven't had extra income," Wagner said. "Their income has remained flat, and actually for some been below the cost of production."
Reinnemann said the average wage statewide for a dairy worker is $13-$14 an hour, but mainly depends on location. Prior to investing in the automatic milker, Lohr said he paid two immigrant workers $15 an hour to help milk cows. The workers regularly demanded additional pay and threatened to quit, causing Lohr additional stress.
"That was the tipping point that kind of made me want to get the robots; not having to deal with those people anymore," Lohr said. "They were always demanding more money… It gets to be too much stress trying to keep them happy."
Kip Weber and his son, Kyle, are the second and third generation family members to work on Weber Family Dairy, milking 110 cows on their operation in Elroy. The farm also has another hired hand to help milk and feed cows and perform other daily chores. Other family members help out when needed.
Weber said he's satisfied with his labor force during the winter months but when the crops are harvested, "It'd be nice to have a little more help." He's thought about trying to find additional labor to help during those busy months but said he has been unable to cover the expense.
"Right now, there's no extra money so you don't have them kind of options to be just looking for people," Weber said. "The jobs in town are paying really well, so it's hard to find people you can afford to pay and worth having around."
Wagner said when technology comes in to play, the types of employment also change. In addition to one person help feed the cows, Lohr said he still has one paid person to manage the equipment, computer software and handle the cows.
In Rock Springs, Nolden said he went from four hired hands to three after investing in new equipment, reducing labor costs by about 25 percent. One robotic milker, which can milk about 60 cows, can cost $200,000 to $250,000. The high price tag forces farmers to weigh the benefits and often requires a significant loan to purchase.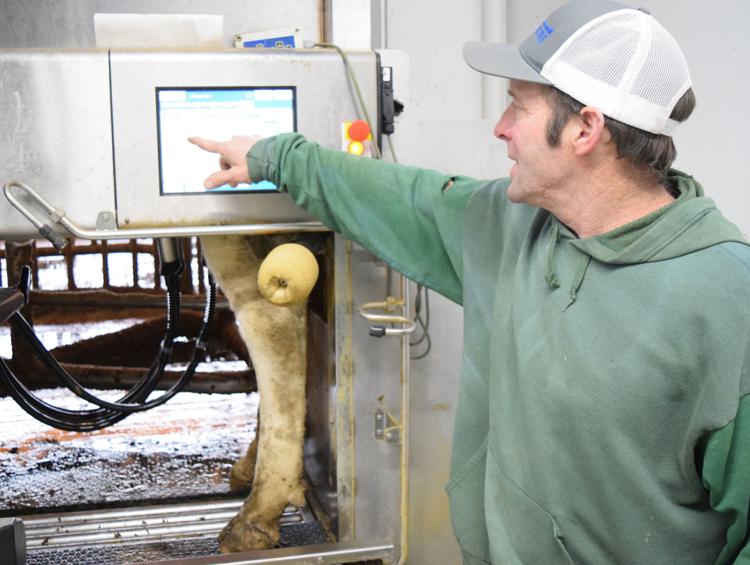 Steep price tag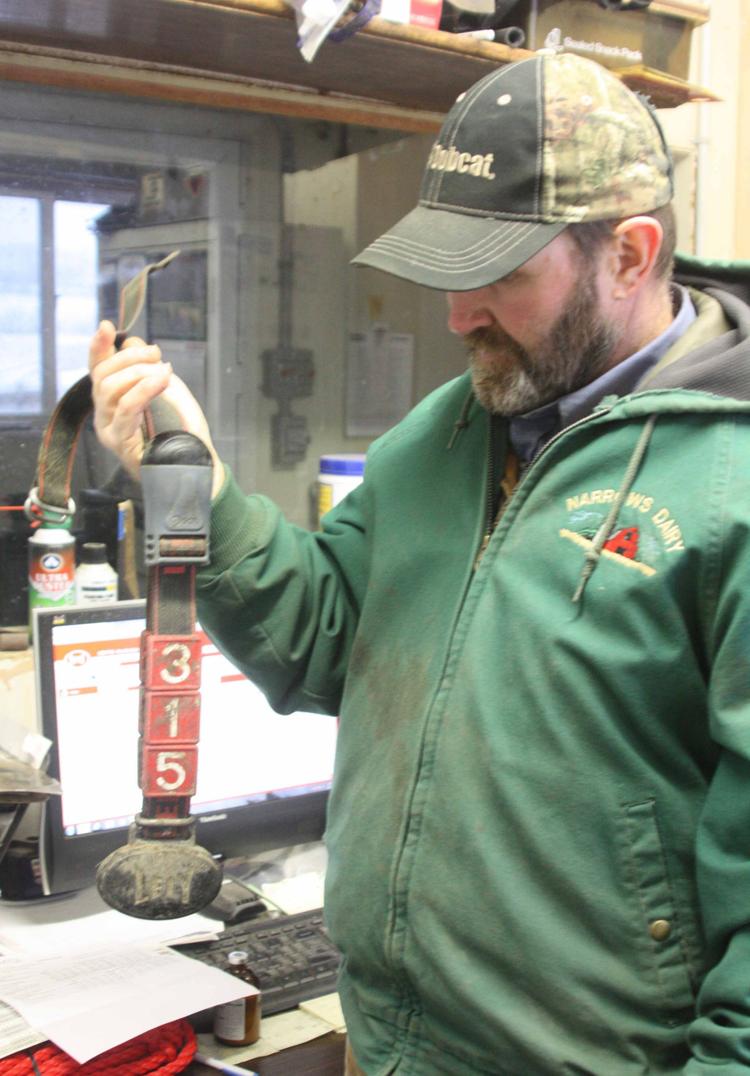 With the steep price tag and the risk of taking on additional debt when milk prices are low, some farms have held back from making a big investment. There are other costs to consider after the purchase, including higher maintenance costs, Reinemann said.
For his Prairie du Sac dairy farm, Lohr said the poor state of the dairy market means he isn't seeing the benefits he had hoped from his investment. He said the robots save him about $8,000 a month on labor, but he estimates about 20 percent of his milk check goes toward paying off loans for the equipment.
Wisconsin Farmers Union Director of Special Projects Sarah Lloyd and her husband, Nels Nelson, milk 350 cows on their dairy farm outside of the Wisconsin Dells. She said the investment also can depend how long farmers plan stay in the industry. As milk prices enter a fourth down year, more farmers are leaving the industry.
"Because the prices are so low and there doesn't seem like a light at the end of the tunnel, I think that's a new hindrance for people moving into this technology," Lloyd said.
In 2018, the state lost a record-breaking 638 dairy farms. Close to 500 dairy farms closed shop in 2017. Recent data from the Wisconsin Department of Economic Trade and Consumer Protection shows there are 8,163 milk cow herds left in Wisconsin as of December 2018.
For some farms investing in such equipment is only a dream or a long term-goal until the markets improve. Michael Turner, the fourth generation of his 100-milk cow dairy farm north of north of Baraboo recently purchased the farm last year. While he said the long-term plan is to invest in constructing a new freestyle barn with two automatic milking robots, the purchase will have to wait until he pays off loans from the farm purchase, other equipment and supplies.
Such a big purchase isn't for every farmer, Nolden said. He said farmers have to analyze their goals for their farm to determine if it is the right investment.
Lloyd said the biggest solution in addressing the investment in technology or hired labor is a better milk price for farmers, allowing them to pay a competitive wage and earn a living.
"We need as an industry to come together and really talk about what would be some solutions to find a consistent workforce," Lloyd said. "We can't really talk about solving some of these other issues and allowing farmers to have choices in their businesses about would they rather use human labor or invest in technology. They really don't even have those choices right now because the milk price is so low."