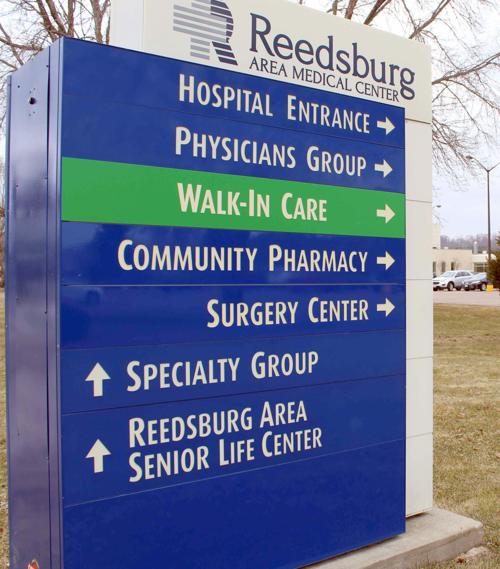 Reedsburg Area Medical Center is implementing visitor restrictions and evaluating its appointments for its hospital and clinics in its response to the COVID-19 pandemic.
According to information sent by Vice President of Marketing and Customer Experience Carla Mercer, only one symptom free visitor/primary support person per patient is allowed at a time at the hospital, including the birth center. The only exception is end of life situations, where there is no limit on the number of visitors as long as they are symptom free, meaning no runny nose, cough or fever.
The clinics, including walk-in care and ER will allow only one support person per patient and encourage parents to not bring children to appointments if they are not being seen. Reedsburg Area Medical Center also encourages visiting through phone calls, Facetime and Skype as well as other electronic means.
Mercer said Reedsburg Area Medical Center is also evaluating all appointments, procedures, surgeries, tests, treatments and therapies to determine which ones can be safely delayed and will be reaching out to the patients directly. Routine, non-essential visits may experience a significant wait time to treat the most ill patients.
Reedsburg Area Medical Center is also following the Center for Disease Control and Prevention guidelines and asking all patients and visitors screening questions.
Mercer said in a March 16 email the restrictions and guidelines could change. She would be in meetings through 9 p.m. March 16 and could not be reached for further comment.
Reedsburg Area Medical Center said if one is experiencing mild respiratory symptoms including fever, cough and mild shortness of breath, to stay home and limit contact with others. Those who are experiencing symptoms, like severe shortness of breath or difficulty breathing and persistent pain or pressure in the chest, to go to the ER, but call first at 608-524-6487 so medical professionals can prepare for an arrival.
Those who do enter or leave the hospital and patient rooms must wash their hands with soap and water for at least 20 seconds or use an alcohol based hand gel located throughout the facility. Staff is also taking protections by using face shield and masks in various areas throughout Reedsburg Area Medical Center.
Reedsburg Area Medical Center also announced on its Facebook page March 12 it will postpone all large classes and events, along with the indoor walking program until further notice.
Mercer said to prevent getting sick to wash your hands for at least 20 seconds or use a hand sanitizing gel especially after blowing your nose, coughing or sneezing, using the restroom, before eating or preparing food and upon arrival and after leaving anywhere.
She also said to avoid touching your eyes, nose and mouth, stay home when sick, cover your cough with your elbow, and sneeze into a tissue and practice social distancing. She said to clean and disinfect frequently touched objects at home or in the office, including cell phones.
The Sauk County Health Department hasn't reported any positive cases of the coronavirus in Sauk County as of March 16. The Center for Disease Control has reported over 3,000 positive cases nationwide and the state has reported 47 positive cases as of March 16.
Follow Erica Dynes on Twitter @EDynes_CapNews or contact her at 608-393-5346.
Concerned about COVID-19?
Sign up now to get the most recent coronavirus headlines and other important local and national news sent to your email inbox daily.