The Reedsburg prep football team wasn't just playing spoiler Friday night. But the Beavers played it well, spoiling Baraboo's Homecoming and chance to clinch a playoff spot all while keeping their postseason hopes alive, regaining possession of the Old River Jug and tying the longest-running series in Wisconsin high school football.
The Beavers went on the road, forced four turnovers and came back to claim a 21-20 win over fourth-ranked Baraboo in a Badger Small Conference game at Beryl Newman Stadium in Baraboo.
"They're pretty excited," Reedsburg coach Calvin Zenz said of his players. "They've been running around with the jug and taking pictures. They're pretty happy right now.
"Obviously we want to make playoffs. We had to win tonight. And we talked about how this was a playoff game. It was a playoff mentality and we're going to continue that the next couple weeks."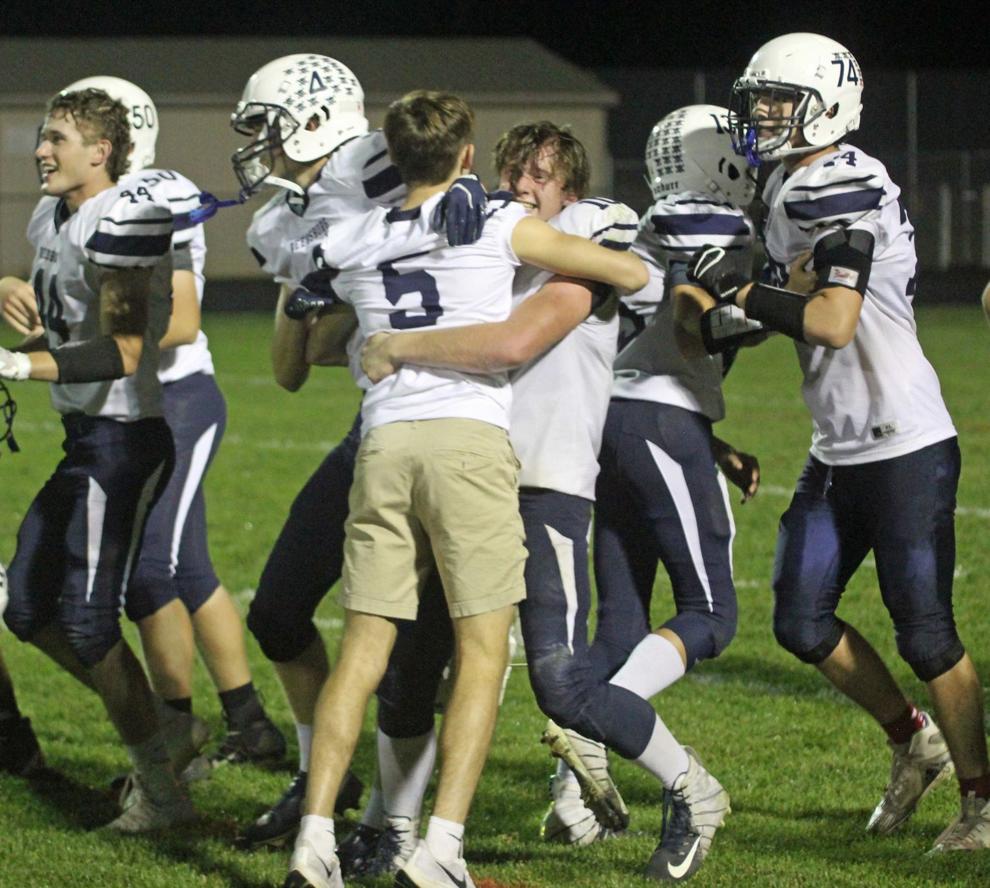 Sophomore Mark Othmer, who typically plays junior varsity, sealed the deal with an interception near the goal line with 52 seconds remaining. The Beavers were able to avoid a safety while running the clock out to improve to 64-64-6 in the all-time series with the Thunderbirds (5-2, 3-2 Badger Small), who have lost two straight since a 5-0 start had them ranked atop Division 3 by the WisSports.net Football Coaches Poll.
Reedsburg (2-5, 2-3) stayed in the hunt for a playoff spot thanks to a fast start and a dazzling finish.
Baraboo, which lost at Fort Atkinson last week, got off to another slow start Friday, as the first four plays from scrimmage tilted heavily in Reedsburg's favor. The first one was a Baraboo fumble on a mishandled handoff. The Beavers took over possession deep in Baraboo territory. They were in the end zone three plays later, following up a Baraboo pass interference with a 15-yard pass from Kevin Green to Logan DeMars, and a 4-yard Griffen Elder touchdown run. Jack Campbell tacked on the extra point and the Beavers took a 7-0 lead after just 1 minute, 3 seconds of action.
Luna Larson, who split time at quarterback with sophomore Luke Vittengl after missing the last two-plus games after suffering a knee injury during a Week 4 win at Stoughton, got his first chance to test himself on the ensuing drive. The 2020 all-state selection looked the part on his first carry, turning a third-and-2 run into a 9-yard gain after running over a Reedsburg defensive back along the left sideline. But the Reedsburg defense held, as Connor Sukup broke up a third-and-7 pass and Baraboo was forced to punt.
The T-Birds' first touchdown drive of the night came with Vittengl, who went 2-1 while playing the bulk of the snaps over the past three weeks, under center. The drive started at Baraboo's 43-yard line with 5:46 remaining in the first quarter and included a 19-yard pass from Vittengl to Riley Weyh on third-and-4 from the 48. Kane Mahoney also ran for a third-and-5, while Vittengl picked up a fourth-and-2 with a quarterback sneak down to the 23-yard line. Mahoney broke the big one, taking the next play 23 yards for a touchdown with 1:58 to play in the opening quarter. Reedsburg held on to the lead after Baraboo's two-point conversion attempt fell incomplete.
Bryant Yanke got the Beavers right back into Baraboo territory by returning the ensuing kickoff to the 49-yard line. Elder picked up a fourth-and-1 on the drive, which reached the 20-yard line before Baraboo's pass rush got to the Beavers. Mahoney and Ross Liegel combined for a third-down sack before Ryan Liegel hit Green and forced an incomplete pass on fourth-and-long.
Larson and the T-Birds took over possession at their own 34-yard line and embarked on a 5-minute, 41-second drive. Larson, who ran for 663 rushing yards and eight touchdowns in the first three-plus games, had a pair of 15-yard runs called back by holding, but the T-Birds were able to make plays through the air. A huge Brady Henry block helped spring Agnew for a 16-yard completion, Larson found Weyh on a quick out on fourth-and-7, and Agnew caught a 12-yard pass on fourth-and-4.
Mahoney took them the rest of the way, breaking loose for 19 yards before getting in the end zone with a 4-yard run. Larson rolled right on the two-point conversion and found Isaac Pelland, who toe-tapped along the sideline to give Baraboo a 14-7 advantage.
After a quick Reedsburg possession, the T-Birds had time for one more drive. They started going backwards, as Weyh's 50-yard punt return was negated by a hold before a false start call gave Baraboo the ball at the 20-yard line with 2:12 to play in the half. Mahoney made something out of it. The senior ran for 11 yards and 35 yards to quickly bring Baraboo to the Reedsburg 34. Vittengl went to the air on the next play, with Henry jumping up, snagging it and stretching toward the goal line. The senior was called down at the 1-yard line with 49 seconds remaining.
Following a timeout, Vittengl started in shotgun, ran up under center and snuck the ball in to give Baraboo a 20-7 lead going into halftime.
Reedsburg regrouped at halftime and pitched a shutout over the final 24 minutes.
"We just talked about how guys have to step up and make plays," Zenz said. "We put some different guys out there who haven't really gotten opportunities, and those guys really stepped up and made plays.
"Two of our big things are 'do your job,' and 'finish the game.' Those have been big things for us all year, and the guys did their job and they finished the game."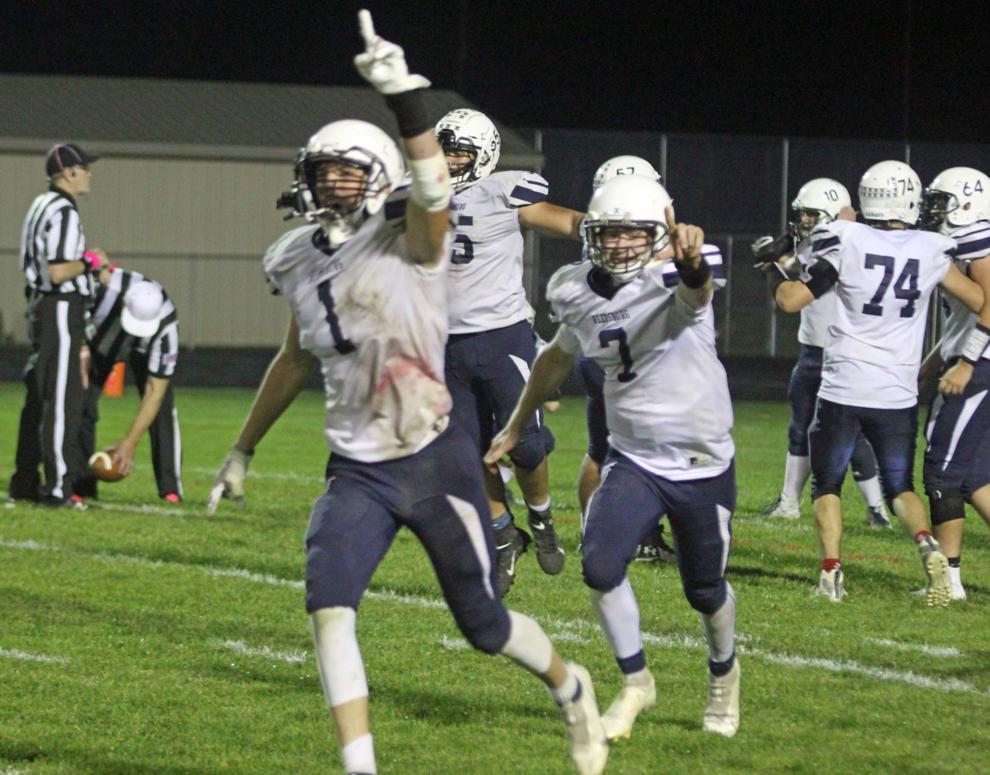 The comeback started with a long Green run and ended when the junior quarterback found Yanke for a 24-yard touchdown pass. Campbell's extra point pulled the Beavers within 20-14.
A 25-yard completion from Larson to Weyh brought Baraboo deep in Reedsburg territory before the Beavers created their second turnover of the night with an interception at the 5-yard line. They couldn't turn it into points, but they weren't done making game-changing plays on defense.
Larson completed a 27-yard pass to Agnew on Baraboo's ensuing possession, but Reedsburg forced a fumble on the play and took over possession at midfield with 9:57 to go.
"I think the coaches had a great defensive game plan, and the kids executed it," Zenz said. "We kept it quite simple and guys just stepped up."
The Beavers took advantage of this chance, as Yanke caught a 27-yard touchdown pass from Green with 8:45 remaining and Campbell's extra point gave Reedsburg a 21-20 lead.
"Him and Griffen are probably our best playmakers," Zenz said of Yanke, who caught three passes for 48 yards and two touchdowns. "Him and Kevin were splitting snaps (at quarterback)and it got to the point where we were like, 'we've got to get our best 11 out there.' Bryant's one of them. We put him in a lot of different places and let him be a playmaker. Part of this offense is guys have to make plays, and he did that tonight."
The Beavers held on tight against a Baraboo team that had opened the season with a last-minute win at Onalaska.
Reedsburg forced a three-and-out, but a Ross Liegel sack and Gabe Fitzwilliams deflection helped the T-Birds gain possession at their own 37-yard line with 2:09 remaining.
They nearly pulled it off, as Larson found Henry for 7 yards and Weyh for 12 yards before Henry reeled in a 35-yard pass to the 5-yard line. On the next play, Othmer stepped in front of a Larson pass for a touchdown-saving interception.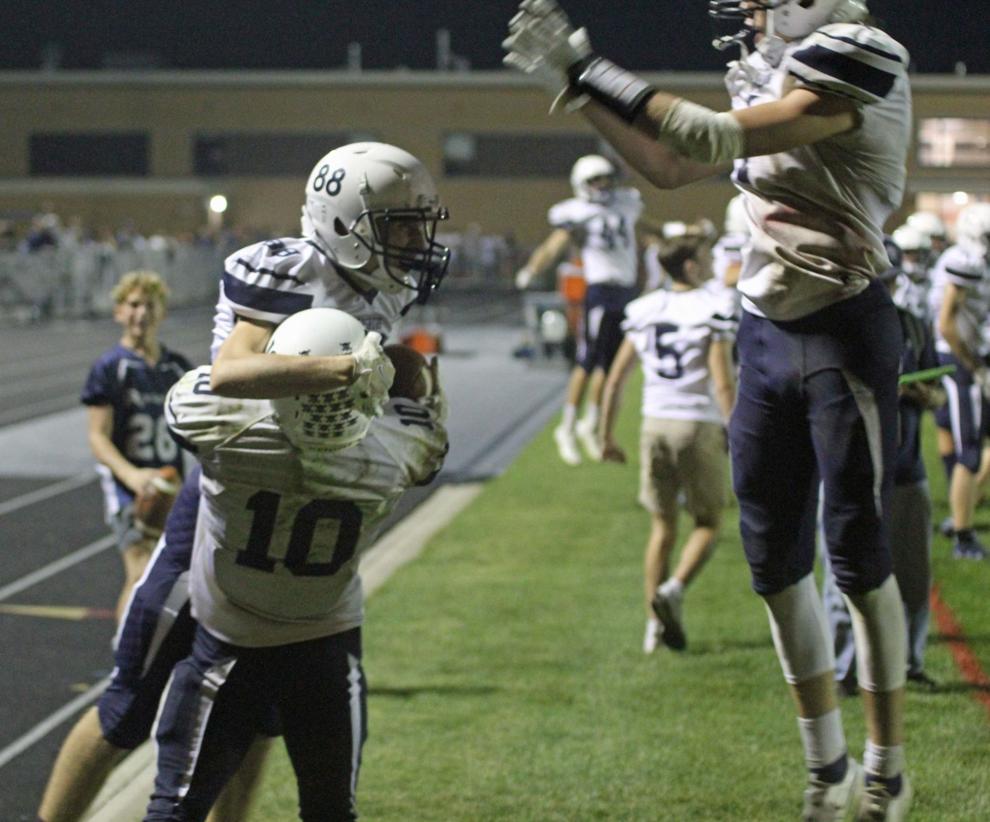 "I'm not quite sure if he took a varsity practice rep this week," Zenz said of the defensive back. "We're pretty banged up right now. We lost a couple guys in the secondary to injury, and we made some second-half adjustments in personnel. We said 'Hey, this is your opportunity.' He's played really well on JV, he works really hard and I couldn't be happier for the young men to step up in that moment."
After three run plays, one in which Reedsburg nearly avoided a safety, the Beavers and their fans were on the field in celebration.
Green completed 7 of 24 passes for 84 yards while rushing for 39 yards on 10 attempts. Elder carried the ball 22 times for 94 yards and a touchdown. 
Mahoney led Baraboo with 21 rushes for 138 yards and two touchdowns. Larson completed 12 of 20 passes for 194 yards while his trio of senior receivers had big days, with Weyh catching four passes for 79 yards, Agnew five for 76 yards, and Henry three for 68 yards.
The Beavers, whose lone win had been a 28-0 victory at Sauk Prairie on Sept. 17, will close out the regular season by hosting Stoughton and visiting Mount Horeb/Barneveld.
The T-Birds will close out the regular season against two more rivals, visiting Sauk Prairie on Oct. 8 and hosting Portage on Oct. 15 as they look to clinch the 10th postseason berth in program history.