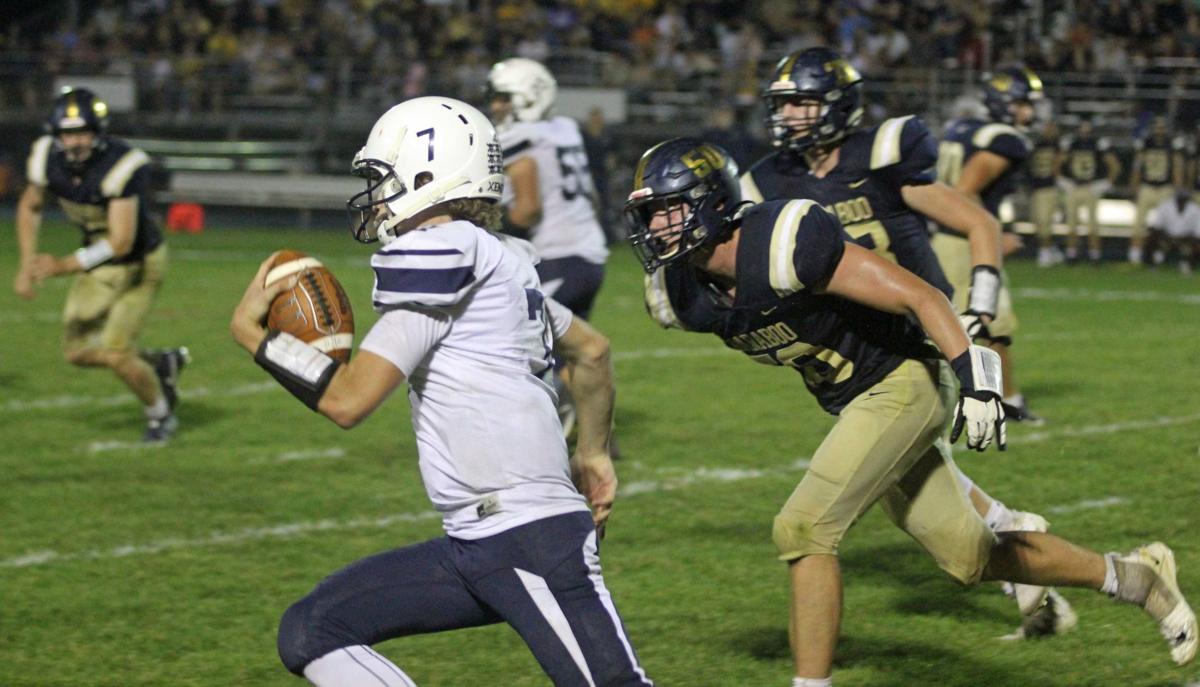 With a WIAA playoff berth already in hand, the Baraboo prep football team is eyeing a bit of a get-right game when Portage visits Flambeau Field on Friday.
The Thunderbirds (6-2, 4-2 Badger Small Conference) have been limping to the season's finish line since starting the year 5-0 and ranked atop Division 3 in the WisSports.net Football Coaches Poll. The injuries began to pile on during the T-Birds' Week 4 win at Stoughton, however.
All-state utility player Luna Larson, a starting quarterback, linebacker and punter, went down with a a knee injury in the first quarter of Baraboo's 17-0 win over the Vikings. Sophomore quarterback Luke Vittengl and senior running back Kane Mahoney carried the offense from there, beating Stoughton and knocking off Mount Horeb/Barneveld before injuries and issues caught up to the T-Birds in a 27-6 loss at Fort Atkinson on Sept. 24.
They also gave up a 20-7 halftime lead in a 21-20 home loss to Reedsburg on Oct. 1. But they accomplished their first goal or reaching the playoffs on Oct. 8, claiming a 28-19 victory at winless Sauk Prairie, secure a better than .500 finish in league play.
Larson was a big part of the clinching win, although he isn't quite the athletic force who ran for 623 yards and eight touchdowns in three games this season while earning Div. I offers at linebacker. While he's been limited to 176 yards in two-plus games since, the 6-foot-2, 220-pounder is still a difference-maker. He showed it against Sauk Prairie, running for three touchdowns and picking up several crucial third downs as the T-Birds struggled to put the Eagles away.
Mahoney, who has 1,150 rushing yards and six touchdowns this season according to WisSports, scored Baraboo's other touchdown in Prairie du Sac, while Brady Henry caught several game-changing passes, and Gabe Fitzwilliams blocked a punt and consistently broke through the opposing offensive line. That quartet signifies a 20-player senior class that has carried Baraboo since a season-opening 28-21 win at Onalaska on Aug. 20.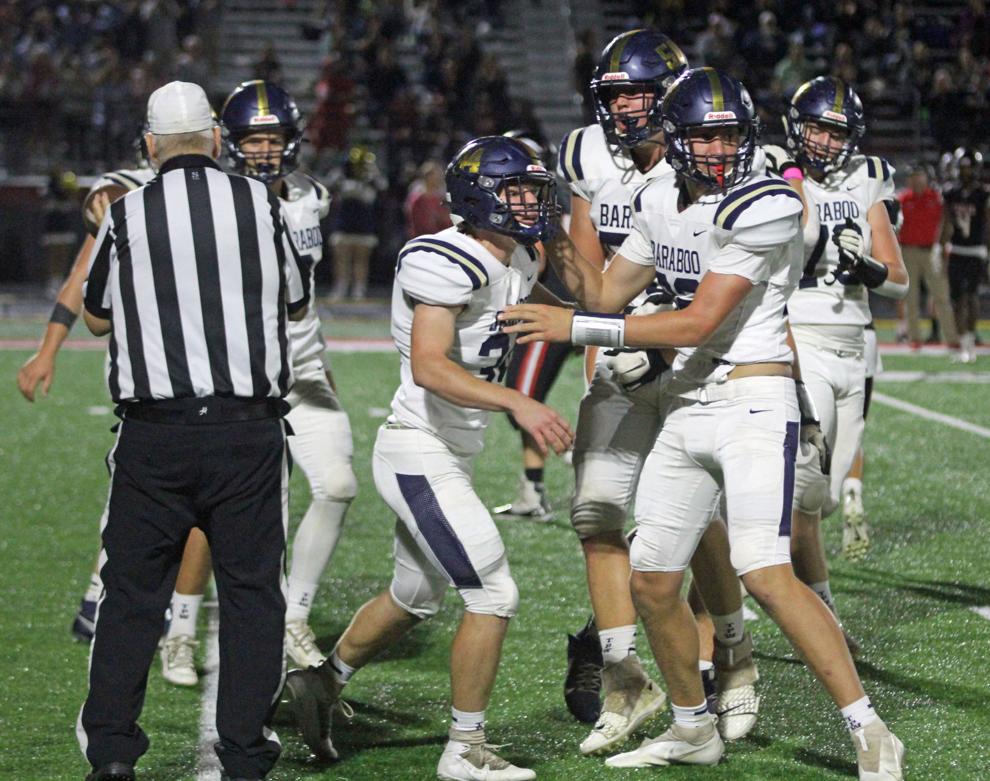 The T-Birds, who outscored opponents 137-54 during their 5-0 start, will try to find their early-season form against Portage — or at least by the time they take the field for the 10th playoff run in program history. They just want to make sure they are at their best when that time comes.
"The thing is, we're so beat up right now, so we had some guys that were limping around a little bit," Baraboo coach Steve Turkington said after the win over Sauk Prairie. "Overall, we didn't play our best game. And I think it's kind of a depth issue. We've just got to get healthy is the key for us. We've been suffering through that through the last so many weeks of the season. And that's part of football, too. You have to have guys step up, and they did. We did a good enough job to win."
Portage (5-3, 3-3) has visions of joining Baraboo in the playoffs. The Warriors, who ended a 12-year postseason drought in 2020, have had a 2021 somewhat similar to the T-Birds. They were dominant early in the year, outscoring opponents 109-20 in a 3-0 start.
They hit a rough patch in mid-September, suffering a 29-26 road loss to Mount Horeb/Barneveld and a 29-16 home loss to Fort Atkinson before winning back-to-back games against Reedsburg and Sauk Prairie. They nearly made it three straight last week, but couldn't erase a 20-point halftime deficit in a 20-16 home loss to Monona Grove.
Portage has scored 28.8 points per game this season thanks to a bevy of playmakers. Gavin Thompson has completed 58 of 113 passes for 870 yards and seven touchdowns, while Erik Brouette has rushed for 640 yards and six touchdowns. Jordan Starr has 373 yards and four touchdowns on 84 carries, and Ethan Bleich has 165 yards and five touchdowns on 36 carries. Meanwhile, Jaden Kikkert has 383 yards and four touchdowns on 21 receptions, and Sam Horn has 262 yards and three touchdowns on 17 catches.
The offense came too late against Monona Grove, as the Warriors were held scoreless until Bleich ran for a 1-yard touchdown in the final minutes of the third quarter. Kikkert added an 80-yard punt return in the closing seconds, but it wasn't enough in a game that saw the Portage defense allow just two second-half first downs.
The Warriors are looking to end a three-game losing streak against Baraboo. The T-Birds claimed a 38-0 win at Portage on Nov. 6, 2020, a 24-17 win at Portage on Sept. 27, 2019, and a 34-8 home win over Portage on Sept. 7, 2018.
Sauk Prairie at Stoughton
Sauk Prairie will close out its season Friday with hopes of a first win on the yerar.
The Eagles (0-8, 0-6) will aim to leave an impression when they visit Stoughton (2-6, 1-5) in a matchup of teams at the bottom of the Badger Small.
Sauk Prairie is looking to end a 17-game losing streak that started with a 26-13 loss at Stoughton in Level 1 of the 2019 WIAA playoffs.
The Vikings are having a harder go of it in 2021, although they are coming off a 21-0 win at Reedsburg in Week 8. The Vikings had lost their previous six games since opening the year with a 27-21 home win over Oregon on Aug. 20.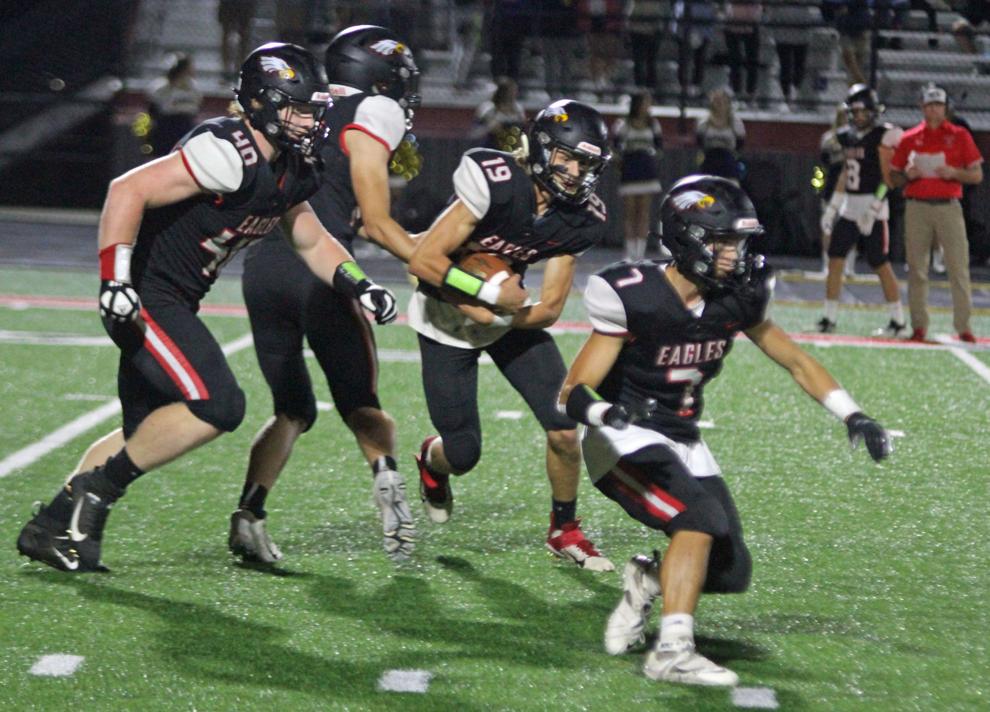 The Stoughton defense won the day in Reedsburg. After giving up 25.4 points per game in their 1-6 start, the Vikings shut out the Beavers to hold an opponent below double-digits for the first time this season.
Reedsburg managed just 155 total yards, including running for 33 yards on 25 attempts. Kevin Green completed 9 of 34 passes for 122 yards, while Griffen Elder had a team-high 35 rushing yards on nine carries.
The Vikings leaned on their rushing attack, gaining 248 yards and scoring three touchdowns on 52 attempts. Darrick Hill led the way with 190 yards and three touchdowns on 34 carries. Isaac Knutson completed 4 of 8 passes for 16 yards.
Sauk Prairie is coming off its closest game of the season, a 28-19 home loss to Baraboo. The Eagles had lost their first seven games by an average margin of 27.0 points per game, with the closest loss being a 35-21 defeat at Monona Grove on in Week 7.
The Eagles got a huge effort from Damian Wright-Rodriguez, Jr., on Homecoming against Baraboo. The senior made plays all over the field, including scoring on a 20-yard touchdown catch and a 93-yard kickoff return touchdown.
Bradley Breunig also caught a 20-yard fourth-quarter touchdown pass from Jackson Breunig, who also found Brenden Larsen for a variety of big plays. Sauk Prairie is averaging 18.0 points per game in its past three games, after averaging 4.2 points per game in its first five.
Reedsburg at Mount Horeb/Barneveld
Reedsburg has to win at Mount Horeb/Barneveld on Friday to keep alive any hopes of earning a spot in the postseason.
The Beavers can no longer clinch a spot, but can hope that the numbers fall right for them to be one of the 224 teams that get the call this weekend.
Reedsburg has had an up-and-down season, losing four straight games before splitting its past four. The high point came in Week 7, when the Beavers came from behind to claim a 21-20 win at then highly ranked Baraboo.
They couldn't carry that momentum into Week 8 against Stoughton, however, struggling to find any offensive continuity in a 21-0 loss.
They'll look to playmakers like Green, Elder and Bryant Yanke when they visit Mount Horeb/Barneveld on Friday. It won't be easy, as the Vikings (7-1, 5-1) have won three straight games and are tied with Fort Atkinson atop the Badger Small, with at least a share of the league title on the line with a win.
The Vikings have played close games all season, with just two games — a 33-0 win at Sauk Prairie on Sept. 3 and a 20-8 home win over Stoughton on Sept. 24 — being decided by more than seven points.
They've frequently found ways to win, including a 29-28 win over Monroe on Aug. 27, a 26-24 win at Monona Grove on Oct. 1. And most recently, keeping their conference title hopes alive with a last second 18-12 win at Fort Atkinson on Oct. 8.
Kolton Schaller completed 17 of 30 passes for 177 yards and one touchdown, while also rushing for 51 yards and a touchdown on 10 carries. Tyler Buechner, who intercepted a pass on defense, ran for 91 yards and a touchdown on 21 attempts, while Ethan Steinhoff caught six passes for 71 yards. Wyatt Denu caught eight passes for 70 yards, and Landon Ellestad caught two passes for 31 yards and a touchdown.
The Vikings limited Fort Atkinson's typically explosive offense, which averaged 30 points per game since its 29-0 season-opening loss at Milton on Aug. 20 and last week's loss to Mount Horeb/Barneveld.