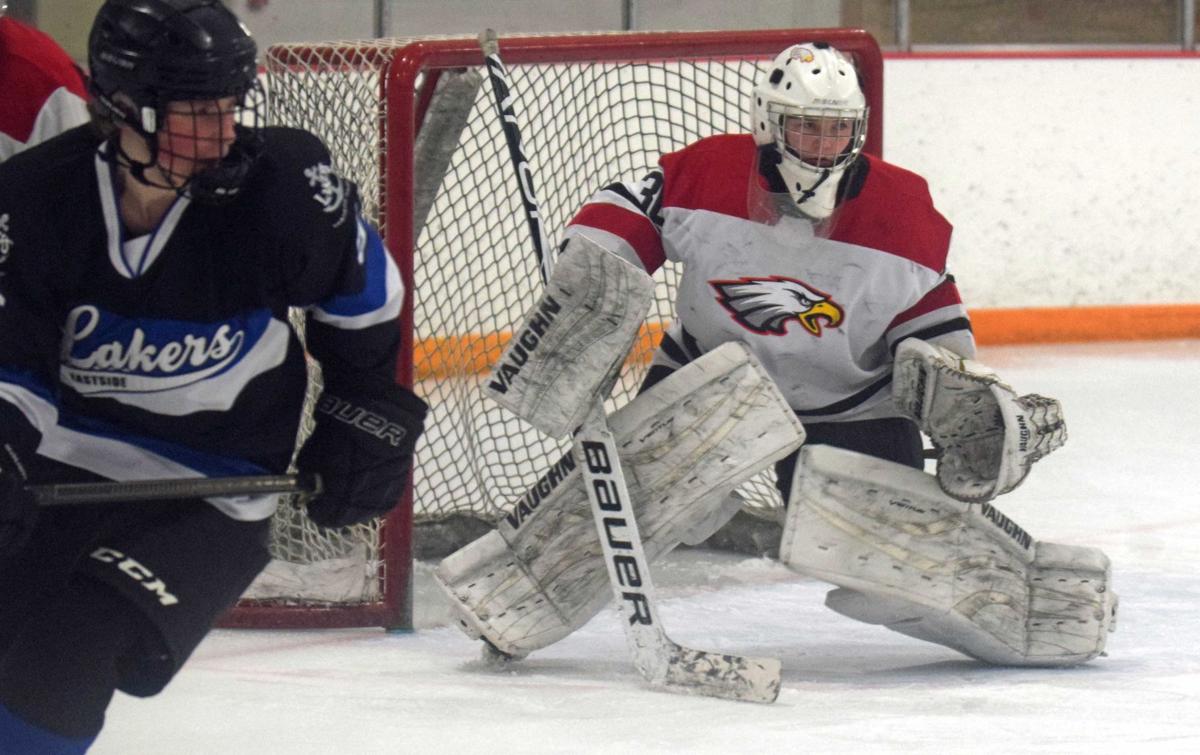 It didn't take long for Jordan O'Connor to make her mark in the Wisconsin Intercollegiate Athletic Conference.
The former Sauk Prairie High School athlete and current University of Wisconsin-River Falls goaltender ended her freshman season with a WIAC championship and an all-conference honor.
The 2020-21 All-WIAC women's hockey team was released Monday, with O'Connor being one of 12 individuals to make the first team. The WIAC selects a 12-player team along with 10 honorable mention players.
O'Connor appeared in nine games this season, including making six starts. She made 122 saves for a .917 save percentage and a 1.42 goals against average.
O'Connor was one of eight River Falls players to earn All-WIAC recognition, including one of six on the first team. River Falls senior forward Callie Hoff was named the conference's player of the year, while River Falls freshman forward was named the newcomer of the year, and River Falls' Joe Cranston and Eau Claire's Erik Strand shared the coach of the year award.
River Falls (10-2) won the WIAC tournament when Hoff scored with 1 minute, 23 seconds remaining in a 2-1 win at Eau Claire on March 19. The win capped a three-game series that earned the Falcons their second straight O'Brien Cup. O'Connor was in goal for the first two games, making 21 saves in a 3-2 win and 18 saves in a 3-0 loss.
All NCAA Division III national championships have been canceled by the COVID-19 pandemic.
Holly Eckers, River Falls, fr., D, Shakopee, Minn.; Alex Hantge, River Falls, fr., F, Hutchinson, Minn.; Callie Hoff, River Falls, sr., F, Hermantown, Minn.; Ella Ierino, Eau Claire, jr., D, Duluth, Minn.; Sophia Leong, River Falls, jr., D, Apple Valley, Minn.; Nicole Neuberger, Stevens Point, jr., F, Minnetrista, Minn.; Jordan O'Connor, River Falls, F, G, Prairie du Sac; Bree Osborne, Eau Claire, sr., D, West St. Paul, Minn.; Emma Peterson, Eau Claire, sr., F, Superior; Olivia Schultz, Stevens Point, jr., G, Maplewood, Minn.; Amanda Sergent, Superior, sr., F, Eagle River; Abigail Stow, River Falls, jr., F, Eau Claire.
Emma Berthiaume, Stevens Point; Jenna Byfuglien, Superior; Jenna Curtis, Superior; Amber Heidenreich, Superior; Karadyn Kiviaho, Northland; Stephanie Martin, Eau Claire; Cassie Newcomer, Stevens Point; Samantha Scherling, Eau Claire; Kayla Schubert, River Falls; Kora Torkelson, River Falls.
Player of the Year: Callie Hoff, River Falls
Newcomer of the Year: Alex Hantge, River Falls
Co-Coaches of the Year: Joe Cranston, River Falls; Erik Strand, Eau Claire
Judy Kruckman Co-Scholar-Athletes: Amber Heidenreich, Superior; Cassie Newcomer, Stevens Point