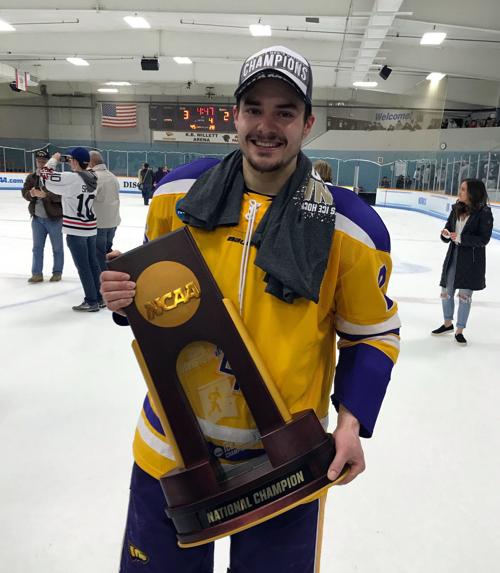 It's been a special few years for the University of Wisconsin-Stevens Point men's hockey program.
Luke McElhenie was in the middle of all of it. The Sauk Prairie High School alum is set to graduate with a bachelor's degree in business administration this spring, ending a three-year run that saw him win an NCAA Division III national championship while growing into an All-American.
"The atmosphere at Stevens Point was just amazing," McElhenie said of his collegiate experience. "It's kind of a smaller rink and a smaller college, but our community support and student support was amazing. They packed the rink almost every game, so having that atmosphere and getting to play in front of everyone was special."
McElhenie's journey to Stevens Point started at Sauk Prairie. After graduating in 2014, he spent two seasons in the United States Hockey League with the Madison Capitols, including scoring the Capitols' first goal in their return to the USHL. He played his way into the Division I level, signing with the University of Massachusetts and appearing in 15 games as the Minutemen went 5-29-2 in 2016-17.
McElhenie left UMass after one year, transferring to UW-Stevens Point prior to the 2017-18 season. The 5-foot-10 forward contributed immediately, scoring a power-play goal in the first period of his first game. It took just six games at Stevens Point for McElhenie to match his win total from UMass. The wins never stopped, as the Pointers compiled a 68-13-8 record in McElhenie's three seasons.
In 2017-18, he notched 14 goals, including a team-high eight power-play goals, and 10 assists as the Pointers went 21-6-3 and earned an NCAA Tournament berth. They picked up a 5-2 win over Adrian College before suffering a 3-0 semifinal loss to Salve Regina.
The Pointers used that as fuel, bringing back a veteran group that was set on winning it all in 2018-19.
"We had a lot of returning guys my junior year, and I think we all had a sour taste in our mouth," McElhenie said. "We all knew we should have won that game, and I think going into last year, we all had that sour taste in our mouth of losing and knowing we should have won."
Mission accomplished, as the Pointers went 29-0-2, including 18-0-1 in the Wisconsin Intercollegiate Athletic Conference, on the way to becoming the first unbeaten national champions in Division III history.
"Right from day one, everyone was determined to win," McElhenie said. "We weren't going to have that feeling again. I think everything just clicked, and everything that could have gone our way did. It was just an incredible season."
The Pointers got to lift the trophy on home ice, claiming the sixth national championship in program history — and first since 2016 — when Steven Quagliata scored to give them a 3-2 overtime win over Norwich.
"Obviously winning at home would be it," McElhenie said of what memories he think will last from the national championship season. "We have the best fans in Division III hockey, and getting to win the national championship in front of them was really special."
McElhenie's junior season saw him tally 10 goals and 15 assists in 30 games on the way to being named a first-team All-WIAC forward.
He carried a heavier load as a senior, serving as a captain and scoring a conference-leading 17 goals while tying Drew McLean for a team-best 18 assists. The Pointers got off to a slow start, however, losing four of five games in late November and early December to drop their record to 7-6-1.
The Pointers got back on track by sweeping top-ranked UW-Eau Claire in the final series before winter break. They didn't lose the rest of the regular season, finishing 18-7-3 after a 4-2 loss to Eau Claire in the WIAC championship. The Pointers didn't earn a spot in the NCAA Tournament, although it was later canceled due to the COVID-19 pandemic.
"It went by fast, to say the least," McElhenie said of his final season of college hockey. "As a team, we started out a little rocky. I think it might have been a little bit of a championship hangover from the year before. So we started off a little rough, and that kind of put us behind the eight ball. Going into Christmas we had a lot of work to do, and then we put ourselves in a really good spot to battle back and have a chance to make the NCAA Tournament.
"It was a good senior year. There was a lot of adversity we had to battle and we overcame, which really showed how strong our group was."
The postseason honors continue to come in for McElhenie, who was first-team All-WIAC for the second straight year as well as being named to the CCM/AHCA All-American West Second Team and an honorable mention All-USCHO pick.
"I've gotten a lot more consistent," McElhenie said of how he thinks he's improvement during his college career. "Playing in the WIAC, every game is tough and you have to bring it every single game. You can't take a night off, you can't afford it. Especially in our position when you don't get an automatic bid (to the tournament). ... So I think consistency and bringing it every night."
The next level of McElhenie's hockey career — and first foray into the professionals — has been put on hold by the coronavirus.
"I was planning on going to play with the Rapid City Rush in the East Coast Hockey League," McElhenie said. "And it was funny... well... kind of funny. I drove out there, got in on a Wednesday night, and then Thursday morning it was announced that they were going to suspend the season. So I had to drive all the way back on Friday morning. That didn't really work out as planned.
"We all were at the rink getting ready for practice, and coach came in and was like 'alright, well no practice today, we've got a team meeting in 30 minutes.' And the NHL was having a meeting at like 1 p.m. that day, and that's when we found out everything. ... It's obviously disappointing when you're going into playing your first couple professional games, and then all of a sudden you're heading back home again."
McElhenie said that the Rush told him they'd be in contact about next season. In the meantime, he's back in Stevens Point, set to start online classes today after having an extended two-week spring break.
"Everything's closed... gyms are closed... so I'm just kind of trying to do some at-home workouts and keep in shape with that kind of thing," McElhenie said. "Just trying to wait all this stuff out."
Be the first to know
Get local news delivered to your inbox!