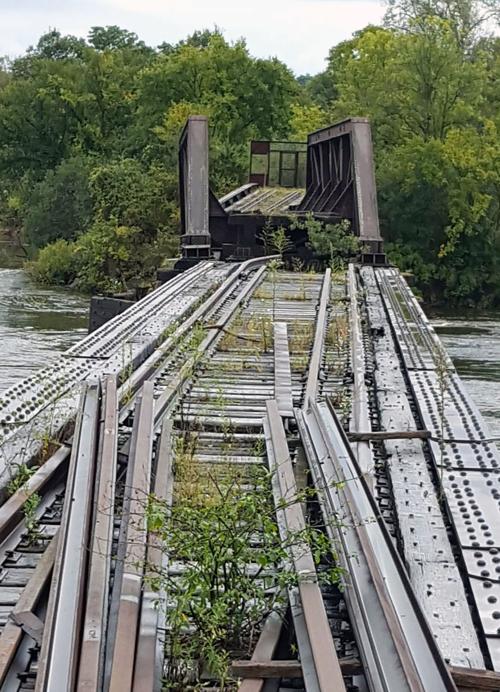 A portion of the defunct Sauk City railroad bridge that spans the Wisconsin River has shifted and resettled due to high waters from September flooding. The bridge is part of the proposed route of the Great Sauk Trail, but local leaders are now concerned that the shift has further compromised its structural integrity.
Sauk County Board Supervisor William Wenzel said the continued degradation of the bridge has reached a tipping point.
"I think it's past the point where it has any structural integrity at all," he said. "I wouldn't send anyone out there."
Friends of the Lower Wisconsin Riverway President Timm Zumm expressed similar concerns. "Even if you've never seen it before, you can stop by and eyeball it, and you can see where it's crooked and leaning," he said. "Not too long ago it was still straight across."
Wisconsin DOT Chief of Railroads and Harbors David Simon said wooden pilings that hold up the bridge began to fail sometime over Labor Day weekend, causing the span in question to drop and move upstream.
A similar situation prompted the Wisconsin River Rail Transit Commission, which owns the bridge, to remove a different section using explosives in 2002. Engineers imploded the section and used cranes to lift out the debris.
Simon said the commission will contract a consulting engineer in the future to inspect the rest of the bridge and determine if other portions are failing as well. The consulting firm will use either divers or side-scanning sonar to examine the other portions.
Side scanning sonar allows engineers to see submerged portions of the bridge without having to go underwater.
Simon said it's obvious that some sections of the bridge will need to be removed, but it's not yet clear how they will be taken out.
"They may lift it out with cranes, they may use explosives, they may break it up using other methods, but that's up to the contractor to decide how they want to do it," he said.
Zumm said he hopes more precautions are taken when the section is removed, as his organization worked for two years to clean debris from the river after the implosion in 2002. "I hope they're more concerned than last time," he said.
Simon said more will be decided in the upcoming weeks. In the meantime, the commission plans to put buoys around the dilapidated section to warn boaters and kayakers of the potentially dangerous section.
A representative from the Wisconsin River Rail Transit Commission did not respond to a request for comment.
Follow Jake Prinsen on Twitter @prinsenjake