MERRIMAC – Two summers ago, 20-year-old Sarah Holm was in the Denver airport waiting for her flight back to Madison. Holm, who lost partial use of her legs six years ago, was in Colorado for a meeting with her adaptive ski team.
It was there contract pilot Travis Lukens, who was waiting for the same plane, spotted her in her wheelchair and stopped to talk with her. He made the correct assumption she might be going home to Madison, not far from where he lives in Merrimac. He wanted to tell her about his new water skiing program for people with disabilities using special equipment.
Little did he know she only lived a few miles down the road in Baraboo, and yes, she was interested.
"I was on the boat a few days later," Sarah said.
As it turned out, Sarah, now 22, is a multiple medal winner with Disabled Sports North America, and a member of the U.S. Paralympics Alpine Skiing National Development Team.
It was as if Lukens' new Colsac Skiers Adaptive Ski School program was created just for Sarah.
"That's part of the whole divine intervention in Sarah's life," her mom Chris Holm said. "She wanted to water ski again but there was no program nearby. Travis came along with this and it was like a gift."
Sarah started snow skiing when she was five, and by the time she was six, she was a speed racer.
At the age of 11, it was discovered Sarah had a tumor attached to her spinal cord known as tethered cord syndrome. For the next four years she went through surgery after surgery because each time the tumor was removed, it grew back and pushed against her spine.
At 16, she underwent a spinal cordectomy in which the lower portion of her spine, the lumbar region, was removed.
While she has little feeling left in her legs now, it's a decision she's never regretted, and one that clearly has not slowed her down.
Sarah is not the norm when it comes to the Colsac Skiers. Fellow skiers and Colsac volunteers who started off skiing with her love to watch her get airborne over the water.
"At first they would be hanging onto me, and I said, 'OK, guys, you can just let go," Sarah said laughing. "I've even done a 360 somersault, although not deliberately."
No fear
While vacationing in Iowa 13 years ago, Madison resident Melissa Madole left the house where she was staying to go pick up a friend. She woke up in a hospital, paralyzed from the waist down with a broken neck and a broken jaw.
She remembers nothing about the car crash that permanently injured her to this day.
"I don't remember any of it," she said. "I'm a very inquisitive person and that bothered me. But I chalk it up to a blessing."
While the accident was a life-changing event for her at 19 years old, she had found ways to regain her freedom, including with the Colsac Skiers.
Without the use of her legs, volunteers Will Alt and Josh Bader assist her onto a sit ski that uses an adjustable cage.
"I was never afraid," Madole said. "I just got in. It's very freeing. I've always used a wake board versus a ski."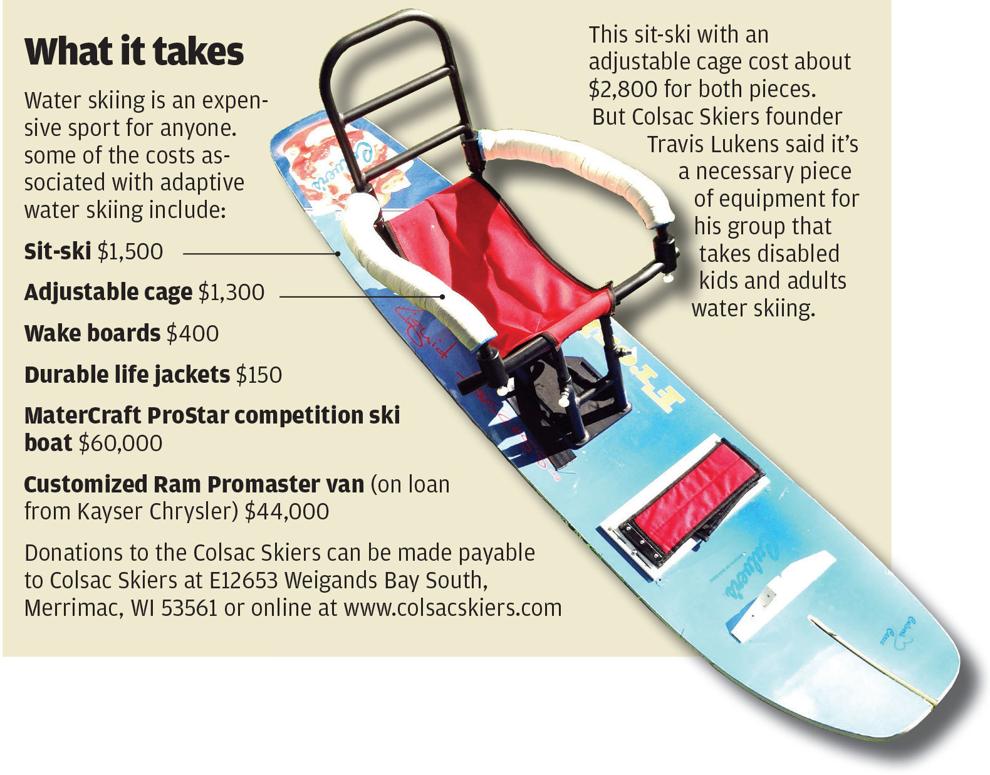 Lukens said Madole has a higher level of spinal cord injury, and because she is strapped into the wake board, if she falls, volunteers must act quickly to get her head above water.
"If she crashes, you've got two seconds to get to her," Lukens said. "But she wants to go for it. So we don't want to just hold on to her the whole time. Like anyone else, she wants to do tricks or go outside the wake."
For the love of skiing
The Colsac Skiers group is in its second summer, and has pulled more than 200 disabled skiers over the waves.
Lukens, who is 43, grew up skiing on Lake Wisconsin and loves to share the sport.
He found a school in Florida that teaches adaptive water skiing instruction. He and his wife Emilie went to Florida and took the class.
"Water skiing is about having fun and showing off," Lukens said. "These people are no different than anyone else. They want that next level of accomplishment."
Lukens came home from the class, put $10,000 worth of adaptive ski equipment on a credit card and started looking for disabled people willing to try water skiing, including among veterans groups.
Lukens made sure the program was certified and sanctioned by the USA Water Ski, the governing body for sanctioned water skiing organizations that sets the rules and regulations for the sport.
"You have to have an instructor, certified boat drivers and a certified safety coordinator," Lukens said. "I'm all of those things."
Avid water skiers Charlie and Julie Hall of Merrimac volunteer to drive the boat on ski trips to lakes in the Madison area. Charlie repairs boats and Julie is a psychiatric nurse.
Both are certified drivers.
"When Travis put this together, I said, 'Are you kidding me? People with injuries who can't walk?'" Hall said. "But the first time I went out, I saw nothing but smiles. These are people sharing the same love for the sport that I have. Some used to be able to ski and didn't think they'd ever be able to do it again. If that were me, this would be like heaven. I was humbled."
Alt and Bader are sophomores at Sauk Prairie High School. They both said they enjoy volunteering with the group.
"I don't know why you wouldn't enjoy it," Alt said. "You get to ski and bring smiles to people's faces."
Bader likes to see the reactions of the skiers.
"You get to spend a lot of time on the water," Bader said. "You get to ski next to them and watch them have a blast."
Community support
Lukens said with the expense of the sport, it would be difficult to continue the Colsac Skier without various forms of community support he's received.
Much of the equipment Lukens has purchased himself.
"If we can get people to the next level of skiing, that's what we try to do," Lukens said. "We're always adding new equipment to match everyone's different abilities."
He has received sizeable donations for equipment from Culver's, life jacket manufacturer Ronix, and a customized Ram ProMaster van from Kayser Chrysler in Sauk City to carry equipment around to ski events.
"I've known Travis forever," Brad Kayser said. "My dad and I both loved the idea of what he was doing. Looking at the smiles on those faces, I'm thrilled we are a part of it."
When Travis put this together, I said, 'Are you kidding me? People with injuries who can't walk?' But the first time I went out, I saw nothing but smiles.

Julie Hall, Colsac Skiiers volunteer