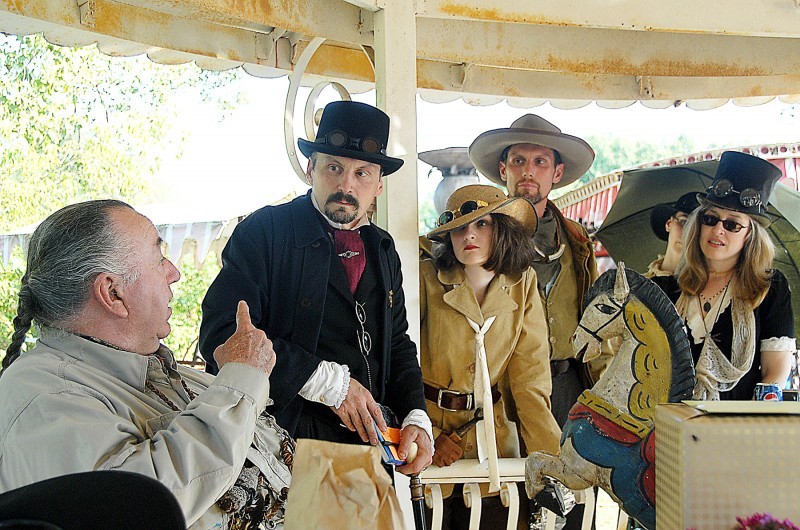 A local artist, famous for his eccentric sculpture park, is scheduled to appear in an upcoming episode of the popular reality show "American Pickers."
In July, Mike Wolfe and Frank Fritz, the hosts of the History channel's "American Pickers," visited Sauk Prairie to check out the decades' worth of objects Tom Every, better known as Dr. Evermor, has accumulated at his sculpture park along Highway 12.
"The place is really cool and there is some storage there that people never see," said Cristin Cricco-Powell, a producer for the show. "I think it will make for a really great segment."
The premise of the show is that Wolfe and Fritz travel the back roads of America exploring old structures for valuable items to sell at their store Antique Archeology.
Fritz and Wolfe's voiceover for the show's opening credits explains: "We're looking for amazing things buried in people's garages and barns. What most people see as junk, we see as dollar signs. We'll buy 'anything' we think we can make a buck on. Each item we pick has a history all its own and the people we meet? Well, they're a breed all their own."
"Both have an excellent eye of what is around them," Every said of Wolfe and Fritz.
Cricco-Powell said she didn't know when the episode featuring Dr. Evermor would air, but she said it likely will be within the next few months. She said Wolfe and Fritz bought some items at Every's sculpture park, but she wouldn't say what they were.
For decades Every was an industrial wrecking and salvage expert, amassing scrap pieces and furniture that he later intended to use in his sculptures, which are a whimsical mixture of science-fiction and Victorian-era design.
Eleanor Every, Dr. Evermor's wife, said she was the one who did the negotiating. "It was very different than the programs I had seen on "American Pickers,'" Eleanor said.
She said many times they were interested in objects that had already been combined into the beginnings of an art piece.
She said they climbed the Forevertron, Every's massive 320-tone free-standing structure that's supposed to be a mystical space-traveling machine made from various parts including a decompression chamber from the Apollo space mission. There was a chair attached to the Forevertron they were interested in, she said.
Ultimately, she said she sold them more than one piece from the park's storage trailers. Eleanor said she had a great time, even though she said she believe she made two mistakes during the negotiations.
"They're doing today's archaeology what's in our barns and sheds and what's worth saving," Eleanor said.
" "It's not a snatch and grab of how many dollars they can make," Tom said. "I appreciate things the way they are and so do they."
This isn't the first time Dr. Evermor's park has been featured on national television. Eleanor said the park has been on the Discovery Channel and the program "Ripley's Believe It or Not."
She said she's looking forward to it airing.
"Dr. Evermor doesn't know what I sold yet," Eleanor said. "That's what's really going to be fun. Everyone's putting parties together to see it. He'll be surprised. I'll probably have to hide in the car."
Dr. Evermor's sculpture park is open Monday, Thursday, Friday and Saturday from 10:30 a.m. to 5 p.m. and Sunday from noon to 5 p.m. It's located about 9 miles past Sauk City on U.S. Highway 12, across from the former Badger Army Ammunition Plant.
— Eagle contributor Jacob Meister did some reporting for this story.