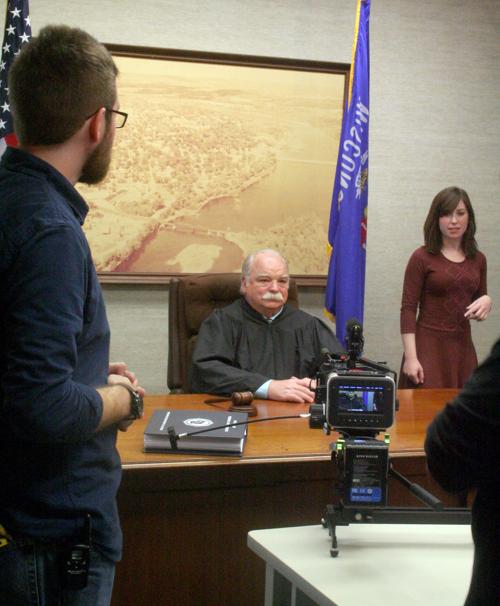 Tom Wopat is back in Wisconsin, and this time he's bringing the mafia with him.
The Lodi native of "Dukes of Hazzard" fame who also has a singing career has a lead role in the independent feature-length film "Delight in the Mountain," which has been filming in and around Sauk City.
Actor and Menomonee Falls native Richard Riehle, known for his role as Tom Smykowski in the 1999 film "Office Space," also has a brief role in the film.
In his featured role, Wopat plays Guido, a mob boss whose son is being tried for murder. He seeks the help of mob lawyer Anna Maria, played by Kara Zediker, who is reluctant to take the job after losing her last case.
"Guido is a bit of a thug," Wopat said. "He's an organized crime guy. I'm trying to get her to represent my son." For insurance, Wopat's character takes Anna Maria's mother as a hostage. During that time, Wopat and the mother fall in love.
Described as a romantic comedy by writer Nella Citino and producer Francisco Torres, the movie begins as Anna Maria is fleeing from her life and job back home to her mother.
"She's a lawyer who has lost her last case and decides to lay low back home with her mother, but the mafia finds her," Citino said. "They kidnap her mother and make her try one last case."
That's where Wopat's character comes in. When asked what drew him to the film, Wopat said, "It's really funny. And I'm here to bring a really bad Italian accent."
Wopat liked the idea the film was being shot near his hometown and the Madison area. "I like to work; it's a fun part," he said, adding he gets back to the area all the time for different music and acting gigs. Wopat, who performs mostly rock and country music, put out a Christmas album last year with former "Dukes of Hazzard" co-star John Schneider.
"The old stuff comes back and it's a different set of muscles," Wopat said of his music and film/TV career.
Citino and Torres both support the Wisconsin film industry and Citino serves on the board for Film Wisconsin. Crews expect to be filming in and around Sauk Prairie through Oct. 31.
Although there's plenty of excitement around town for the filming of "Delight in the Mountain," the movie won't hit area screens until next year, Citino said. It might even have a showing at Bonham Theatre in Prairie Du Sac.
The Sauk City Municipal Building and Que's Bar in Prairie Du Sac are in the film, as is the Sauk City home of Becky and Eric Powers.
"They scoured the area and talked to the Chamber about the properties they were interested in," said Becky Powers. "The Chamber called us. They came in August to look and we said yes."
The Powers' home is Anna Maria's childhood home in the movie, where much of the action takes place. During production, the Powers and their two sons stayed with relatives.
"We did it mainly for the fun factor," said Becky Powers. "It was a unique opportunity. I never imagined something like this would come to us."
The Powers said the actors and crew were "very respectful" of their home and welcoming. "They let us see how things are done; how a movie is filmed close-up," said Becky Powers. "And they've also been very respectful of the neighbors."
Wopat said many small, independent films are produced in communities such as Sauk City. "Big budget (films) use locations as well but for independent films, this is pretty common," he said.
Wopat didn't have to do much to prepare for his role, just bring the accent and wear a nice suit. "I just had to figure out what I could get away with in terms of the accent and what level of performance is it going to be," he said. "I look at my roles as being a part of a baseball team and I play my position."
In this film, Wopat brings a threat with him. "He's not a really bad guy but I am a threat because I have (Anna Maria's) mother," Wopat said. "The implication is there."
Wopat most enjoys playing cowboys or lawmen (he has an ongoing part as a sheriff in the A&E "Longmire" television series) but enjoys playing mostly to character.