Editor's note: This is the second in a four-part series examining the people, families and services working for those with differing abilities.
Carla Peterson knew early on her son, Andrew, was different.
"I come from a family of educators and saw he had some learning challenges and things about him that made him learn differently," she said.
The Plain resident started the long, arduous process of doctor appointments to find out exactly what was going on with her son. Soon they learned Andrew was on the autism spectrum and began working with the Sauk Prairie School District on an individual education plan for him. He was in kindergarten.
He went from needing a full-time aid to slowly being integrated into a regular classroom setting.
"He received a lot of support," Peterson said. "We built each year based on what he needed and what was giving him the best chance for success."
Fast forward to the present, and Andrew, now 21 years old, is holding down a full-time job at Sauk Prairie Hospital in food service.
He accomplished this through a lot of hard work and Project SEARCH, a national, 12-month, high school transition program for students with disabilities, ages 18-21. The Sauk Prairie School District began offering the program about two years ago in conjunction with a business partner, Sauk Prairie Healthcare, as another program to transition students with disabilities from school into the workforce, said Liz Kennedy, transition coordinator for the Sauk Prairie School District.
"He has been prepared very well for the job he is doing right now," Peterson said. "Through hard work and saving he even bought himself a truck just before Christmas.
"Five years ago if you would have told me he'd have his own driver's license, a truck … I'd say, really? I don't see that. We've always wanted the best for him, we just didn't see it coming quite this quickly," she said.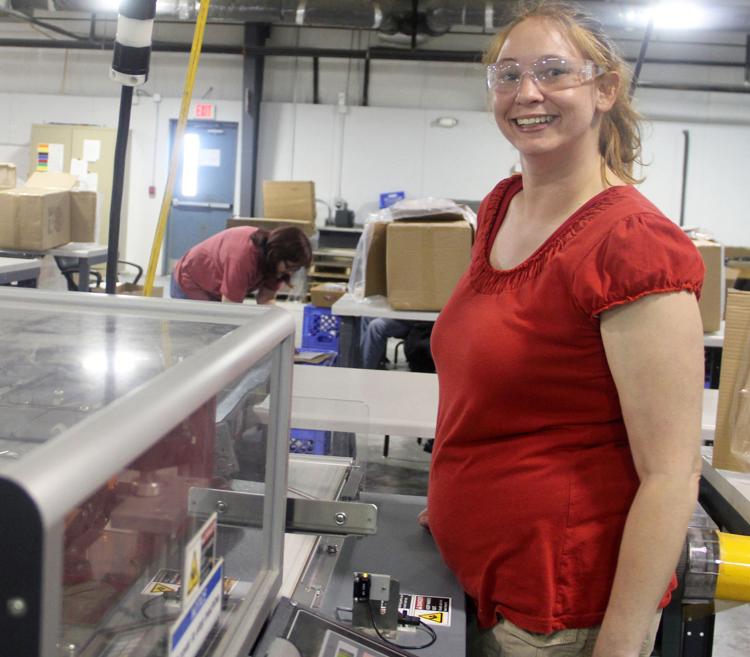 Facing challenges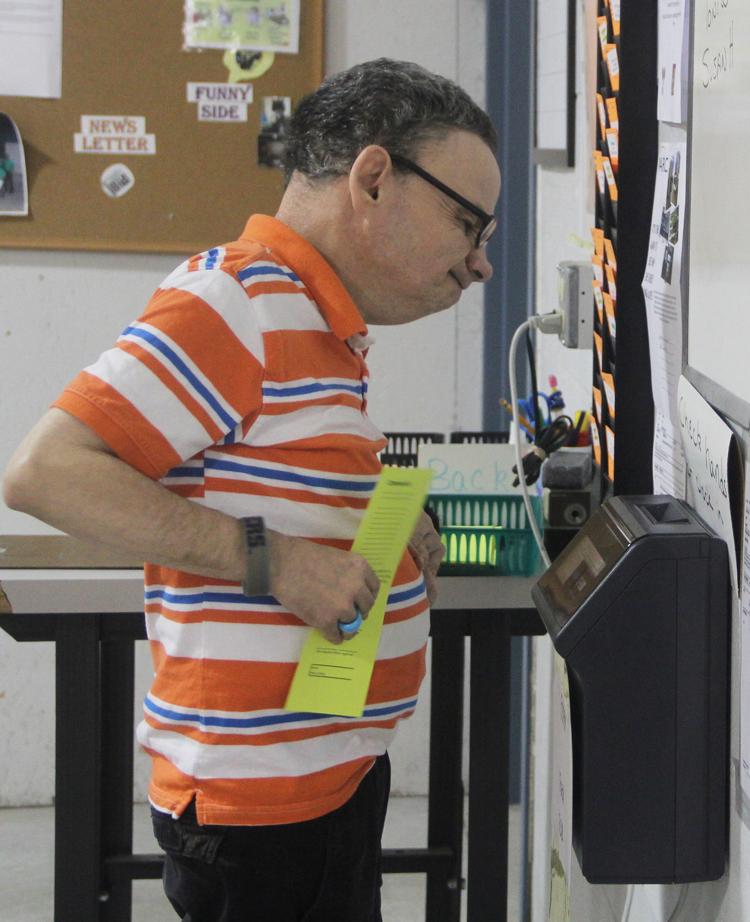 Chelsea Stanek, 29, of Union Center, has a mild learning disability and has been paralyzed from the waist down since infancy. While her challenges differ from those with a cognitive disability, she has still had to adapt.
"I struggle with math," she said. "I was mostly in regular education classes but was in special education for math. Tests were modified for me if I needed it."
Her other challenge is being wheelchair bound.
"Some of the doors in high school were not that accessible," Stanek said. "But I quickly adapted to that. The teachers were very understanding."
When it came time to transition to college in La Crosse, Stanek said her plans ultimately changed because she struggled to find housing that could accommodate her disability.
"I tried to work with several places but they would put you on a list and you might not hear back for a couple of years," she said.
The Division of Vocational Rehab (DVR) was very involved with her job development, helping her find the necessary accommodations for a job.
Teenage preparation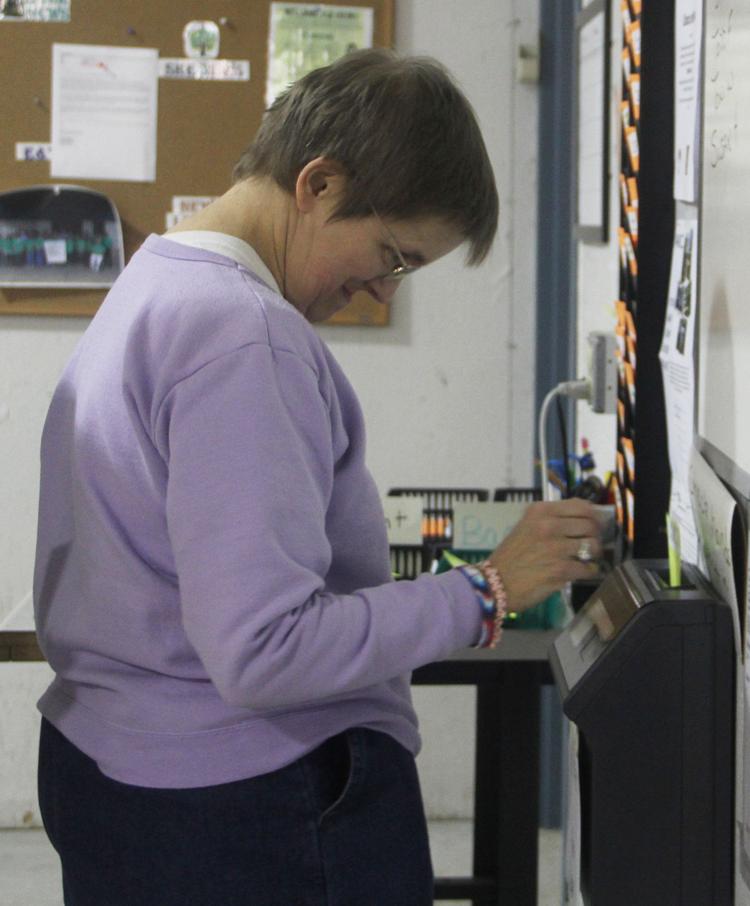 The Kalahari in Wisconsin Dells is another site for Project SEARCH. Traci Jones, chairman of Project SEARCH for the Kalahari, said the program runs with the school year. Students apply for a position, and are interviewed and assessed to see what job skills they possess. If accepted into the program, students start their day in the classroom followed by the majority of their day spent in an internship. They spend their time learning the job tasks and skills needed for post-high school employment.
Throughout the year, students experience three rotations of internships to experience a variety of jobs. Once they graduate, the goal is to achieve 100 percent employment — a minimum of 16 hours a week — whether it's at the site they interned at or somewhere else.
"It gives them a chance to be a part of the community," Jones said. "It teaches them life skills, How to balance a checkbook — soft skills — the skills necessary to be a good employee."
Jones said Project SEARCH is an extremely important program because it helps provide individuals with skills necessary to become a member of the community.
"They haven't always had these opportunities coming out of high school," Jones said. "This gives them that transition time needed, which is hugely important."
Students who use Project SEARCH must be eligible for services from the DVR, and 80 percent or more have to be eligible for long-term support.
Project SEARCH consists of a classroom component, an internship and instruction about job skills, interviewing skills and even soft skills, such as cleanliness, grooming and social interaction.
By law, schools have to provide education for developmentally disabled adolescents and young adults until age 21 as part of the Individuals with Disabilities Education Act, a law ensuring services to youth.
"In 2004, the IDEA Act was all about transition and post high school outcomes," Kennedy said. "We started out small with only one student in the 18-21 program, and we have grown from there. We now can have an average of five to 16 kids in the 18-21 program, and we offer it to students in all disability areas, which makes us unique."
Not all kids stay until they are 21. Some transition into the workforce or college before they turn 21.
"What we do is usually have a checklist and take a look at what each student's needs are. They have a case manager, an 18-21 program instructor and myself working with (others) and we start talking about the student's needs," Kennedy said.
As students with disabilities approach graduation age, they are referred to the Aging and Disability Resource Center, at which time a referral is done.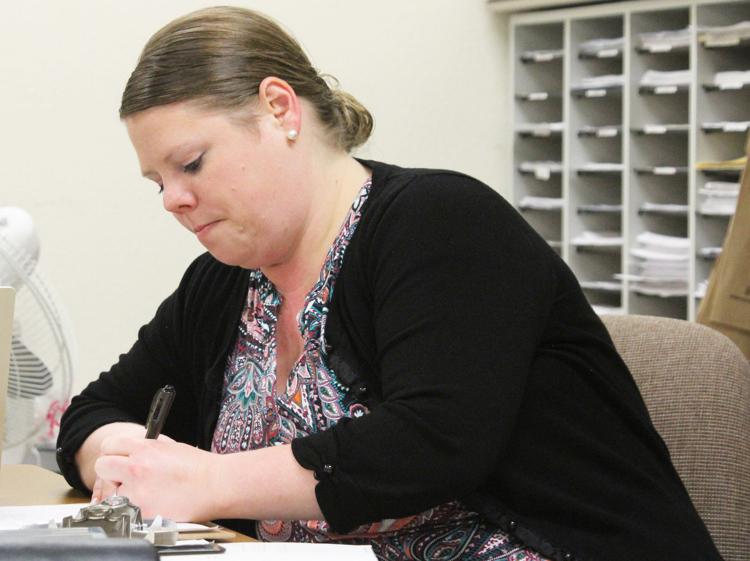 Becoming adults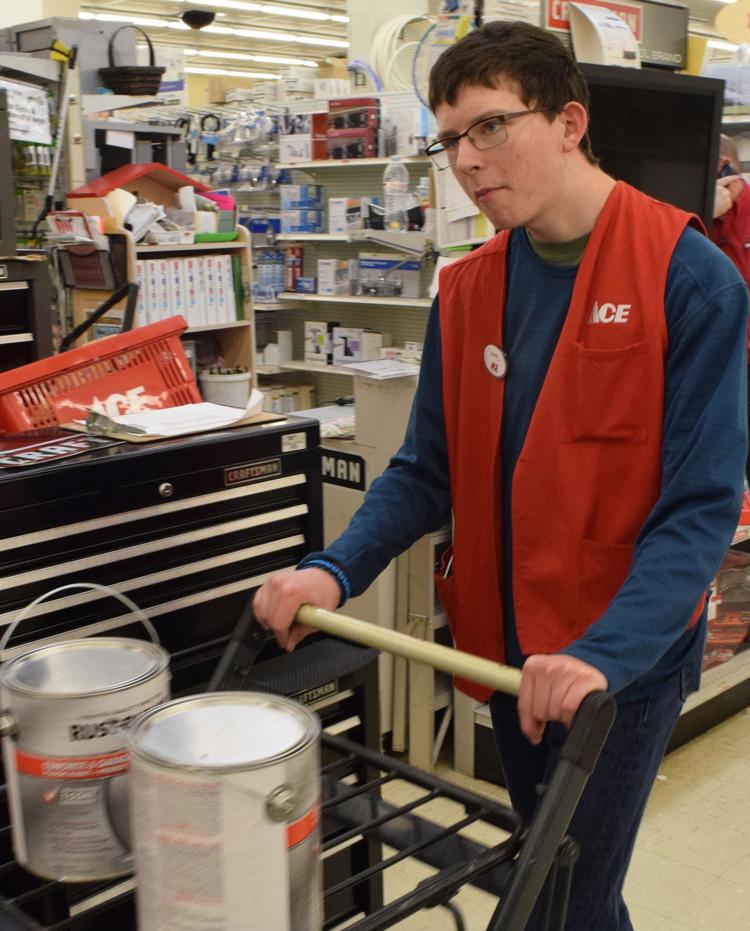 "We work with any student who is disabled prior to graduation so when they are 18 the transition for them is a seamless as possible," said Jim Pritzkow, information assistant specialist and social worker with the ADRC of Eagle Country. "Essentially we are helping these students move from the child to the adult world. And in a perfect world, those services would happen right away."
Typically a school will refer a student to the ADRC with the student and family's permission, he said.
"We look at three main areas: legal-decision-making, guardianship and determination for social security disability," Pritzkow said. "Just because a person is disabled as a child doesn't mean they will be considered disabled as an adult."
The ADRC can help provide community supports, jobs, in-home services or even job training.
"The ADRC is a gateway to long-term care programs," Pritzkow said. "We focus on key areas of transition."
The Department of Workforce Development and it's division of vocational rehabilitation also provide support to those who qualify. Students apply to the DWD approximately two years before needing services.
"The goal of the agency is to get them employed, or help with other services that will lead to their long-term goal, such as a certificate program, vocational school, a bachelor's degree … the needs must be related to a person obtaining a job or improving or maintaining employment," said Nick Lampone, workforce development area 10 director for the Division of Vocational Resources. "That's a misconception out there. If you have a job, you can still apply. We can help a person maintain employment or help if the person wants to get promoted or find different or better jobs."
The services the agency provides depends on the needs of the individual. It could be assistance working on a resume, help with a job search or honing interviewing skills.
"The DVR helps with specific barriers and addressing those barriers so the individual can be successfully employed, gain independence, improve their quality of life or find their purpose," Lampone said.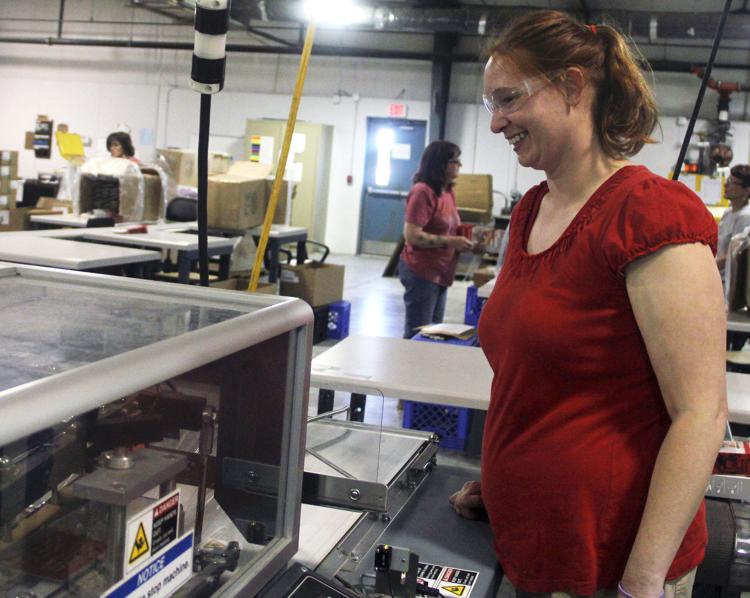 Common problems
"I would say barriers for us in Juneau County is that we are so rural, there's not a lot of job opportunities for these kids," said Michele Yates-Wickus, director of special education for the Mauston School District.
"Also many don't know what they need to go through to get into a technical or four-year college," she said.
Pritzkow said a major barrier is simply that the family or student doesn't know what to do.
"There's no flyer that goes out and says here, this is what you need to do when you turn 18," he said. "We try to make the transition into adulthood seamless. But yes, the biggest barrier is often that people don't know all what has to happen or what can happen."
"My advice to those parents is to ask every question that pops into your brain," Peterson said. "And if you are feeling like you don't have the knowledge you need, ask for an advocate."
She said at her first IEP meeting for her son, there were 14 adults around the table.
"As a parent you are getting a lot of information about your child; mostly about what the schools can't do and it's all coming at you so fast. It's great to have another ear there with you," Peterson said.
Dani Scott, director of student services for the Baraboo School District said barriers tend to "ebb and flow" based on the economic conditions of the community, such as the availability of jobs and what skills an employer might be looking for.
"Employers might be hesitant to hire a student with a disability," she said. "But then others have been absolutely wonderful."
"For students that need supportive living environments – if their parents are unwilling to become guardians — there just aren't a lot of options for supportive living in the area," said Jeff Bindl, director of special education and pupil services for the Reedsburg School District. "And job opportunities … the more rural the community the less available jobs there are."
Living in a rural community also impacts the individual's access to transportation.
"In rural areas (transportation) just isn't possible," Bindl said. "And if they are unable to find employment, a lot of them frankly end up sitting in a home; not productive or engaged."
When she graduated from high school, Stanek experienced the same trouble.
"Transportation was, and still is, a bit of an issue," she said. "My parents transported me to and from college. There doesn't seem to be a lot of resources out there for transportation"
It's a reason why places like Northwoods are so important. The Portage-based organization serves individuals challenged by severe disability to residents in Columbia, Sauk and Juneau counties, with jobs in an integrated community environment. Northwoods provides transportation to its employees.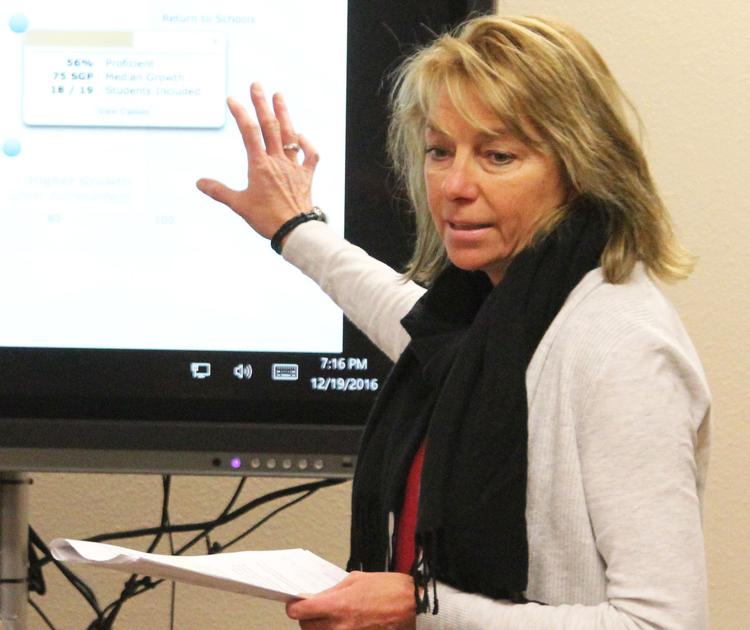 Finding work
According to director Jeff Aerts, Northwoods was developed in 1972 by parents of adult children with disabilities. It began as an adult day center and has since transformed into a work training site for adults with disabilities.
"When this place was first formed, the concept wasn't getting people to work, it wasn't even thought about by the general population that the disabled could or should work," Aerts said.
Northwoods helps people with a range of disabilities, from high functioning to those who have a difficult time doing things for themselves, by providing them with job skills and employment opportunities.
Previously, school districts could refer students directly to Northwoods for job skills training. A law passed two years ago changing the process.
The Workforce Innovation and Opportunity Act of 2016 was intended to improve services to individuals with disabilities.
"What it talks about is that transitioning students with disabilities can no longer transition into sub-minimum wage jobs under the age of 24," said Lampone. "The idea is that once a person goes there it makes it difficult for them to come back out of that setting."
Now students have to be referred through the DVR before getting a sub-minimum wage position, to try community-based employment first.
"The idea is to get the person integrated and have the person making at least minimum wage in the community and earned income level, to earn to their maximum capacity," Lampone said.
Aerts said the law has a lot of people in the industry worried.
"Administration wants people out of special education the minute they leave high school; the law now says they need to apply to the DVR first and get assessed. That means they can't first come to a facility like ours," Aerts said. "We have a goal to get people into the community and working, but Congress got it in their heads that we don't want people to get jobs outside of here."
The problem Aerts sees is when an individual with a disability gets a job first without being prepared, it essentially means they have to fail before they can get gainful employment.
"We don't get referrals from the school districts anymore," he said. "Now a person has to be 25 or older before they can get a job here. I think we need to leave the door open for people to come here to train so they can get the skills they need to be successful."