Theater lessons translate to life
The popular "Grease" coming to Portage High School on April 7 tells the story of a strong young woman who earns respect through determination, while exposing the sexism of the 1950s.
Sauk Prairie's girls choir called YTBN, dress in nun's habits to perform the music of "Sister Act," a humorous tale of major character transformation in which a disco diva takes on the persona of one of the sisterhood.
All have fallible characters who may be misunderstood on the surface, yet the depth of those characters teach life seasons of perseverance and rising out of the ashes of despair.
As these young people expose the intricacies of the characters they play, the lessons learned are invaluable.
Ask any of the hundreds of kids involved in this lively form of entertainment and most say the rewards of the experience are far grater than the audience might realize, and potentially last a lifetime.
"This is more like a family and people are willing to express themselves totally to you," Sauk Prairie senior Olivia Chao said of her show choir team.
Show and swing choirs
Time constraints and budgets at smaller, rural school districts often preclude music programs from fielding a traveling competition show choir. Some are known more as swing choirs, or simply a school choir that occasionally performs in public.
For instance, Wisconsin Dells, Portage, Baraboo and New Lisbon schools do not have competing show choirs.
"We do our musical at this time of year," said Portage choir teacher Holly Atkinson. "As a small school, and me as one person, I can't direct a musical and do show choir competitions. For my students as well as myself, it's too much. But we want to give our kids as many opportunities as we can."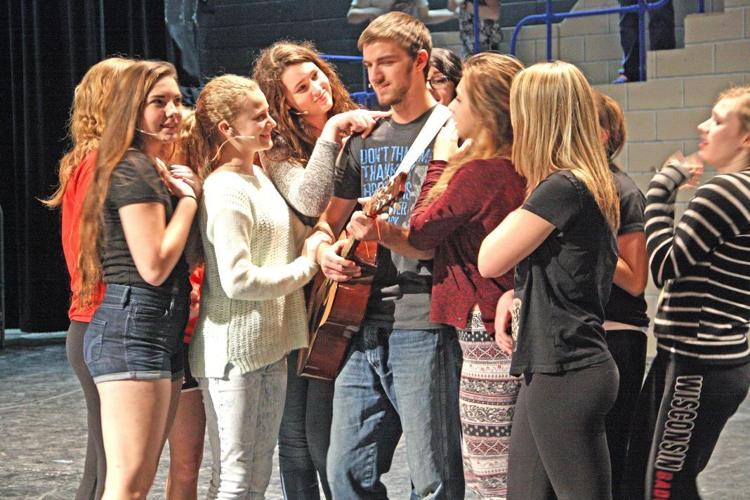 The Baraboo Boys & Girls Club started a competing show choir last year called Harmonix as a way to fill the show choir gap in Sauk and Columbia counties.
Drake Lewerenz, a University of Wisconsin-Baraboo/Sauk County theater student fell into his dream job as the choir's director.
"My end goal was to have my own show choir program," Lewerenz said. "I kind of jumped the gun a little bit. But I want to wrap up the degree and run with this program."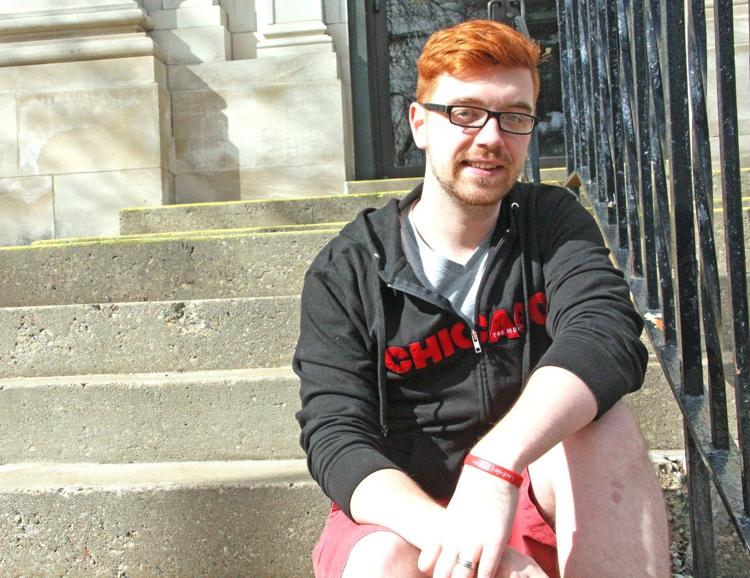 The Baraboo choir took third place at its first competition at the New London Invitational, and won a Tommy Spirit Award.
The Madison Overture Center's Tommy Awards, named after Lodi native, TV, film and Broadway star Tom Wopat, honor 60 school districts around the state for their musical stage productions.
"Those kids are doing so well and above expectations," Lewerenz said. "I wasn't expecting it, but the kids really excelled."
Costly productions
Lewerenz said after his experience helping to start a community show choir for teenagers, he fully understands why some schools may not have a full show choir.
He said equipment and costumes can cost thousands, and it took some fundraising to pay for the production.
"The community was very gracious in helping us out this year," Lewerenz said. "The Lions Club was an integral part of that."
Lynn Ginelle is the choral director at Baraboo High School, and was the music director for the school's performance of the musical "The Secret Garden."
She said in addition to the large costs, time constraints for both students and teachers is an obstacle for a competing show choir. A spring or fall play or musical can take up most of the time and energy a competing show choir could spend.
The same is true for Wisconsin Dells High School where Jolie Heggeseth serves as choral director.
"Most students work after school and weekends, so we don't have the time to have a full-out show choir at this time," Heggeseth said.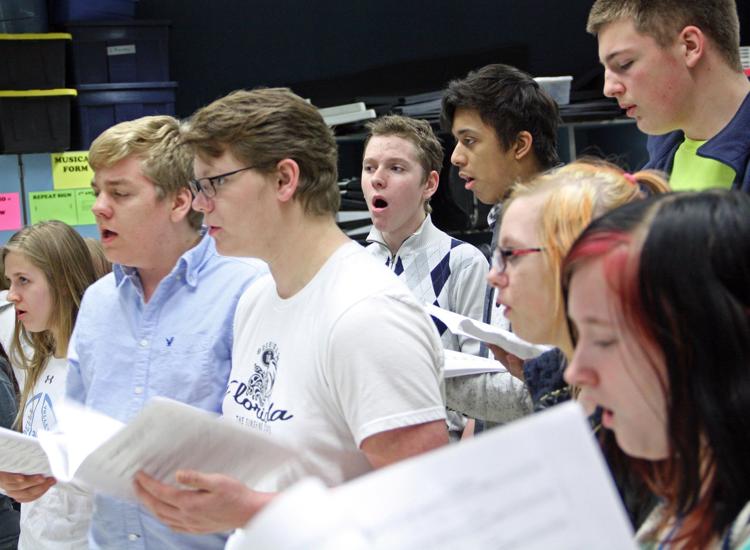 Bev Rood has been the choir teacher at New Lisbon High School for more than 30 years. She plays piano for all the choir's concerts.
"The solo and ensemble is the most competitive thing we do for show choir," Rood said.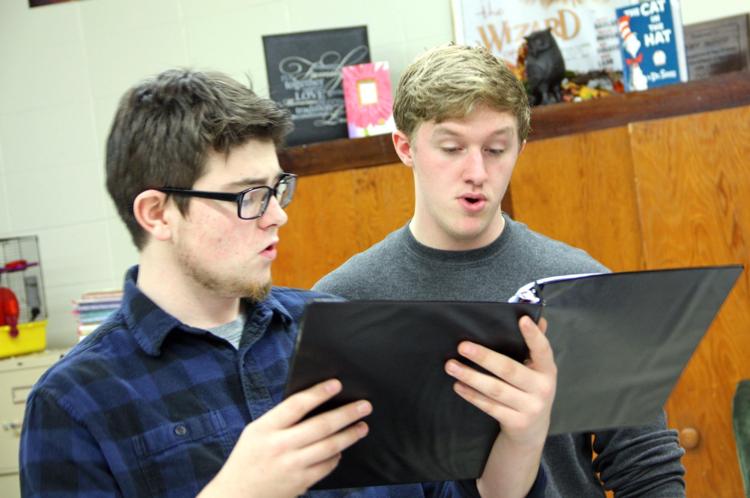 The small choir has had plenty of nominations for the Tommy Awards, and in 2015 won a Tommy Spirit Award for "Tarzan."
They have been nominated for several awards ahead of the 2016 Tommy Awards to be held in June.
Rood said last year the New Lisbon High School choir won a first-place Star award at the district-level solo and ensemble competition, and won it again at the state level for "One Tin Soldier" and "What a Feeling," the theme from the movie "Flashdance."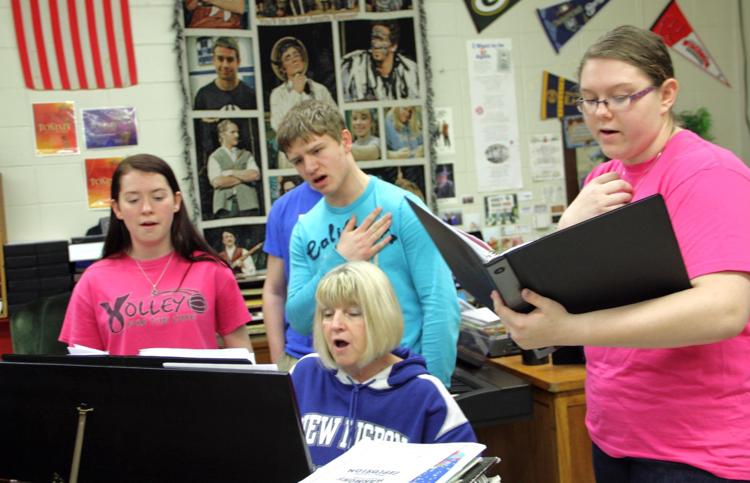 In the classroom
Even among the choirs that don't travel for competition, students display the same passion for the music and develop the camaraderie and the life-long skills that come with intensive collaboration.
Heggeseth said she experienced those same things, which drove her decision to teach music.
"I was interested in making a difference in young people's lives, and choir seemed to be the right avenue for me to do that," Heggeseth said. "I love what the atmosphere of a choir classroom can bring out in students and wanted to explore more of that."
Outside of class, the Wisconsin Dells choir performs four concerts per year, participates in solo and ensemble competition, a large group festival and some community performances such as caroling at the local nursing homes.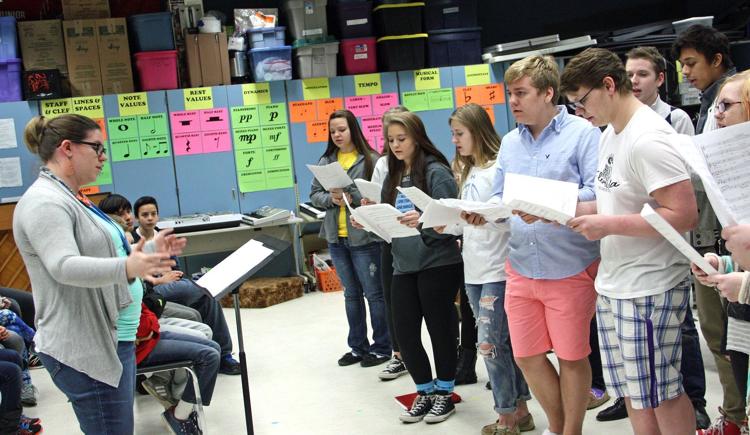 The students were eager to describe what the choir classroom lessons did for them.
"I like music in general, so instead of just listening to music you can relate more by learning more about music," said Wisconsin Dells High School junior Luseni Kamara. "You can sing along with your music now. It could be instrumental or you can make your own music."
"You learn really good listening, multi-tasking skills and good communication skills," Dells senior Cydney Witmer said. "You have to talk with your vocal section and you learn friendship skills."
Many of Sauk Prairie's show choir students have been in the program since they were in sixth or seventh grade, and with the same teacher, Matt Brennan, a Sauk Prairie alumnus. The seniors at Sauk Prairie High School were Brennan's first music class as sixth graders.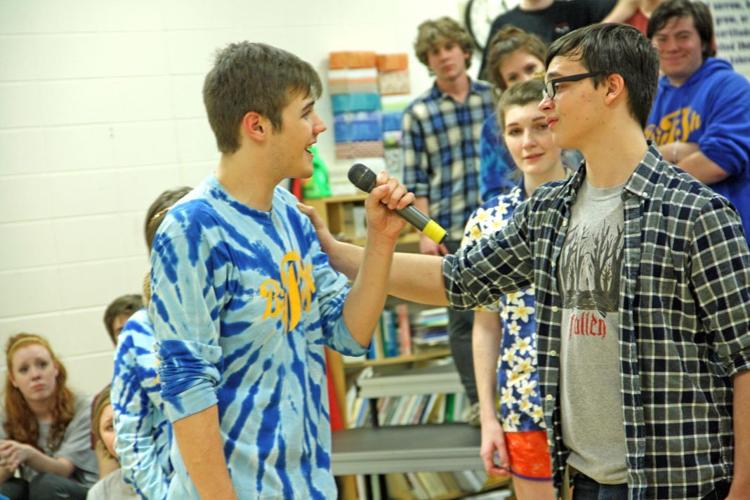 "My joy is in the self-discovery for the students in this activity," Brennan said. "They discover something unique in themselves, which is the ability to perform. I see the growth that happens because of that. They turn into young adults right in front of us."
Sauk Prairie senior and Tommy Award winner Brandon Roth said he is drawn to learning about the characters and portraying them.
"I like that you are able to step outside of yourself and be somebody else on stage, completely embody that person and figure them out," Roth said. "It's like a puzzle to figure out a character."
Portage senior John Clemmons has been in the swing choir since seventh grade, although he's not a regular in school plays and musicals. He said the popularity of "Grease" attracted him. The production will run April 7-10.
"Everybody loves this musical so I wanted to try out for it," Clemmons said. "You can show your passion and creativity through music, dancing and singing. I get nervous sometimes. But I tell myself I can get through this and calm myself down."
Huey Griep, another portage senior who plays Sonny in "Grease," was performing in his first musical.
"I kind of knew I had at least somewhat of a voice," Griep. "I've always been a character, so it wasn't so far off to join the musical."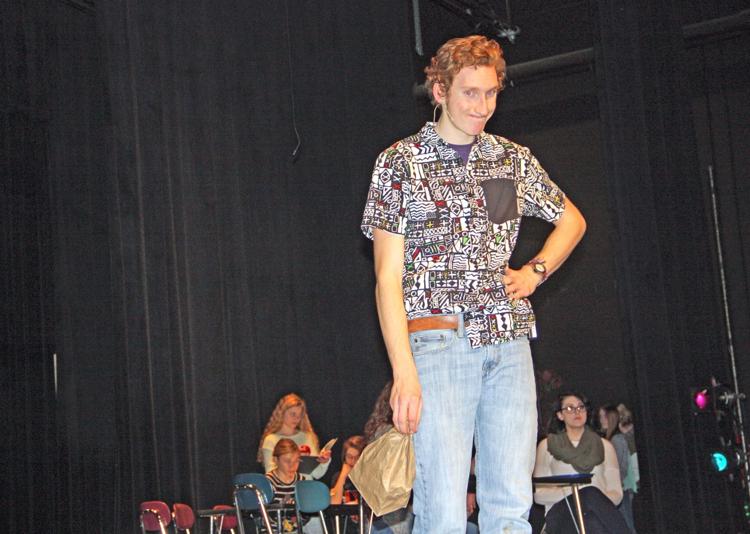 Reedsburg Choraliers senior Brady Sterkowitz started show choir last year.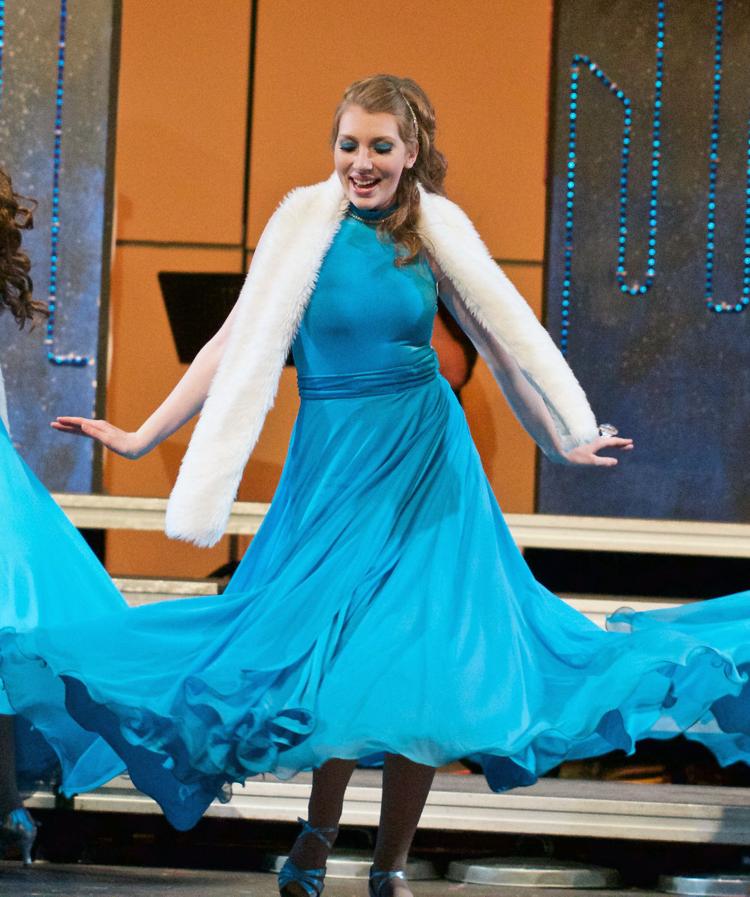 "You definitely gain confidence and you learn practice and repetition," Sterkowitz. "It's nothing easy. You have to memorize words of songs, dance moves and keep it crisp and clean looking."
Life-long lessons
"I consider myself a teacher of life, not just choir," Heggeseth said. "These kids learn about what it means to be an individual as well as part of a community, time management skills, perseverance, self-confidence, communication skills, goal-setting skills, cultural awareness and acceptance. They learn how to be kind, honest, responsible people."
Sauk Prairie show choir performer Tessa Pierce is in the YTBN women's choir performing "Sister Act" this spring.
"It's about friendship and how you don't need a spotlight, and how your friends make you a great person," Pierce said.
Claire Bromley joined the Baraboo Harmonix show choir last year to expand her musical capabilities, but got much more from the experience.
Harmonix performed a production called "Cirque" to highlight the history of their hometown and its circus heritage.
"Part of our story was about losing a lot and finding a family to come home to, and that hit home for a lot of kids," Bromley said. "The story was there is this very sad man who stumbled upon the circus and they kind of take him in. His heart was broken and he was repaired by them taking them in."
Reedsburg senior Natasha Statz said show choir can fill a void for a lot of students.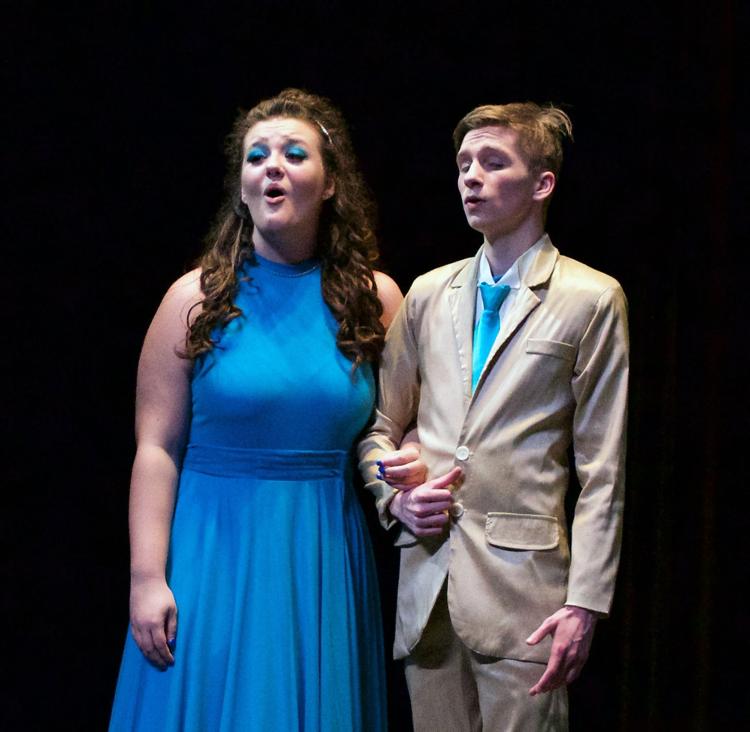 "I love choir because it doesn't matter where you come from, if you're super popular or keep more to yourself or nerdy or preppy," Statz said. "We all come together like one big family."